Reaver's Woodworking
---
Children's Furniture
All our children's furniture are hand assembled, using only the finest wood joining techniques. When joining wood, we first look at the intended use of the furniture, and then reinforce it at critical points to ensure a life time of durability and beauty.
All our children's furniture sports an easy-to-clean finish that brings out all the beauty of the wood grain, while providing superior protection against scratches, stains, and household chemicals.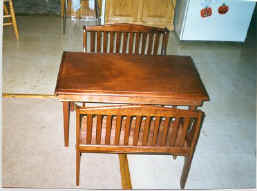 Curious about our selection of wood, or why we've joined two pieces together in the way we did? Ask us. We'll be glad to explain it to you.
Want to see more? Drop by and well show you some work in progress. Our doors are always open to our customers. We invite you to stop in and visit the shop at any time during the construction process.