A book case is a great addition to any room in your home. A bookshelf can be used to store old and new books, display collectibles and objects of art, and accentuate your personal style. Each handcrafted bookcase features adjustable shelves.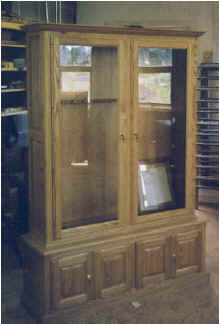 Our book cases can be designed as built-in furniture or freestanding furniture. Traditional-style bookcases are built with all of the shelves the same depth. Extension bookcases are built with a deeper bottom cabinet and are very popular. We can suggest a wide variety of trims and moldings as well as options such as drawers and doors.
Our bookcases are built using traditional joinery techniques. All cabinets are not only glued and screwed for maximum stability. We offer a variety of designs, please call for additional designs or you can fax us with a design of your own. All cases are built using the same wood species.
Like all our furniture, our bookcases are built to last for generations to come. We can custom make bookshelves to your specifications. Let us know what you want and we'll build your dreams.