A young honeymoon couple were touring southern Florida ...
... and happened to stop at one of the rattlesnake farms along the road. After seeing the sights, they engaged in small talk with the man that handled the snakes.
"Gosh!" exclaimed the new bride. "You certainly have a dangerous job. Don't you ever get bitten by the snakes?"
"Yes, on rare occasions," answered the handler.
"Well," she continued, "just what do you do when you're bitten by a snake?"
"I always carry a razor-sharp knife in my pocket, and as soon as I am bitten, I make deep criss-cross marks across the fang entry and then suck the poison from the wound."
"What, uh...what would happen if you were to accidentally sit on a rattler?" persisted the woman.
"Ma'am," answered the snake handler, "that will be the day I learn who my real friends are."
Submitted by Don, Hagerstown, Md.
Return to: Top of Page, Clean Joke List, My Little Sister's Jokes,
---
Ways To Get Rid Of Telemarketers.
If they want to loan you money, tell them you just filed for Bankruptcy and you could sure use some money.
If they start out with, "How are you today?" say, "Why do you want to know?" Or you can say, "I'm so glad you asked, because no one seems to care these days and I have all these problems, my sciatica is acting up, my eyelashes are sore, my dog just died..." When they get try to get back to the sell, just continue your problems.
If they say they're Joe Doe from the XYZ Company, ask them to spell their name, then ask them to spell the company name, then ask them where it located. Continue asking them personal questions or questions about their company for as long as necessary.
This one works better if you are male: Telemarketer: "Hi, my name is Judy and I'm with Canter and Siegel services.... You: "Hang on a second." (few seconds pause) "Okay, (in a really husky voice) what are you wearing?"
Crying out, in well-simulated tones of pleasure and surprise, "Judy!! Is this really you? Oh, my gosh! Judy, how have you BEEN?" Hopefully, this will give Judy a few brief moments of terror as she tries to figure out where the hell she could know you from.
Say, "No", over and over. Be sure to vary the sound of each no, and keep an even tempo even as they're trying to speak. This is the most fun if you can keep going until they hang up.
If they clean rugs: "Can you get blood out, you can? Well, how about goat blood or HUMAN blood.
Let the person go through their spiel, providing minimal but necessary feedback in the form of an occasional "Uh- huh, really, or "That's fascinating." Finally, when they ask you to buy, ask them to marry you. They get all flustered, but just tell them you couldn't give your credit card number to someone that's a complete stranger.
Tell them you work for the same company they work for. Example: Telemarketer: "This is Bill from Watertronics." You: "Watertronics!! Hey I work for them too. Where are you calling from?" Telemarketer: "Uh, Dallas, Texas." You: "Great, they have a group there too? How's business/the weather? Too bad the company has a policy against selling to employees! Oh well, see ya."
Answer the phone. As soon as you realize it is a telemarketer, set the receiver down, shout or scream, "Oh, my goodness!!!" and then hang up.
Tell the Telemarketer you are busy and if they will give you their phone number you will call them back. If they say they are not allow to give out their number, then ask them for their home number and tell them you will call them at home. (This is usually the most effective method of getting rid of Telemarketers)
Submitted by Kenneth, Shropshire, England

Return to: Top of Page, List of Un-Categorizable Jokes, My Little Sister's Jokes,
---
When a customer slid into the barber chair, the barber asked him how he wanted his hair cut.
"Make it short," the customer replied, "with a bare patch above my left ear, but longer on the right side so that it covers my right ear. I also want my left sideburn above my left ear and the right sideburn below my right ear."
The barber looked puzzled and said, "I don't think I can do that."
The customer replied, "I don't know why not--that's the way you cut it the last time I was here!"
Submitted by Bill, Ardmore, Pa.

Return to: Top of Page, Groaner Joke List, My Little Sister's Jokes,
---
Truths for Mature Humans
I think part of a best friend's job should be to immediately clear your computer history if you die.
Nothing sucks more than that moment during an argument when you realize you're wrong.
I totally take back all those times I didn't want to nap when I was younger.
There is great need for a sarcasm font.
How the hell are you supposed to fold a fitted sheet?
Was learning cursive really necessary?
Map Quest really needs to start their directions on # 5. I'm pretty sure I know how to get out of my neighborhood.
Obituaries would be a lot more interesting if they told you how the person died.
I can't remember the last time I wasn't at least kind of tired.
Bad decisions make good stories.
You never know when it will strike, but there comes a moment at work when you know that you just aren't going to do anything productive for the rest of the day.
Can we all just agree to ignore whatever comes after Blue Ray? I don't want to have to restart my collection...again.
I'm always slightly terrified when I exit out of Word and it asks me if I want to save any changes to my ten-page technical report that I swear I did not make any changes to.
I keep some people's phone numbers in my phone just so I know not to answer when they call.
I think the freezer deserves a light as well.
I disagree with Kay Jewelers. I would bet on any given Friday or Saturday night more kisses begin with Miller Lite than Kay.
I have a hard time deciphering the fine line between boredom and hunger.
How many times is it appropriate to say "What?" before you just nod and smile because you still didn't hear or understand a word they said?
I love the sense of camaraderie when an entire line of cars team up to prevent a jerk from cutting in at the front. Stay strong, brothers and sisters!
Shirts get dirty. Underwear gets dirty. Pants? Pants never get dirty, and you can wear them forever.
Sometimes I'll look down at my watch 3 consecutive times and still not know what time it is.
Even under ideal conditions people have trouble locating their car keys in a pocket, finding their cell phone, and Pinning the Tail on the Donkey - but I'd bet everyone can find and push the snooze button from 3 feet away, in about 1.7 seconds, eyes closed, first time, every time!
Submitted by Tim, Pensacola, Fl.

Return to: Top of Page, List of Humorous Sayings, My Little Sister's Jokes,
---
What would they have driven?
Most people assume WWJD is for "What would Jesus do?". But the initials really have been changed to stand for "What would Jesus drive?".
One theory is that Jesus would tool around in an old Plymouth because the Bible says, "God drove Adam and Eve out of the Garden of Eden in a Fury".
But in Psalm 83, the Almighty clearly owns a Pontiac and a Geo. The passage urges the Jesus to "pursue your enemies with your Tempest and terrify them with your Storm".
Perhaps God favors Dodge pickup trucks, because Moses' followers are warned not to go up a mountain "until the Ram's horn sounds a long blast".
Some scholars insist that Jesus drove a Honda but didn't like to talk about it. As proof, they cite a verse in St. John's gospel where Christ tells the crowd, "For I did not speak of my own Accord..."
Meanwhile, Moses rode an old British motorcycle, as evidenced by a Bible passage declaring that "the roar of Moses' Triumph is heard in the hills".
Joshua drove a Triumph sports car with a hole in its muffler: "Joshua's Triumph was heard throughout the land". And, following Jesus' lead, the Apostles car pooled in a Honda... "The Apostles were in one Accord."

Return to: Top of Page, List of Religious Jokes, My Little Sister's Jokes,
---
The Brass Pole - Download Video

Submitted by Dewey, Pensacola, Fl.

Return to: Top of Page, List of Audio/Videos, My Little Sister's Jokes,
---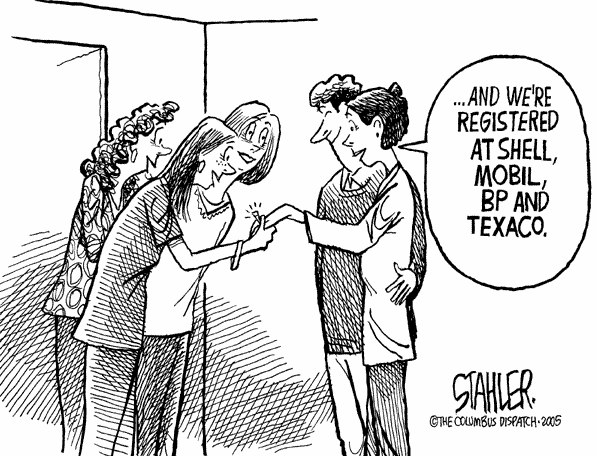 Submitted by Bill, Ardmore, Pa.

Return to: Top of Page, List of Photos, My Little Sister's Jokes,
---