When I went to get my driver's license renewed, our local motor-vehicle bureau was packed.
The line inched along for almost an hour until the man ahead of me finally got his license
He inspected his photo for a moment and commented to the clerk, "I was standing in line so long, I ended up looking pretty grouchy in this picture."
The clerk looked at his picture closely. "It's okay," he reassured the man: "That's how you're going to look when the cops pull you over anyway."
Submitted by Audrey, Emmitsburg, Md.

Return to: Top of Page, Clean Joke List, My Little Sister's Jokes,
---
Three friars were behind on their belfry payments...
... so they opened up a small florist shop to raise the funds. Since everyone liked to buy flowers from the men of God, the rival florist across town thought the competition was unfair.
He asked the good fathers to close down, but they would not. He went back and begged the friars to close. They ignored him. He asked his mother to go and ask the friars to get out of the business. They ignored her too.
So the rival florist hired Hugh MacTaggart, the roughest and most vicious thug in town, to "persuade" them to close.
Hugh beat up the friars and trashed their store, saying he'd be back if they didn't close shop.
Terrified, they did so, thereby proving that Hugh, and only Hugh, can prevent florist friars.

Return to: Top of Page, Groaner Joke List, My Little Sister's Jokes,
---
Things you shouldn't do while driving...
We know That there are things that shouldn't be attempted while driving a car. Some say cellular phone use. Others think that eating is too distracting. Here are some more:
Watching "War And Peace" on video.
Clipping your fingernails.
Participating as the contestant's "buddy" on "Do You Want To Be A Millionaire?"
Trying to find out how many peanut butter sandwiches you can consume in a minute without a drink.
Counting the twenty dollars in pennies that you dropped behind your seat.
Arguing on cell phone with a staff member of the IRS.
Taffy pulling.
Realizing that the bottled water that you have been sipping is really gin.
Tied to your antenna, flying a kite on the expressway.
Trying to bribe a toll booth agent.
Shooting a bow and arrow out the window at a deer.
Tap dancing on the accelerator.
Cleaning off your windshield with a shovel while moving.
Playing gin rummy with members of your carpool.
Eating cereal with milk out of a commuter mug.
Throwing flowers out of the window at a gay pride parade.
Playing jacks.
Reading this list.
Submitted by Bruce, Carol Stream, Illinois

Return to: Top of Page, List of Un-Categorizable Jokes, My Little Sister's Jokes,
---
A Site for Resting in Peace
At the Arch Street Quaker Meeting in Philadelphia, one of the most unusual veterans' ceremonies unfolds at first light every Nov. 10 at what has to be one of the most obscure of tourist sites.
A handful of U.S. Marines and Marine Reserve Officers' Training Corps cadets from the nearby University of Pennsylvania assemble before an unmarked marble slab rising out of the grass, according to Navy Lt. Cmdr. Andrew J. McNiven. In silence, as they have for nearly 20 years, the young Marines place a wreath before the stone, salute and walk off as quietly as they came.
"Samuel Nicholas is buried here," explained Helen J. File, for 28 years the facilities director at the world's largest Quaker meeting house. "He was the Quaker who organized the Marines."
Nicholas was a wealthy Quaker when president Alexander Hamilton of the Continental Congress commissioned him on Nov. 28 in 1775 as the first Marine officer and, by extension, the first commandant of the Marines, said his great-great-great-great-granddaughter Diana Spies Pope, a medical researcher at a in state.
The problem then was that his desire to support independence from England conflicted with the Quaker "peace testimony" against all wars, File said. "They threw Nicholas out when he went to lead the Marines," she said. And when the college ROTC Marines in 1991 asked for permission to hold public ceremonies on Nov. 10, which the corps regards as its founding day, the Quakers refused because there "were strong feelings" against soldiers on the grounds, File said. "So I told [the Marines] to come early and do it quietly," she said, acknowledging that her husband, John, was a 20-year Marine, and both were concerned that there is no recognition of Nicholas in Philadelphia, no statue or guided tours of his home site just around the corner from Independence Hall.
"What's the harm in letting the youngsters come, as long as they're quiet and don't bring guns?" she asked. "When Nicholas died, the Quakers took him back and buried him here. So the truth is that he built the Marines, even if that makes people uncomfortable."
The Samuel Nicholas "stone" lies unmarked in the grass near the far northeastern gate across from the Betsy Ross House.
Submitted by Dewey, Pensacola, Fl.

Return to: Top of Page, List of Interesting Facts, My Little Sister's Jokes,
---
A man had to be taken to hospital still attached to a steel toilet ...
... after super-glue was deliberately smeared on the seat. Firefighters were unable to free the man and were forced to remove the entire toilet with the man attached.
The 35-year-old was in a public toilet cubicle in Brierley Hill in the West Midlands when he became stuck.
He was taken to hospital where doctors had to get into the ambulance before using chemicals to free him.
An ambulance service spokesman said: "He appeared to be none the worse for his ordeal other than being understandably somewhat embarrassed."
It is thought the glue had been smeared on the toilet seat by a prankster.
An ambulance crew and a rapid response vehicle attended the scene just before midday but they were unable to free the man.
"With the help of a local authority and the fire and rescue service, the man was removed from the cubicle still attached to the stainless steel toilet," the spokesman said.
The toilet was later taken back to the public convenience and re-installed.
Submitted by Kenneth, Shropshire, England

Return to: Top of Page, List of Un-Categorizable Jokes, My Little Sister's Jokes,
---
For those who think golf looks easy ... Download Video

Submitted by Bill, Ardmore, Pa.

Return to: Top of Page, List of Audio/Videos, My Little Sister's Jokes,
---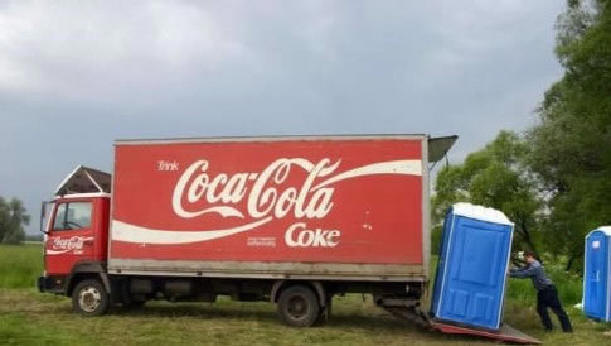 Submitted by Jim, Gettysburg, Pa.

Return to: Top of Page, List of Photos, My Little Sister's Jokes,
---