This guy sees a sign in front of a house: "Talking Dog for Sale."
He rings the bell and the owner tells him the dog is in the backyard. The guy goes into the backyard and sees a black mutt just sitting there. "You talk?" he asks.
"Yep," the mutt replies.
"So, what's your story?"
The mutt looks up and says, "Well, I discovered this gift pretty young and I wanted to help the government, so I told the CIA about my gift, and in no time they had me jetting from country to country, sitting in rooms with spies and world leaders, because no one figured a dog would be eavesdropping. I was one of their most valuable spies eight years running. The jetting around really tired me out, and I knew I wasn't getting any younger and I wanted to settle down. So I signed up for a job at the airport to do some undercover security work, mostly wandering near suspicious characters and listening in. I uncovered some incredible dealings there and was awarded a batch of medals. Had a wife, a mess of puppies, and now I'm just retired
The guy is amazed. He goes back in and asks the owner what he wants for the dog. The owner says, "Ten dollars."
The guy says, "This dog is amazing. Why on earth are you selling him, so cheap?"
The owner replies, "He's such a liar. He didn't do any of that stuff."
Submitted by Bill, Narberth, Pa.

Out Takes From Real Resumes And Cover Letters
I demand a salary commiserate with my extensive experience."
"I have lurnt Word Perfect 6.0 computor and spreasheet progroms."
"Received a plague for Salesperson of the Year."
"Wholly responsible for two (2) failed financial institutions."
"Reason for leaving last job: maturity leave."
"Failed bar exam with relatively high grades."
"It's best for employers that I not work with people."
"Let's meet, so you can 'ooh' and 'aah' over my experience."
"You will want me to be Head Honcho in no time."
"Am a perfectionist and rarely if if ever forget details."
"I was working for my mom until she decided to move."
"Marital status: single. Unmarried. Unengaged. Uninvolved. No commitments."
"I have an excellent track record, although I am not a horse."
"I am loyal to my employer at all costs ... Please feel free to respond to my resume on my office voice mail."
"I have become completely paranoid, trusting completely no one and absolutely nothing."
"My goal is to be a meterologist. But since I possess no training in meteorology, I suppose I should try stock brokerage."
"I procrastinate, especially when the task is unpleasant."
"Personal interests: donating blood. Fourteen gallons so far."
"As indicted, I have over five years of analyzing investments."
"Instrumental in ruining entire operation for a Midwest chain store."
"Note: Please don't misconstrue my 14 jobs as 'job-hopping'. I've never quit a job."
"Marital status: often. Children: various."
Reason for leaving last job: They insisted that all employees get to work by 8:45 am every
morning. I couldn't work under those conditions."
"The company made me a scapegoat, just like my three previous employers."
"Finished eighth in my class of ten."
"References: none. I've left a path of destruction behind me."
Submitted by John, Emmitsburg, Md.

My sister-in law is from Oklahoma and has a slight accent.
She has cats and when she lived in the south she would take them to the groomers and have what is called a Line Cut. To her a line cut is when all of the fur hanging down below the cat's tummy is taken off (because it gets matted or snarled).
When she moved to Chicago with my brother, one of the cats fur got all tangled up during the move so she took it in for a line cut. She was quite surprised when she heard the price as it was twice as much as it was down south. She confirmed with the groomer that he understood what a line cut was and he said "yes, I know what a LION cut is." It seems her accent came out sounding like LION not LINE and this is how her cat was returned to her.
She cried for a week...but not as much as the cat. It was November in Chicago and the cat needed all the fur it had."
Gas in car to go to groomers $4.50
Cat car carrier $32.99
Grooming fee $80.00
Getting the look from one seriously pissed off cat Priceless!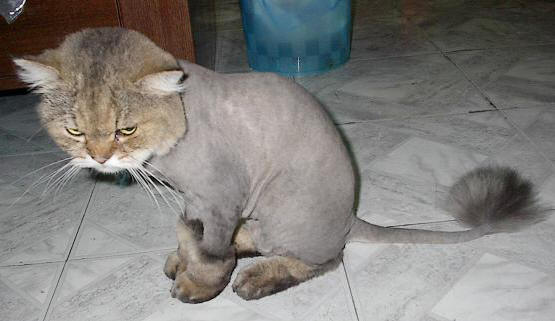 Submitted by Jamie, Frederick, Md.