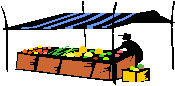 Emmitsburg's Farmers' Market
Locally Produced Foods and Products Sold here!
To enhance the quality of life in Emmitsburg, this year, for the first time, The Town of Emmitsburg is sponsoring a State approved Farmers' Market. The Farmers' Market provides a service to the community and a place for the community to gather.
The Farmers' Market is located on South Seton Avenue, 500 feet south of the square. Vendors on hand will have a variety of fruits, vegetables, eggs, milk, meats, cheeses, baked goods, cut and potted flowers, honey, homemade soap and more.

The Farmers' Market is open Fridays from 3:00 PM until 7:30 PM and will operate through Friday October 22, 2004. Come out and support the Farmers Market.
Plenty of FREE parking available!

Vendors:
South Mountain Creamery - Dairy Products: yogurt, milk, eggs, variety of cheeses and meat

Harvest Moon Farm- Fruits, vegetables and corn

Stone Hearth Bakery - Breads, rolls, baked goods

Cat's Paw Farm - Organic vegetables. cookies

Old Emu Orchard - Emu meat, lotions and oils

Frugal Bee - Honey, organic vegetables, herbs, plants

John Kile's Farm – Vegetables, flowers & baked goods

Creekside Critters Farm - Goat's milk Soap

Windy Hollow Growers- Vegetables, corn and potted flowers

Nancy Grimes' Eggs - Brown Eggs

Carriage House Inn – Pies, apple dumplings, flavored brownies

WindBorne Farms – lamb, cut flowers

Babara Allen's Garden – home grown cut flowers
Vendors will take special orders for available items not on hand.

For additional information or vendor applications, contact Jennifer Staiger at Farmersmarket@emmitsburgmd.gov or call 301-447-3757
To learn more about the Emmitsburg's Farmers' Market, read The Gazette's Chris Patterson's news articles on it.