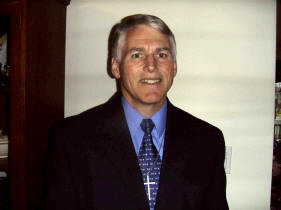 The congregation of St. Johnís Lutheran Church in Creagerstown wishes to announce the appointment of Wayne Blaser as interim pastor. He is an ordained Presbyterian minister.
Pastor Wayne was born in the Philadelphia area and was educated in the Princeton Seminary. He graduated in 1973. His first charge was in Hagerstown where he met his wife Donna. He has served several congregations from Ohio his last congregation being in Florida. His second calling was Poke Run in Pennsylvania where he spent 18 years ministering to a congregation that was established in 1785. He served in Bradenton Florida for three years as a congregational care minister, and 18 months as interim Pastor in two different churches. The life of an ordained Lutheran minister is quite different from that that of a Presbyterian minister as far as the ruling body is concerned, but the message is the same to spread the word of God and minister to those in the congregation and community.
He retired and moved north to be near his children and grand children but retirement was not in the cards and he is now a part time minister. He is married to Donna who is a reading specialist and the father of two and grandfather to six. We are very fortunate that he choose St. Johns to continue his lifetime calling.
If you would like to talk to him or if you need help with a problem he is usually at St. Johns on Tuesday or Thursday. If there is someone in the community that needs to have him call, you may reach him at 941-932-5429 cell or via e-mail