History of Messiah United Methodist Church
The Rev. Arthur Dicken Thomas Jr., Ph.D.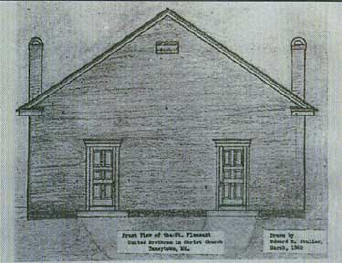 Sketch of Mount Pleasant United Brethren Church
about 1851-1852
Messiah United Methodist Church is a continuation of the former Mount Pleasant United Brethren in Christ Church, which stood at the site of the present-day Mount Pleasant Cemetery, located on Route 832 (Old Taneytown Road), outside Taneytown.
We know of its existence in 1848 as a class meeting (a small group for spiritual accountability) with Mr. Lichtenwalter as its United Brethren class leader. The class began following a camp meeting revival on the premises of class member Henry Shriner. At the Littlestown Circuit Quarterly Conference trustees were named on April 13, 1850 to build Mount Pleasant [or Brick] Church. It is believed that the church was erected in the year 1851-52.
The United Brethren in Christ denomination was organized in 1800 during the religious fervor of the Second Great Awakening. This German Pietist and Evangelical denomination considered both Philip William Otterbein (German Reformed) and Martin Boehm (Swiss Mennonite) as its founders. Pietism stressed not only the importance of religious conversion, heartfelt repentance, and Christian holiness but also devotion, prayer, personal testimonies, Bible study, religious conversation in small classes, and charity to the poor. Evangelicals loved revivals and evangelistic preaching.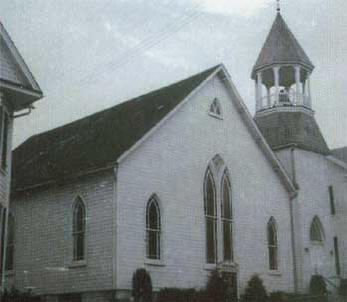 Messiah United Brethren in Christ Church
with frame exterior (1894-1959)
For many years the Lord's work was carried out at the "Old Brick Church"; but, as the population grew the congregation decided to relocate on 20 Middle Street in Taneytown. The Mount Pleasant congregation eventually took the name Messiah United Brethren in Christ Church and dedicated its new white frame church structure on November 18, 1894 and opened its parsonage at 25 Middle Street. The belfry was added in 1902. In November 1946 the United Brethren in Christ denomination united with the Evangelical Church to become the Evangelical UJnited Brethren Church. A new church basement and enlarged sanctuary were dedicated in October 1950. In 1959 the church building was literally cut in two. The rear section was moved back and a new section was placed between the two older portions. The entire interior of the church was refurbished, and the exterior was faced in brick.
In 1968 the Evangelical United Brethren denomination merged with the Methodist Church to form the United Methodist Church. Messiah gained from the rich heritage of Methodism, that had come out of the evangelical movement within the Anglican church. Messiah Church is not far from New Windsor, the birthplace of Methodism in America under Robert Strawbridge. The current Messiah United Methodist Church hopes to re-dig the wells of the revivals that flowed forth from the German Pietism of the United Brethren in Christ and the British Evangelicalism and sacra-mental life of Methodism. Messiah Church has kept alive the practice of altar calls, prayer and Bible study meetings, & frequent Holy Communion like its forebears.