Employed by the human-development center of a corporation in the Midwest

... my friend trains employees in proper dress codes and etiquette. One day as she was stepping onto the elevator, a man casually dressed in jeans and a golf shirt got on with her.

Thinking of her responsibilities, she scolded, "Dressed a little casually today, aren't we?"

The man replied, "That's one of the benefits you get of owning the company."

Submitted by Bill, Ardmore, Pa.

Return to: Top of Page, Clean Joke List, My Little Sister's Jokes,
---
Some "Senior" Personal Ads Seen in Florida and Arizona Newspapers:
Foxy Lady: Sexy, Fashion-conscious Blue-haired Beauty, 80's, Slim,5'-4" (Used to Be 5-6), Searching for Sharp-looking, Sharp-dressing Companion. Matching White Shoes and Belt a Plus.
Mint Condition: Male, 1932, High Mileage, Good Condition, Some Hair, Many New Parts Including Hip, Knee, Cornea, Valves. Isn't in Running Condition, but Walks Well.
Long-term Commitment: Recent Widow Who Has Just Buried Fourth Husband Looking for Someone to Round out a Six- Unit Plot. Dizziness, Fainting, Shortness of Breath Not a Problem.
Serenity Now: I Am into Solitude, Long Walks, Sunrises, the Ocean, Yoga and Meditation. If You Are the Silent Type, Let's Get Together, Take Our Hearing Aids out and Enjoy Quiet Times.
Winning Smile: Active Grandmother with Original Teeth Seeking a Dedicated Flossier to Share Rare Steaks, Corn on the Cob and Caramel Candy.
Beatles or Stones? I Still like to Rock, Still like to Cruise in My Camaro on Saturday Nights and Still like to Play the Air Guitar. If You Were a Groovy Chick, or Are Now a Groovy Hen, Let's Get Together and Listen to My Boss Collection of Eight-track Tapes.
Memories: I Can Usually Remember Monday Through Thursday. If You Can Remember Friday, Saturday and Sunday, Let's Put Our Two Heads Together.
Submitted by Dewey, Pensacola, Fl.

Return to: Top of Page, List of Jokes About Aging, My Little Sister's Jokes ,
---
Signs Found In Kitchens
Kitchen closed - - this chick has had it!
Martha Stewart doesn't live here!!
I'm creative; you can't expect me to be neat too!
So this isn't Home Sweet Home... Adjust!
Ring Bell for Maid Service...If no answer do it yourself!
I clean house every other day.... Today is the other day!
If you write in the dust, please don't date it!
I would cook dinner but I can't find the can opener!
My house was clean last week, too bad you missed it!
A clean kitchen is the sign of a wasted life.
COOK CAN'T TAKE IT ANYMORE!
I came, I saw, I decided to order take out.
If you don't like my standards of cooking...lower your standards.
You may touch the dust in this house...but please don't write in it!
Submitted by Kenneth, Shropshire, England

Return to: Top of Page, List of Jokes About Marriage, My Little Sister's Jokes,
---
A man scolded his son for being so unruly and the child rebelled against his father.
He got some of his clothes, his teddy bear and his piggy bank and proudly announced, 'I'm running away from home!'.
The father calmly decided to look at the matter logically. 'What if you get hungry?', he said.
'Then I'll come home and eat!', bravely declared the child. ' And what if you run out of money?'.
'I will come home and get some!', readily replied the child.
The man then made a final attempt, 'What if your clothes get dirty?'.
'Then I'll come home and let mommy wash them.', was the reply.
The man shook his head and exclaimed, 'This kid is not running away from home, he's going off to college!!'.
Submitted by Dick, Williamsport, Md.

Return to: Top of Page, List of Cute Kids Sayings, My Little Sister's Jokes,
---
When we moved cross-country, my wife and I decided to drive both of our cars.
Nathan, our eight-year-old, worriedly asked, "How will we keep from getting separated?"
"We'll drive slowly so that one car can follow the other," I reassured him.
"Yeah, but what if we DO get separated?" he persisted.
"Well, then I guess we'll never see each other again," I quipped.
"Okay," he said. "I'm riding with Mom."
Return to: Top of Page, List of Cute Kids Sayings, My Little Sister's Jokes,
---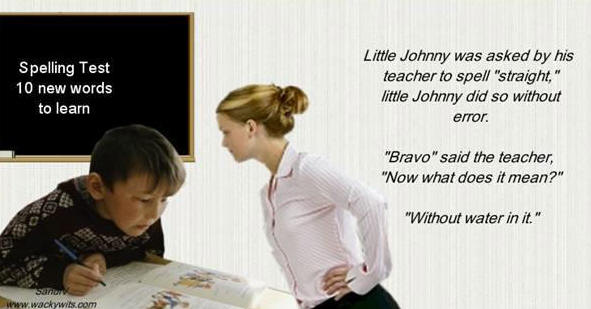 Return to: Top of Page, List of Photos, My Little Sister's Jokes,
---