My Dad and I were talking the other night about love and marriage.
He told me that he knew as early as their wedding what marriage to my Mom would be like. It seems the minister asked my Mom, "Do you take this man to be your husband."

And she said, "I do."

Then the minister asked my Dad, "Do you take this woman to be your wife," and my Mom said, "He does."
Submitted by Bill, Ardmore, Pa.

Return to: Top of Page, List of Jokes About Marriage, My Little Sister's Jokes,
---
As a jet was flying over Arizona on a clear day...
..., the copilot was providing his passengers with a running commentary about landmarks over the PA system.

"Coming up on the right, you can see the Meteor Crater, which is a major tourist attraction in northern Arizona. It was formed when a lump of nickel and iron, roughly 150 feet in diameter and weighing 300,000 tons, struck the earth 50,000 years ago at about 40,000 miles an hour, scattering white-hot debris for miles in every direction. The hole measures nearly a mile across and is 570 feet deep."

The lady sitting next to me exclaimed: "Wow, look! It just missed the highway!"
Submitted by Dick, Williamsport, Md.

Return to: Top of Page, Clean Joke List, My Little Sister's Jokes,
---
The bride came down the aisle and when she reached the altar...
..., the groom was standing there with his golf bag and clubs at his side.

She said, "What are your golf clubs doing here?"

He looked her right in the eye and said, "This isn't going to take all day, is it?"
Submitted by Dick, Williamsport, Md.

Return to: Top of Page, List of Jokes About Women, My Little Sister's Jokes,
---
The things babies say...
"Close the curtains," requested our 2 year old granddaughter, sitting in a pool of bright light. "The sun's looking at me too hard."
My friend asked our grandson when he would turn 6. He replied, "When I'm tired of being 5."
Seeing her first hailstorm, Mary Sue, age 3, exclaimed, "Mommy, it's raining dumplings!"
As I frantically waved away a pesky fly with a white dish towel, my granddaughter observed, "Maybe he thinks you're surrendering."
Announcing to daughter Lori that her aunt just had a baby and it looked like her uncle, she said, "You mean he has a moustache?"
When I asked our grandson if he could name the capital of Florida, he fired right back, "capital F!"
While shampooing our son, 4, I noted his hair was growing so fast he'd soon need it cut. He replied, "Maybe we shouldn't water it so much."
My daughter told her 5-year-old that their van was going to be fixed. Instantly, the small fry assumed, "Oh, it's going to the tire-o-practor?"
Impressed by her 5-year-old's vocabulary, my friend complimented the young scholar, who nonchalantly responded, " I have words in my head I haven't even used yet."
His mom informed her son, Brian, that she was going outside to get a little sun. "But Mommy, he gulped, "You already have a son -- me!"
When our son asked about two look-alike classmates at school, we told him they were probably twins. The next day, he came home from school all bubbly and said, "Guess what? They are not only twins, they're brothers!"
Submitted by Kathy, Germantown, Md.

Return to: Top of Page, List of Cute Kids Sayings, My Little Sister's Jokes,
---
Visiting Australia
These are from potential visitors. They were posted on an Australian Tourism Website and the answers are the actual responses by the website officials, who obviously have a snide sense of humor.
Q: Does it ever get windy in Australia? I have never seen it rain on TV, so how do the plants grow? (UK).
A: We import all plants fully grown and then just sit around watching them die.
Q: Will I be able to see kangaroos in the street? (USA)
A: Depends how much you've been drinking.
Q: I want to walk from Perth to Sydney - can I follow the railroad tracks? (Sweden)
A: Sure, it's only three thousand miles, take lots of water.
Q: Are there supermarkets in Sydney and is milk available all year round? (Germany)
A: No, we are a peaceful civilization of vegan hunter/ gatherers. Milk is illegal.
Q: Please send a list of all doctors in Australia who can dispense rattlesnake serum. (USA)
A: Rattlesnakes live in A-meri-ca which is where YOU come from. All Australian snakes are perfectly harmless, can be safely handled and make good pets, especially The Taipans.
Submitted by Kenneth, Shropshire, England

Return to: Top of Page, Clean Joke List, My Little Sister's Jokes,
---
The first Christmas joke of the season ...
The Rocking Song
Little Jesus, sweetly sleep, do not stir;
We will lend a coat of fur,
We will rock you, rock you, rock you,
We will rock you, rock you, rock you:
Fur is no longer appropriate wear for small infants, both due to risk of allergy to animal fur, and for ethical reasons. Therefore faux fur, a nice cellular blanket or perhaps micro-fleece material should be considered a suitable alternative.
Please note, only persons who have been subject to a Criminal Records Bureau check and have enhanced clearance will be permitted to rock baby Jesus. Persons must carry their CRB disclosure with them at all times and be prepared to provide three forms of identification before rocking commences.
Jingle Bells
Dashing through the snow
In a one horse open sleigh
O'er the fields we go
Laughing all the way
A risk assessment must be submitted before an open sleigh is considered safe for members of the public to travel on. The risk assessment must also consider whether it is appropriate to use only one horse for such a venture, particularly if passengers are of larger proportions. Please note, permission must be gained from landowners before entering their fields. To avoid offending those not participating in celebrations, we would request that laughter is moderate only and not loud enough to be considered a noise nuisance.
While Shepherds Watched
While shepherds watched
Their flocks by night
All seated on the ground
The angel of the Lord came down
And glory shone around
The union of Shepherd's has complained that it breaches health and safety regulations to insist that shepherds watch their flocks without appropriate seating arrangements being provided, therefore benches, stools and orthopaedic chairs are now available. Shepherds have also requested that due to the inclement weather conditions at this time of year that they should watch their flocks via cctv cameras from centrally heated shepherd observation huts.
Please note, the angel of the lord is reminded that before shining his / her glory all around she / he must ascertain that all shepherds have been issued with glasses capable of filtering out the harmful effects of UVA, UVB and Glory.
Little Donkey
Little donkey, little donkey on the dusty road
Got to keep on plodding onwards with your precious load
The RSPCA have issued strict guidelines with regard to how heavy a load that a donkey of small stature is permitted to carry, also included in the guidelines is guidance regarding how often to feed the donkey and how many rest breaks are required over a four hour plodding period. Please note that due to the increased risk of pollution from the dusty road, Mary and Joseph are required to wear face masks to prevent inhalation of any airborne particles. The donkey has expressed his discomfort at being labelled 'little' and would prefer just to be simply referred to as Mr. Donkey. To comment upon his height or lack thereof may be considered an infringement of his equine rights.
We Three Kings
We three kings of Orient are
Bearing gifts we traverse afar
Field and fountain, moor and mountain
Following yonder star
Whilst the gift of gold is still considered acceptable - as it may be redeemed at a later date through such organisations as 'cash for gold' etc, gifts of frankincense and myrrh are not appropriate due to the potential risk of oils and fragrances causing allergic reactions. A suggested gift alternative would be to make a donation to a worthy cause in the recipients name or perhaps give a gift voucher.
We would not advise that the traversing kings rely on navigation by stars in order to reach their destinations and suggest the use of RAC routefinder or satellite navigation, which will provide the quickest route and advice regarding fuel consumption. Please note as per the guidelines from the RSPCA for Mr Donkey, the camels carrying the three kings of Orient will require regular food and rest breaks. Facemasks for the three kings are also advisable due to the likelihood of dust from the camels hooves.
Rudolph the red nosed reindeer
Rudolph, the red-nosed reindeer
had a very shiny nose.
And if you ever saw him,
you would even say it glows.
You are advised that under the Equal Opportunities For All policy, it is inappropriate for persons to make comment with regard to the ruddiness of any part of Mr. R. Reindeer. Further to this, exclusion of Mr R Reindeer from the Reindeer Games will be considered discriminatory and disciplinary action will be taken against those found guilty of this offence. A full investigation will be implemented and sanctions - including suspension on full pay - will be considered whilst this investigation takes place.
Submitted by Cathy, Storrington, England!

Return to: Top of Page, Christmas Joke List, My Little Sister's Jokes,
---
The Greatest Christmas Decoration Ever!!!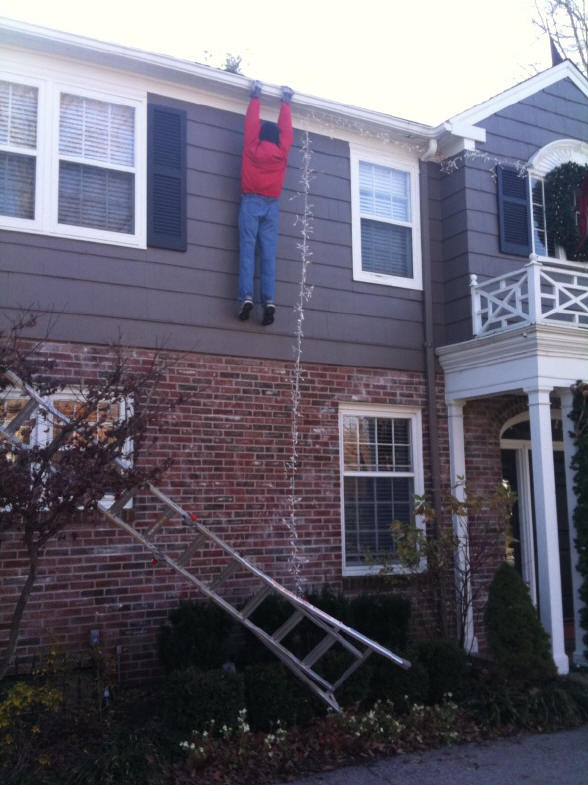 "Good news is that I truly out did myself this year with my Christmas decorations. The bad news is that I had to take my fake man down after 2 days. I had more people come screaming up to my house than ever. Great stories. But two things made me take it down.

First, the cops advised me that it would cause traffic accidents as they almost wrecked when they drove by.

Second, a 55 year old lady grabbed the 75 pound ladder almost killed herself putting it against my house and didn't realize it was fake until she climbed to the top (she was not happy). By the way, she was only one of many people who attempted to do that. My yard couldn't take it either. I have more than a few tire tracks where people literally drove up into my yard."
Submitted by: Don, Hagerstown, Md., Paul, Oklahoma City, OK., Dewey, Pensacola, Fl., Audrey, Emmitsburg, Md. and a slew of others!

Return to: Top of Page, List of Photos, My Little Sister's Jokes,
---