Several years ago, when I lived in New York and flew to customer sites often...
... my wife would usually drop me off at Newark (N.J.) airport and pick me up when I returned. On one trip, I was only going to be gone for a few days, so I drove myself, and parked the car at Newark.
When I returned, the weather was lousy, and it was late at night. I wanted nothing more than to get home to the comfort of my wife and my own bed. When I arrived, the storm was very loud, with crashing thunder and Severe lightning. As I came into my bedroom about 2 a.m., I found my two children, Alex (3) and Cindy (12), in bed with my wife, Carolyn, apparently scared by the loud storm.
I resigned myself to sleeping in the guest bedroom that night. The next day, I talked to the children, and explained that it was okay to sleep with Mom when the storm was bad, but when I was expected home, please don't sleep with Mom that night. They said okay.
After my next trip several weeks later, Carolyn and the children picked me up in the terminal at the appointed time. Since the plane was late, everyone had come into the terminal to wait for my plane's arrival, along with hundreds of other folks waiting for their arriving passengers.
As I entered the waiting area, Alex saw me, and came running shouting "Hi, Dad! I've got some good news!"
As I waved back, I said loudly, "Hi, Alex! And what is the good news?"
"The good news is that nobody slept with Mommy while you were away this time!" Alex shouted.
The airport became very quiet, as everyone in the waiting area looked at Alex, then turned to me, and then searched the rest of the area to see if they could figure out exactly who his Mom was.
Submitted by Kenneth, Shropshire, England

Return to: Top of Page, List of Cute Kids Sayings, My Little Sister's Jokes,
---
A computer technician received a call from a man ...
... complaining that the system wouldn't read word processing files from his old diskettes. After trouble-shooting for magnets and heat failed to diagnose the problem, it was found that the customer labeled the diskettes then rolled them into his typewriter to type the labels.
A customer was asked to send a copy of her defective diskettes to the technician. A few days later a letter arrived from the customer along with Xeroxed copies of her diskettes.

A technician advised his customer to put his troubled floppy back in the drive and close the door. The customer put the disk in, asked the tech to hold on, and was heard putting the phone down, getting up and closing the door to his room.

A customer called to complain that his keyboard no longer worked. He had cleaned it by filling up his tub with soap and water and soaking the keyboard for a day, then he removed all the keys and washed them individually.

An exasperated caller to Tech Support couldn't get her new computer to turn on. After ensuring the computer was plugged in, the technician asked her what happened when she pushed the power button. Her response "I pushed and pushed on this foot pedal and nothing happens." The "foot pedal" turned out to be the computer's mouse.

Another customer called Tech Support to say her brand-new computer wouldn't work. She said she unpacked the unit, plugged it in, and sat there for 20 minutes waiting for something to happen. When asked what happened when she pressed the power switch, she asked "What power switch?"
Submitted by Dick, Williamsport, Md.
Return to: Top of Page, Computer Joke List, My Little Sister's Jokes,
---
A person was visiting Washington, DC for the first time. Unable to locate the Capitol building...
... the person asked a police officer for directions, "Excuse me, officer, how do I get to the Capitol building?"

The officer replied, "Wait here at this bus stop for the number 54 bus. It'll take you right there."

Three hours later the police officer returned to the same area and, sure enough, the person is still waiting at the same bus stop.

The officer got out of his car and said, "Excuse me, but to get to the Capitol building, I said to wait here for the number 54 bus and that was three hours ago! Why are you still waiting?"

The person replied, "Don't worry, officer, it won't be long now. The 45th bus just went by!"
Also submitted by Kenneth, Shropshire, England

Return to: Top of Page, Groaner Joke List, My Little Sister's Jokes,
---
Red Skelton's Recipe for the Perfect Marriage
Two times a week, we go to a nice restaurant, have a little beverage, good food and companionship. She goes on Tuesdays, I go on Fridays.
We also sleep in separate beds. Hers is in California and mine is in Texas .
I take my wife everywhere..... but she keeps finding her way back.
I asked my wife where she wanted to go for our anniversary. "Somewhere I haven't been in a long time!" she said. So I suggested the kitchen.
We always hold hands. If I let go, she shops.
She has an electric blender, electric toaster and electric bread maker. She said "There are too many gadgets and no place to sit down!" .. So I bought her an electric chair.
My wife told me the car wasn't running well because there was water in the carburetor. I asked where the car was; she told me "In the lake."
She got a mud pack and looked great for two days. Then the mud fell off.
She ran after the garbage truck, yelling "Am I too late for the garbage?" . The driver said "No, jump in!"
Remember: Marriage is the number one cause of divorce.
I married Miss Right. I just didn't know her first name was Always.
I haven't spoken to my wife in 18 months. I don't like to interrupt her.
The last fight was my fault though. My wife asked "What's on the TV?" I said "Dust!"
Submitted by former Emmitsburg Mayor Ed.
Return to: Top of Page, List of Jokes About Marriage, My Little Sister's Jokes,
---
I heard a story about Fiorello LaGuardia who was mayor of New York City ...
...during the worst days of the Great Depression and all of WWII. He was adored by many New Yorkers who took to calling him the "Little Flower," because he was so short and always wore a carnation in his lapel.
He was a colorful character -- he rode the New York City fire trucks, raided city "speakeasies" with the police department, took entire orphanages to baseball games, and when the New York newspapers went on strike, he got on the radio and read the Sunday funnies to the kids.
One bitterly cold night in January of 1935, the mayor turned up at a night court that served the poorest ward of the city. LaGuardia dismissed the judge for the evening and took over the bench himself. Within a few minutes, a tattered old woman was brought before him, charged with stealing a loaf of bread. She told LaGuardia that her daughter's husband had deserted her, her daughter was sick, and her two grandchildren were starving.
But the shopkeeper, from whom the bread was stolen, refused to drop the charges. "It's a real bad neighborhood, your Honor," the man told the mayor. "She's got to be punished to teach other people around here a lesson."
LaGuardia sighed. He turned to the woman and said, "I've got to punish you. The law makes no exceptions. Ten dollars or ten days in jail." But even as he pronounced sentence, the mayor was already reaching into his pocket. He extracted a bill and tossed it into his famous hat, saying, "Here is the ten dollar fine which I now remit; and furthermore I am going to fine everyone in this courtroom fifty cents for living in a town where a person has to steal bread so that her grandchildren can eat. Mr. Bailiff, collect the fines and give them to the defendant."
The following day, New York City newspapers reported that $47.50 was turned over to a bewildered woman who had stolen a loaf of bread to feed her starving grandchildren Fifty cents of that amount was contributed by the grocery store owner himself, while some seventy petty criminals, people with traffic violations, and New York City policemen, each of whom had just paid fifty cents for the privilege of doing so, gave the mayor a standing ovation.
Someone beautifully said, "Sympathy sees and says, 'I'm sorry.'
Compassion sees and says, 'I'll help.'
When we learn the difference, we can make a difference.
Submitted by Andy, Gettysburg, Pa.

Return to: Top of Page, List of Heart Warming Stories, My Little Sister's Jokes,
---
Can YOUR elephant do this? - Download Video

Submitted by Lindsay, Melbourne, Australia.

Return to: Top of Page, List of Audio/Videos, My Little Sister's Jokes,
---
I Have A What?????

If a picture is worth a 1,000 words, this one speaks volumes. Channel 3 News, Corpus Christi, Texas.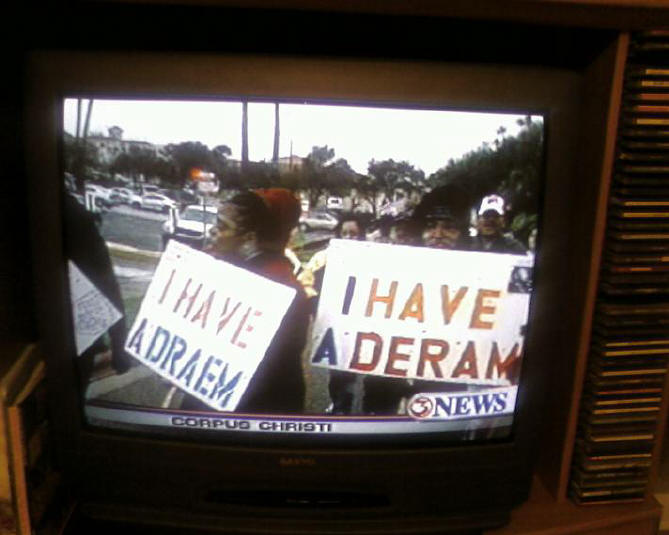 Submitted by Bill, Ardmore, PA.
Return to: Top of Page, List of Photos, My Little Sister's Jokes,
---