A dinner speaker was in such a hurry to get to his engagement...
... that when he arrived and sat down at the head table, he suddenly realized that he had forgotten his false teeth.
Turning to the man next to him he said, "I forgot my teeth!"
The man said, "No problem." With that he reached into his pocket and pulled out a pair of false teeth. "Try these," he said.
The speaker tried them. "Thanks, but they're too loose," he said.
The man then said, "I have another pair...try these."
The speaker tried them and responded, "Too tight."
The man was not taken back at all. He then said, "I have one more pair... try them."
The speaker said, "They fit perfectly!" With that he ate his meal and gave his address.
After the dinner meeting was over, the speaker went over to thank the man who had helped him. "I want to thank you for coming to my aid. Where is your office? I've been looking for a good dentist."
The man replied, "Oh I'm not a dentist. I work at the morgue.."
Submitted by Bob, Rockville, MD.
Return to: Top of Page, Groaner Joke List, My Little Sister's Jokes,
---
Sensible Observations
When I die, I want to die like my grandfather--who died peacefully in his sleep. Not screaming like all the passengers in his car.' --Author Unknown
Advice for the day: If you have a lot of tension and you get a headache, do what it says on the aspirin bottle: 'Take two aspirin' and 'Keep away from children.' --Author Unknown
3Oh, you hate your job? Why didn't you say so? There's a support group for that. It's called EVERYBODY, and they meet at the bar.' --Drew Carey
'The problem with the designated driver program, it's not a desirable job, but if you ever get sucked into doing it, have fun with it.. At the end of the night, drop them off at the wrong house.' --Jeff Foxworthy
'If a woman has to choose between catching a fly ball and saving an infant's life, she will choose to save the infant's life without even considering if there is a man on base.' --Dave Barry
'Relationships are hard. It's like a full time job, and we should treat it like one. If your boyfriend or girlfriend wants to leave you, they should give you two weeks' notice. There should be severance pay and the day before they leave you, they should have to find you a temp.' --Bob Ettinger
'My Mom said she learned how to swim when someone took her out in the lake and threw her off the boat. I said, 'Mom, they weren't trying to teach you how to swim.'' --Paula Poundstone
'A study in the Washington Post says that women have better verbal skills than men. I just want to say to the authors of that study: 'Duh.' --Conan O'Brien
'Why does Sea World have a seafood restaurant?? I'm halfway through my fish burger and I realize, Oh my God.... I could be eating a slow learner.' --Lynda Montgomery
'I think that's how Chicago got started. Bunch of people in New York said, 'Gee, I'm enjoying the crime and the poverty, but it just isn't cold enough. Let's go west.'' --Richard Jeni
'If life were fair, Elvis would be alive and all the impersonators would be dead.' --Johnny Carson
'Sometimes I think war is God's way of teaching us geography.' --Paul Rodriguez
'My parents didn't want to move to Florida, but they turned sixty and that's the law.' --Jerry Seinfeld
'Remember in elementary school, you were told that in case of fire you have to line up quietly in a single file line from smallest to tallest. What is the logic in that? What, do tall people burn slower?' --Warren Hutcherson
'Bigamy is having one wife/husband too many. Monogamy is the same.' --Oscar Wilde
'Our bombs are smarter than the average high school student. At least they can find Afghanistan ' --A. Whitney Brown
'You can say any foolish thing to a dog, and the dog will give you a look that says, 'My God, you're right! I never would've thought of that!'' --Dave Barry
Do you know why they call it 'PMS'? Because 'Mad Cow Disease' was taken. -- Unknown, presumed deceased
'Everybody's got to believe in something. I believe I'll have another beer.' --W. C. Fields
Submitted by former Emmitsburg Mayor Ed!

Return to: Top of Page, List of Humorous Sayings, My Little Sister's Jokes,
---
Three mischievous old Grandmas were sitting on a bench outside a nursing home...
... when an old Grandpa walked by. And one of the old Grandmas yelled out saying, "We bet we can tell exactly how old you are." The old man said, "There is no way you can guess it, you old fools."
One of the old Grandmas said, "Sure we can! Just drop your pants and under shorts and we can tell your exact age."
Embarrassed just a little, but anxious to prove they couldn't do it, he dropped his drawers.
The Grandmas asked him to first turn around a couple of times and to jump up and down several times.
Then they all piped up and said, "You're 87 years old!"
Standing with his pants down around his ankles, the old gent asked, "How in the world did you guess?"
Slapping their knees and grinning from ear to ear, the three old ladies happily yelled in unison - - "We were at your birthday party yesterday!"
Submitted by Lindsay, Melbourne, Australia

Return to: Top of Page, List of Jokes About Aging, My Little Sister's Jokes ,
---
Announcing the new Built-in Orderly Organized Knowledge device, otherwise known as the BOOK.
It's a revolutionary breakthrough in technology: no wires, no electric circuits, no batteries, nothing to be connected or switched on. It's so easy to use even a child can operate it. Just lift its cover. Compact and portable, it can be used anywhere -- even sitting in an armchair by the fire -- yet it is powerful enough to hold ass much information as a CD-ROM disk.
Here's how it works: each BOOK is constructed of sequentially numbered sheets of paper (recyclable), each capable of holding thousands of bits of information. These pages are locked together with a custom-fit device called a binder which keeps the sheets in their correct sequence. By using both sides of each sheet, manufacturers are able to cut costs in half.
Each sheet is scanned optically, registering information directly into your brain. A flick of the finger takes you to the next sheet. The BOOK may be taken up at any time and used by merely opening it. The "Browse" feature allows you to move instantly to any sheet, and move forward or backward as you wish. Most come with an "index" feature, which pinpoints the exact location of any selected information for instant retrieval.
An optional "BOOKmark" accessory allows you to open the BOOK to the exact place you left it in a previous session -- even if the BOOK has been closed. BOOKmarks fit universal design standards; thus a single BOOKmark can be used in BOOKs by various manufacturers.
Portable, durable and affordable, the BOOK is the entertainment wave of the future, and many new titles are expected soon, due to the surge in popularity of its programming tool, the Portable Erasable-Nib Cryptic Intercommunication Language stylus [PENCIL].
Submitted by Kenneth, Shropshire, England

Return to: Top of Page, Clean Joke List, My Little Sister's Jokes,
---
Rules for driving
Never pass on the left when you can pass on the right.
Speed limits are arbitrary figures, given only as suggestions, and are apparently not enforceable during rush hour.
Just because you're in the left lane and have no room to speed up or move over doesn't mean that a driver flashing his high beams behind you doesn't think he can go faster in your spot.
Always slow down and rubberneck when you see an accident, or even if someone is just changing a tire.
Throwing litter on the roads adds color to the landscape and gives Adopt-a-Highway crews something to clean up.
It is assumed that state police cars passing at high speed may be followed in the event you need to make up a few minutes on your way to work, or the beach.
Remember that the goal of every good driver is to get there first, by whatever means necessary.
Real female drivers can put on pantyhose, apply eye makeup, and balance the checkbook at seventy-five miles per hour during a snowstorm in bumper-to-bumper traffic.
Return to: Top of Page, Clean Joke List, My Little Sister's Jokes,
---
For Cat Lovers
Cats are smarter than dogs. You can't get eight cats to pull a sled through snow.
Cats aren't clean, they're just covered with cat spit.
Cats don't hunt seals. They would if they knew what they were and where to find them. But they don't, so that's all right.
Cats instinctively know the exact moment their owners will wake up. Then they wake them 10 minutes sooner.
Cats know what we feel. They don't care, but they know.
Cats seem to go on the principle that it never does any harm to ask for what you want.
Dogs have owners. Cats have staff.
Dogs believe they are human. Cats believe they are God.
I had to get rid of my Husband. The cat was allergic!
Submitted by Jordie, Emmitsburg, Md.

Return to: Top of Page, List of Jokes about Animals, My Little Sister's Jokes,
---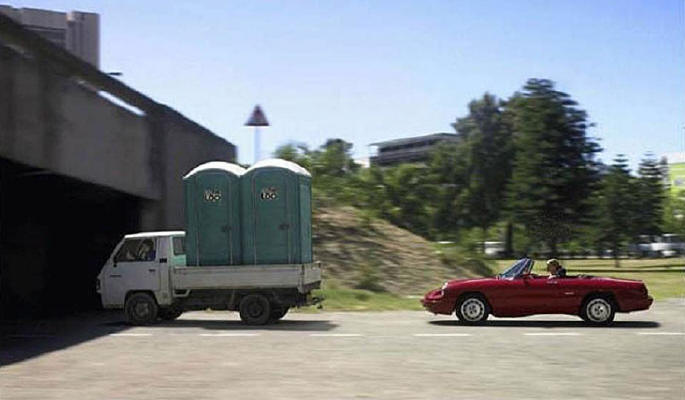 Submitted by Audrey, Emmitsburg, Md.

Return to: Top of Page, List of Photos, My Little Sister's Jokes,
---