A redneck wanted to learn how to sky dive.
He got an instructor and started lessons. The instructor told the redneck to jump out of the plane and pull his rip cord. The instructor then explained that he himself would jump out right behind him so that they would go down together. The redneck understood and was ready.
The time came to have the redneck jump from the air plane. The instructor reminded the redneck that he would be right behind him. The redneck proceeded to jump from the plane and after being in the air for a few seconds pulled the rip cord. The instructor followed by jumping from the plane. The instructor pulled his rip cord but the parachute did not open. The instructor, frantically trying to get his parachute open, darted past the redneck.
The redneck, seeing this, yelled as he undid the straps to his parachute, "So you wanna race, eh?"
Submitted by Kenneth, Shropshire, England

Return to: Top of Page, List of Redneck Jokes, My Little Sister's Jokes,
---
The following are new Windows messages that were under consideration for Windows Vista:
Enter any 11-digit prime number to continue.
Press any key to continue or any other key to quit.
Press any key except... no, No, NO, NOT THAT ONE!
Bad command or file name! Go stand in the corner.
This will end your Windows session. Do you want to play another game?
Windows message: "Error saving file! Format drive now? (Y/Y)"
This is a message from God Gates: "Rebooting the world. Please log off."
To "shut down" your system, type "WIN"
BREAKFAST.SYS halted... Cereal port not responding.
COFFEE.SYS missing... Insert cup in cup holder and press any key.
File not found. Should I fake it? (Y/N)
Runtime Error 6D at 417A:32CF: Incompetent User.
Error reading FAT record: Try the SKINNY one? (Y/N)
WinErr 16547: LPT1 not found. Use backup. (PENCIL & PAPER.SYS)
User Error: Replace user.
Windows VirusScan 1.0 - "Windows found: Remove it? (Y/N)"
Your hard drive has been scanned and all stolen software titles have been deleted. The police are on the way.
Submitted by Dave, Bolder, Co.

Return to: Top of Page, Computer Joke List, My Little Sister's Jokes,
---
Horsemen Stereotypes
THE HUNTER RIDER: Is slightly anorexic and trying her best to achieve the conformation of a 17-year-old male in case she ever has a clinic with George Morris. Field marks include greeny-beige breeches and a baseball cap when schooling or mud colored coat and hardhat with dangling chinstrap when competing. Forks over about a grand a month to trainer for the privilege of letting him/her 'tune' up the horse, which consists of drilling the beast until its going to put in five strides on a 60 foot line no matter WHAT she does. Sold the Thoroughbred (and a collection of lunging equipment, chambons, side reins) and bought a Warmblood. (Bought a ladder and a LONG set of spurs). Talks a lot about the horse's success in Florida without exactly letting on that she herself has never been south of the Pennsylvania line.
THE DRESSAGE QUEEN: Has her hair in an elegant ponytail and is wearing a visor and gold earrings sporting a breed logo. A $100 dollar custom jumper (also with breed logo) is worn over $300 dollar full-seat white breeches and custom Koenigs. Her horse, 'Leistergeidelsprundheim' ('Fleistergeidel' for short) is a 17.3 hand warmblood who was bred to be a Grand Prix horse. The Germans are still laughing hysterically, as he was bred to be a Grand Prix JUMPER, but since he couldn't get out of his own way, they sold him to an American. His rider fell in love with his lofty gaits, proud carriage, and tremendous athleticism. She admires him mostly while lunging. She lunges him a lot, because she is not actually too keen to get up there and try to SIT that trot. When she rides, it's not for long, because (while he looks FINE to everyone else), she can tell that he is not as 'thorough' and 'supple' as he should be, and gets off to call the chiropractor/massage therapist/psychic, all of which is expensive, but he WILL be shown, and shown right after he perfects (fill in the blank). The blank changes often enough that the rider can avoid the stress of being beaten at Training 1 by a Quarter Horse.
THE EVENTER: Is bent over from carrying three saddles, three bridles, three bits, and three unrelated sets of clothing (four, if she is going to have to do a trot up at a 3-Day). The hunched defensive posture is reinforced by the anticipation of 'a long one' a ditch and a wall, and from living in her back protector. Perpetually broke because she pays THREE coaches (a Dressage Queen, a jumper rider, and her eventing guru, none of whom approve of the other) and pay trailers/stabling/living expenses to go 600 miles to events that are spread out over 5 days. She is smugly convinced that Eventers are in fact the only people in the world who CAN ride (since Dressage Queen's don't jump, the H/J crowd is to afraid to go OUT of a ring, and the fox hunters, a related breed, don't have to deal with dressage judges). The hat cover on her cross-country helmet is secured with a giant rubber band, so she can look like her idol, Phillip. Her horse, who has previously been rejected as a race horse, a steeplechase horse (got ruled off for jumping into the in-field tailgating crowd), a jumper, a fox hunter, and a polo pony (no bit stops this thing), has two speeds: gallop and 'no gallop' (also known as stop 'n' dump). Excels at over jumping into water, doing a head first 'tuck and roll' maneuver and exiting the complex (catch me if you can!) before his rider slogs out of the pond. Often stops to lick the Crisco off his legs before continuing gaily on to the merciless over jump just ahead. Owner often threatens to sell, but as he has flunked out of every other English-riding discipline, it will have to be to a barrel racer.
THE BACK YARD RIDER: Usually found wearing shorts and a sports bra in the summer; flannel nightgown, muck boots, and down jacket in the winter. Drives a Ford 150 filled with saddle blankets and dog hair. Most have deformed toes from being stepped on while wearing flip-flops. Has a two-horse bumper-pull trailer, but uses it for hay storage, as her horse hasn't been off the farm in 6 years. Can install an electric fence, set a gate, and roll a round bale, solo. Rode well and often when she used to board her horse, 5 years ago. Took horse home to 'save money' and has spent about 50 grand on acreage, barn, fence, tractor, etc. Has two topics of conversation - 1) How it's too hot/cold/wet/dry to ride. And 2) how she may ride after she fixes the fence/digs drainage ditches/stacks 4 tons of hay.
THE NATURAL HORSEMANSHIP DEVOTEE: Looks like a throwback from a Texas ranch, despite the fact that he lives in the suburbs of New Jersey. Rope coiled loosely in hand in case he needs to herd any of those kids on roller-blades away from his F-350 dually in the Wal-Mart parking lot. Cowboy hat strategically placed, and just dirty enough to look cool. Levi's are well worn. 'Lightning' is, of course, this natural horsemanship guy's horse. Rescued from a bad home where he was never imprinted or broke in the natural horsemanship way, he specialized in running down his owners at feeding time, knocking children off his back on low-hanging branches, and baring his teeth. The hospitalization tally for his previous handlers was 12, until he was sent to Round Pen Randy; after ten minutes in said pen, he is now a totally broke horse, bowing to the crowd, and can put on his own splint boots. (With R.P. Randy's trademark logo embossed on them) R.P.R. says, of all this, 'Well, shucks ma'am, tweren't nuthin'!' 'It's simple horsemanship.' 'With this special twirly flickitatin' rope ($17.95 plus tax), you'll be round-pennin' like me in no time!'
THE ENDURANCE RIDER: Wears Lycra tights in wild neon colors. The shinier the better, so the EMT's can find her body when her horse dumps her down a ravine. Wears hiking shoes of some sort, and T-shirts she got for paying $75 to complete another torturous ride. Her horse, Al Kamar Shazam, used to be called 'you' until he found an owner almost as hyper as he is. Shazam can spook at a blowing leaf, spin a 360, and not lose his big trot rhythm or give an inch to the horse behind him. Has learned to eat, drink, pee, and drop to his resting pulse rate on command. He has compiled 3,450 AERC miles; his rider compiled 3,445 (the missing five miles are the ones when he raced down the trail without his rider after performing his trademark 360. Over-heard frequently: 'Anyone have Advil?' 'Anyone got some food? I think last year's Twinkies went bad. 'For this pain I spend money?' 'Shazam, you <fill in the blank it's just a leaf [thud]!'
Submitted by Christy, Berks County, Pa.

Return to: Top of Page, List of Horse Jokes, My Little Sister's Jokes,
---
Recently I was asked to play in a golf outing.
At first I said, 'Naaahhh....'
Then they said to me, 'Come on, it's for handicapped and blind kids.'
Then I thought.........
Damn -- I could win this thing!!!
Submitted by Bob, Rockville, Md.

Return to: Top of Page, Groaner Joke List, My Little Sister's Jokes,
---
Humans originally existed as members of small bands of nomadic Hunters/gatherers.
They lived on deer in the mountains during the summer and would go to the coast and live on fish and lobster in the winter.. The two most important events in all of history were the invention of beer and the invention of the wheel. The wheel was invented to get man to the beer. These were the foundations of modern civilization and together were the catalyst for the splitting of humanity into two distinct subgroups:
1. Liberals, and 2. Conservatives.
Once beer was discovered, it required grain and that was the beginning of agriculture. Neither the glass bottle nor the aluminum can had been invented yet, so while our early ancestors were sitting around waiting for them to be invented, they just stayed close to the brewery. That's how villages were formed.
Some men spent their days tracking and killing animals to B-B-Q at night while they were drinking beer. This was the beginning of what is now known as the Conservative movement. Other men who were weaker and less skilled at hunting learned to live off the conservatives by showing up for the nightly B-B-Q's and doing the sewing, fetching, and hair dressing. This was the beginning of the Liberal movement.
Some of these liberal men eventually evolved into women. The rest became known as girlie-men. Some noteworthy liberal achievements include the domestication of cats, the invention of group therapy, group hugs, and the concept of Democratic voting to decide how to divide the meat and beer that conservatives provided.
Over the years conservatives came to be symbolized by the largest, most powerful land animal on earth, the elephant.. Liberals are symbolized by the jackass.
Modern liberals like imported beer (with lime added), but most prefer white wine or imported bottled water. They eat raw fish but like their beef well done. Sushi, tofu, and French food are standard liberal fare. Another interesting evolutionary side note: most of their women have higher testosterone levels than their men.
Most social workers, personal injury lawyers, journalists, dreamers in Hollywood and group therapists are liberals. Liberals invented the designated hitter rule because it wasn't fair to make the pitcher also bat.
Conservatives drink domestic beer, mostly Bud. They eat red meat and still provide for their women. Conservatives are big-game hunters, rodeo cowboys, lumberjacks, construction workers, firemen, medical doctors, police officers, corporate executives, athletes, Marines, and generally anyone who works productively. Conservatives who own companies hire other conservatives who want to work for a living.
Liberals produce little or nothing. They like to govern the producers and decide what to do with the production. Liberals believe Europeans are more enlightened than Americans. That is why most of the liberals remained in Europe when conservatives were coming to America. They crept in after the Wild West was tamed and created a business of trying to get something for nothing.
Here ends today's lesson in world history:
It should be noted that a Liberal may have a momentary urge to angrily respond to the above before forwarding it.
A Conservative will simply laugh and be so convinced of the absolute truth of this history that it will be forwarded immediately to other true believers and to more liberals just to piss them off.
And there you have it. Let your next action reveal your true self.
Submitted by my Little Brother Bill, Ardmore, Pa.

Return to: Top of Page, List of Political Jokes, My Little Sister's Jokes,
---
Redneck Carrier Landing - Download Video

Submitted by Dewey, Pensacola, Fl.

Return to: Top of Page, List of Audio/Videos, My Little Sister's Jokes,
---
Some interesting facts about F1 Race Cars...
F1 car is made up of 80,000 components if it were assembled 99.9% correctly, it would still start the race with 80 things wrong!
When an F1 driver hits the brakes on his car he experiences retardation or deceleration comparable to a regular car driving through a BRICK wall at 300kmph!!!
F1 car can go from 0 to 160 kph AND back to 0 in FOUR seconds!!!!!!!
F1 car engines last only for about 2 hours of racing mostly before blowing up on the other hand we expect our engines to last us for a decent 20yrs on an average and they quite faithfully DO....that's the extent to which the engines are pushed to perform.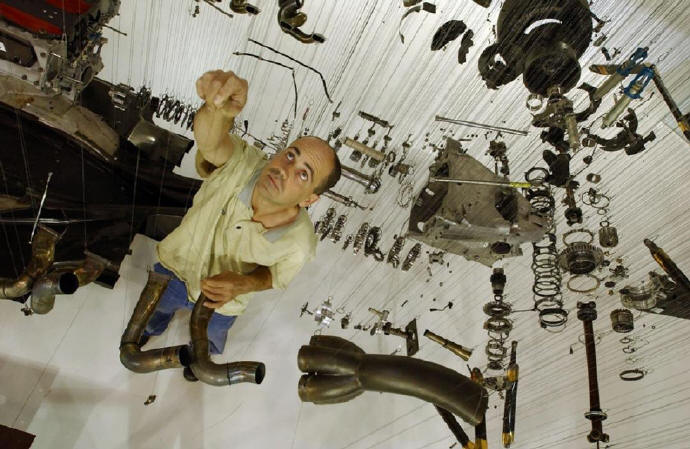 An average F1 driver looses about 4kgs of weight after just one race due to the prolonged exposure to high G forces and temperatures for little over an hour (Yeah thats right!!!)
At 550kg a F1 car is less than half the weight of a Mini.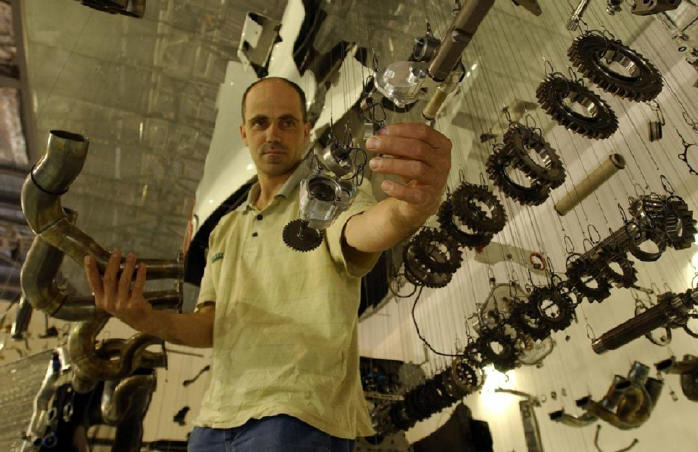 To give you an idea of just how important aerodynamic design and added down force can be, small planes can take off at slower speeds than F1 cars travel on the track.
Without aerodynamic down force, high-performance racing cars have sufficient power to produce wheel spin and loss of control at 160 kph. They usually race at over 300 kph.
In a street course race like the Monaco grand prix, the down force provides enough suction to lift manhole covers. Before the race all of the manhole covers on the streets have to be welded down to prevent this from happening!
The refuelers used in F1 can supply 12 liters of fuel per second. This means it would take just 4 seconds to fill the tank of an average 50 liter family car. They use the same refueling rigs used on US military helicopters today.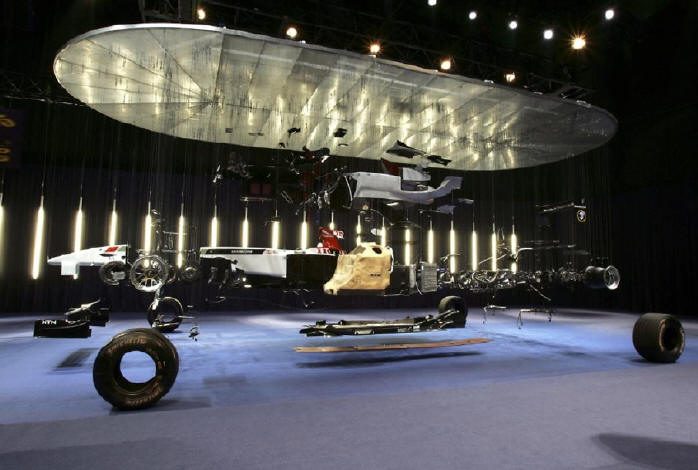 F1 pit crews can refuel and change tyres in around 3 seconds. It took me 8 sec to read above point
During the race the tyres lose weight! Each tyre loses about 0.5 kg in weight due to wear.
Normal tyres last 60 000 - 100 000 km. Racing tyres are designed to last 90 - 120 km.
A dry-weather F1 tyre reaches peak operating performance (best grip) when tread temperature is between 900C and 1200C.(Water boils boils at 100C remember) At top speed, F1 tyres rotate 50 times a second.
Submitted by Lindsay, Melbourne, Australia

Return to: Top of Page, List of Photos, My Little Sister's Jokes,
---