An Indian Chief was asked by a white government Official...
... "You have observed the white man for 90 years. You've seen his wars and his technological advances. You've seen his progress, and the damage he's done."
The Chief nodded in agreement.
The official continued, "Considering all these events, in your opinion, Where did the white man go wrong?"
The Chief stared at the government official for over a minute And then calmly replied. "When white man find land, Indians Running it. No taxes, No debt, Plenty buffalo, plenty beaver, Clean Water; women did all the work, Medicine man free. Indian man spend All day hunting and fishing."
Then the chief leaned back and smiled. "Only white man dumb enough to think he can improve system like that."
Submitted by Bob, Rockville, Md.

Return to: Top of Page, Clean Joke List, My Little Sister's Jokes,
---
A young man asked an old rich man how he made his money.
The old guy fingered his worsted wool vest and said, "Well son, it was 1932. The depth of the Great Depression. I was down to my last nickel. I invested that nickel in an apple. I spent the entire day polishing that apple and, at the end of the day, I sold the apple for ten cents.
The next morning, I invested those ten cents in two apples. I spent the entire day polishing them and sold them for 20 cents. I continued this system of polishing and selling, each time reinvesting my profits into buying more apples."
"Wow!" said the young man, "and that's how you accumulated your fortune?"
"Nah", said the old man, "my wife's father died and left us two million dollars."
Also submitted by Bob, Rockville, Md.

Return to: Top of Page, List of Jokes About Aging, My Little Sister's Jokes ,
---
There was a mine in a small town that had completely collapsed.
One of the engineers who miraculously survived the disaster went into the local watering hole. The bar was empty except for one lonely soul at the other end of the bar.
"Hey bartender" said the Engineer, "I'll have a beer and pour another one for my friend down at the end there."
The bartender responded, "I'm sorry sir but that guy's a Chinaman and we don't serve his kind around here."
"Well, you'd better because if it weren't for that guy, I wouldn't be here. You remember that mine that caved in, well I was in that mine and so was that guy. When the last of us were escaping, he held the roof of the mine up with his head! So get him a beer and if you don't believe me, look at the top of his head and you'll see that it's flat from holding the roof up."
The bartender skeptically served the Chinaman his beer and then came back to talk to the Engineer:
"I saw the flat spot on his head but I also couldn't help noticing all the bruising under his chin. What's that all about?"
The engineer responded:
"Oh... that's where we put the jack."
Submitted by Dewey, Pensacola, Fl.
Return to: Top of Page, List of Un-Categorizable Jokes, My Little Sister's Jokes,
---
More Murphy's Laws of Work
No one gets sick on Wednesdays.
When confronted by a difficult problem you can solve it more easily by reducing it to the question, "How would the Lone Ranger handle this?"
The longer the title, the less important the job.
Machines that have broken down will work perfectly when the repairman arrives.
An "acceptable" level of employment means that the government economist to whom it is acceptable still has a job.
Once a job is fouled up, anything done to improve it makes it worse.
All vacations and holidays create problems, except for one's own.
Success is just a matter of luck, just ask any failure.
Submitted by Kenneth, Shropshire, England

Return to: Top of Page, List of Jokes about Work, My Little Sister's Jokes,
---
A very zealous soul-winning young preacher recently came upon a farmer working in his field.
Being concerned about the farmer's soul the preacher asked the man, "Are you laboring in the vineyard of the Lord my good man?"
Not even looking at the preacher and continuing his work the farmer replied, "Naw, these are soybeans."
"You don't understand," said the preacher. "Are you a Christian?"
With the same amount of interest as his previous answer the farmer said, "Nope my name is Jones. You must be lookin for Jim Christian. He lives a mile south of here."
The young determined preacher tried again asking the farmer, "Are you lost?"
"Naw! I've lived here all my life," answered the farmer.
"Are you prepared for the resurrection?" the frustrated preacher asked.
This caught the farmer's attention and he asked, "When's it gonna be?"
Thinking he had accomplished something the young preacher replied, "It could be today, tomorrow, or the next day." Taking a handkerchief from his back pocket and wiping his brow, the farmer remarked, "Well, don't mention it to my wife. She don't get out much and she'll wanna go all three days."

Return to: Top of Page, List of Jokes About Marriage, My Little Sister's Jokes,
---
Remote Control Fishing - Download Video

Submitted by former Emmitsburg Mayor Ed.

Return to: Top of Page, List of Audio/Videos, My Little Sister's Jokes,
---
Why you don't want to piss off a woman!!!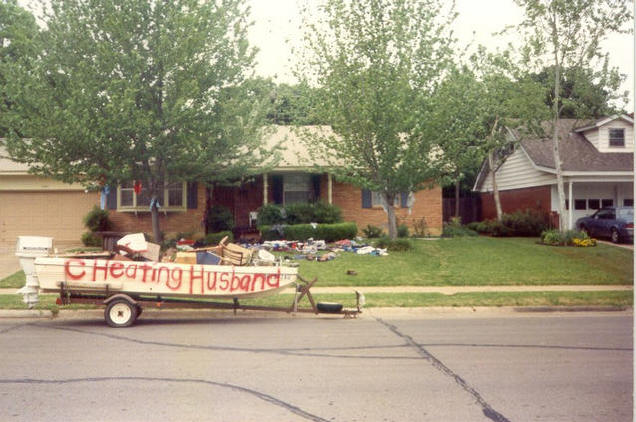 Submitted by my little brother Bill, Ardmore, Pa.

Return to: Top of Page, List of Photos, My Little Sister's Jokes,
---