I was out walking with my 4-year-old daughter.
She picked up something off the ground and started to put it in her mouth. I took the item away from her and I asked her not to do that.
"Why?" my daughter asked.
Because it's been on the ground, you don't know where it's been, it's dirty and probably has germs" I replied.
At this point, my daughter looked at me with total admiration and asked, "Mummy, how do you know all this stuff? You are so smart."
I was thinking quickly. "All mums know this stuff. It's on the Mummy Test. You have to know it, or they don't let you be a Mummy."
We walked along in silence for 2 or 3 minutes, but she was evidently pondering this new information.
"OH...I get it!" she beamed, "So. if you don't pass the test, you have to be the daddy."
"Exactly" I replied back with a big smile on my face.
When you're finished laughing, send this to a Mum.
Submitted by Lindsay, Melbourne, Australia

Return to: Top of Page, List of Jokes About Marriage, My Little Sister's Jokes,
---
Murphy's Laws Of Combat
If the enemy is in range, so are you.
Incoming fire has the right of way.
Don't look conspicuous, it draws fire.
There is always a way.
The easy way is always mined.
Try to look unimportant, they may be low on ammo.
Professionals are predictable, it's the amateurs that are dangerous.
The enemy invariably attacks on two occasions:

When you're ready for them.
When you're not ready for them.

Teamwork is essential, it gives them someone else to shoot at.
If you can't remember, the claymore is pointed at you.
The enemy diversion you have been ignoring will be the main attack.
A "sucking chest wound" is natures way of telling you to slow down.
If your attack is going well, you have walked into an ambush.
Never draw fire, it irritates everyone around you.
Anything you do can get you shot, including nothing.
Make it tough enough for the enemy to get in and you won't be able to get out.
Never share a foxhole with anyone braver than yourself.
If you are short of everything but the enemy, you are in a combat zone.
When you have secured an area, don't forget to tell the enemy.
Never forget that your weapon is made by the lowest bidder.
Submitted by Bill, Ardmore, Pa.
Return to: Top of Page, List of Un-Categorizable Jokes, My Little Sister's Jokes,
---
Fun and Fast Horse Facts
The oldest horse on record was named Old Billy, a Cleveland Bay that lived to be 62 years old.
Adult horses only sleep 3-4 hours in a 24 hour period.
The tallest horse was named Samson back in the 1850's. Samson stood at 21.2 inches high.
The smallest horse in the world is Thumbelina (aptly named). She stands at just 17 inches tall!
A horse can see in all directions except for directly in front and directly behind him.
The highest successful jump ever was made by a horse named Huaso in Chile. He jumped 8 feet!
A mule is a cross between a male donkey (known as a jack) and a female horse (mare). Mules are always sterile.
Horses cannot breathe through his mouth
Submitted by Dick, Williamsport, Md.

Return to: Top of Page, List of Horse Jokes, My Little Sister's Jokes,
---
Recent Quips from Late Night - Take 53
"Several prominent Republicans are calling on Sen. Larry Craig to resign. And a couple are asking for his phone number." --David Letterman
"Sen. Larry Craig, who pled guilty to soliciting sex at an airport, is now being accused of having oral sex at a train station. When asked about it, Craig said, 'What can I say? I love public transportation.'" --Conan O'Brien
"Sen. Larry Craig said today yes he is gay, but he never inhaled." --Jay Leno
"Gay groups are calling Craig a hypocrite because Craig is a staunch opponent of gay marriage. Craig denied he's a hypocrite, saying, 'Hey, I wasn't trying to marry the cop in the bathroom.'" --Conan O'Brien
"In the New York Sunday Times, they mixed up a picture of Iraq with a picture of New Orleans. This even confused the White House. They saw the picture and accidentally sent money to New Orleans." --Jay Leno
"Yesterday in Washington, a couple of pranksters covered Karl Rove's car in bumper stickers that read, "I Love Obama." Karl Rove laughed about it then had the pranksters murdered." --Conan O'Brien
"Earlier today, Fred Thompson who is a former star of Law & Order, confirmed with his supporters that he is running for president. Afterwards, Thompson promised to solve the crisis in Iraq by the end of the episode." --Conan O'Brien
Submitted by Kenneth, Shropshire, England

Return to: Top of Page, Recent Quips from Late Night List, My Little Sister's Jokes,
---
A rather attractive woman goes up to the bar in a quiet rural pub.
She gestures alluringly to the barman, who comes over immediately. When he arrives, she seductively signals for him to bring his face close to hers. When he does so, she begins to gently caress his beard, which is full and bushy.
"Are you the manager?" she asks, softly stroking his face with both hands.
"Actually, no" he replies.
"Can you get him for me -- I need to speak to him." She is running her hands up beyond his beard and into his hair.
"I'm afraid that I can't," breathes the barman, clearly aroused. "Is there anything I can do?"
"Yes, there is. I need you to give him a message," she continues huskily, popping a couple of fingers into his mouth and allowing him to suck them gently.
"Tell him that there is no toilet paper in the ladies room."
Also submitted by Kenneth, Shropshire, England

Return to: Top of Page, Groaner Joke List, My Little Sister's Jokes,
---
Whatever obstacles you face today, I hope they can be solved this easily!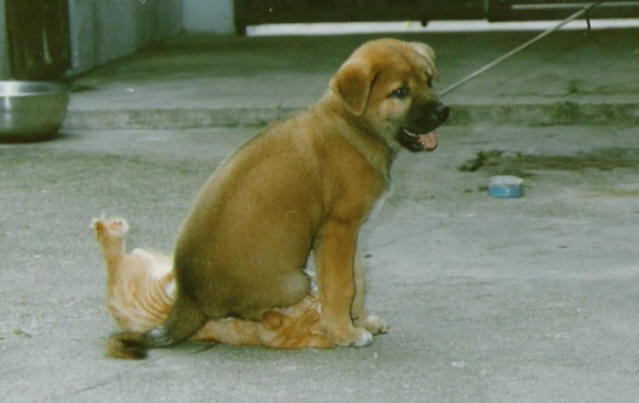 Submitted by Julie, Middleburg, Va.

Return to: Top of Page, List of Photos, My Little Sister's Jokes,
---