What Women Want in a Man
Original List:
Handsome
Charming
Financially successful
A caring listener
Witty
In good shape
Dresses with style
Appreciates finer things
Full of thoughtful surprises
An imaginative, romantic lover
What Women Want in a Man, Revised List (age 32)
Nice looking
Opens car doors, holds chairs
Has enough money for a nice dinner
Listens more than talks
Laughs at my jokes
Carries bags of groceries with ease
Owns at least one tie
Appreciates a good home-cooked meal
Remembers birthdays and anniversaries
Seeks romance at least once a week
What Women Want in a Man, Revised List (age 52)
Not too ugly
Doesn't drive off until I'm in the car
Works steady - splurges on dinner out occasionally
Nods head when I'm talking
Usually remembers punch lines of jokes
Is in good enough shape to rearrange the furniture
Wears a shirt that covers his stomach
Knows not to buy champagne with screw-top lids
Remembers to put the toilet seat down
Shaves most weekends
What Women Want in a Man, Revised List (age 62)
Keeps hair in nose and ears trimmed
Doesn't belch or scratch in public
Doesn't borrow money too often
Doesn't nod off to sleep when I'm venting
Doesn't retell the same joke too ma ny times
Is in good enough shape to get off couch on weekends
Usually wears matching socks and fresh underwear
Appreciates a good TV dinner
Remembers your name on occasion
Shaves some weekends
What Women Want in a Man, Revised List (age 72)
Doesn't scare small children
Remembers where bathroom is
Doesn't require much money for upkeep
Only snores lightly when asleep
Remembers why he's laughing
Is in good enough shape to stand up by himself
Usually wears some clothes
Likes soft foods
Remembers where he left his teeth
Remembers that it's the weekend
What Women Want in a Man, Revised List (age 82)
Breathing
Doesn't miss the toilet.
Submitted by Mary Jo, Emmitsburg, Md.
Return to: Top of Page, List of Jokes About Men, My Little Sister's Jokes,
---
Kids' Views About the Sea
This is a picture of an octopus. It has eight testicles. (Kelly age 6)
Oysters' balls are called pearls. (James age 6)
If you are surrounded by sea, you are an island. If you don't have sea all round you, you are incontinent. ( Wayne age 7)
Sharks are ugly and mean, and have big teeth, just like Emily Richardson. She's not my friend no more. (Kylie age 6)
A dolphin breaths through an asshole on the top of its head. (Billy age 8)
My uncle goes out in his boat with pots, and comes back with crabs. (Millie age 6)
When ships had sails, they used to use the trade winds to cross the ocean. Sometimes, when the wind didn't blow, the sailors would whistle to make the wind come. My brother said they would have been better off eating beans. (William age 7)
I like mermaids. They are beautiful, and I like their shiny tails. And how on earth do mermaids get pregnant? Like, really? (Helen age 6)
I'm not going to write about the sea. My baby brother is always screaming and being sick, my Dad keeps shouting at my Mom, and my big sister has just got pregnant, so I can't think what to write. (Amy age 6)
Some fish are dangerous. Jellyfish can sting. Electric eels can give you a shock. They have to live in caves under the sea where I think they have to plug themselves into chargers. (Christopher age 7)
On holidays my Mom went water skiing. She fell off when she was going very fast. She says she won't do it again because water fired right up her fat ass. (Julie age 7)
Submitted by Bill, Gettysburg, Pa.

Return to: Top of Page, List of Cute Kids Sayings, My Little Sister's Jokes,
---
Recent Quips from Late Night - Take 44
"It looks like the Senate and the president have finally agreed on an immigration bill. ... This one looks like it could become law and, of course, nobody likes it. The conservatives say the bill gives amnesty to the illegals. The liberals say it doesn't go far enough to protect the hardworking immigrants here in America. And the L.A.P.D. doesn't know who to beat up." --Bill Maher
"Part of this new immigration bill requires the head of the household to be sent home. He has to go back to his home country. Some people say this would be cruel to take a hardworking person working for the American dream and send them home. But, hey, 'American Idol' does it every week." --Jay Leno
"The Associated Press says that many of the Mexican people in Mexico are against this new immigration bill. Oh, man. Let's hope they don't boycott coming here." --Jay Leno
"They killed the Taliban's top commander in Afghanistan. ... You know, it's going to be nice for Saddam Hussein to have help shoveling coal into the furnace of Hell." --David Letterman
"President Bush and British Prime Minister Tony Blair held their last joint press conference. President Bush says he's gonna miss listening to Tony Blair, because when he closes his eyes, Blair sounds just like C3PO." --Conan O'Brien
"During a concert of the Virginia symphony at the 400th anniversary celebration of Jamestown, President Bush briefly took over conducting the orchestra. Which explains why the orchestra is now four trillion dollars in debt." --Seth Meyers
"Lieutenant General Douglas Lute, the Pentagon's director of operations, was chosen to oversee the fighting in Iraq and Afghanistan as a war czar. Lute was chosen after being the last one in the room to yell, 'Not it!'" --Amy Poehler
"Happy TGIF! Do you know what TGIF stands for? ... The Greencard Is Five Grand." --Jay Leno
"Toyota introduced a luxury hybrid car that costs $125,000. The luxury hybrid is perfect for the person who wants to be environmentally conscious, but still wants to look like a selfish a-hole." --Conan O'Brien
Submitted by Kenneth, Shropshire, England

Return to: Top of Page, Recent Quips from Late Night List, My Little Sister's Jokes,
---
Two 90 year old men, Mike and Joe, have been friends all of their lives.
When it's clear that Joe is dying, Mike visits him every day. One day Mike says, "Joe, we both loved football all our lives, and we played Sunday football together for so many years. Please do me one favour, when you get to Heaven, somehow you must let me know if there's football there."
Joe looks up at Mike from his death bed," Mike, you've been my best friend for many years. If it's at all possible, I'll do this favour for you."
Shortly after that, Joe passes on.
At midnight a couple of nights later, Mike is awakened from a sound sleep by a blinding flash of white light and a voice calling out to him,"
Mike-Mike.""Who is it? asks Mike sitting up suddenly. "Who is it?"
"Mike-it's me, Joe." "You're not Joe. Joe just died."
"I'm telling you, it's me, Joe," insists the voice." "Joe! Where are you?"
"In heaven", replies Joe. "I have some really good news and a little
bad news." "Tell me the good news first," says Mike.
"The good news," Joe says," is that there's football in heaven. Better yet, all of our old friends who died before us are here, too. Better than that, we're all young again.
Better still, it's always spring time and it never rains or snows. And best of all, we can play football all we want, and we never get tired."
"That's fantastic," says Mike. "It's beyond my wildest dreams! So what's the bad news?
"I've just seen the team sheet and you're playing Tuesday."
Submitted by Lindsay, Melbourne, Australia
Return to: Top of Page, List of Jokes About Aging, My Little Sister's Jokes ,
---
Mr. Jacobson, a miserly businessman, decided to take a week off ...
...from the pressures of the office and went skiing. Alas, no sooner did he reach the slopes than he heard an ominous rumbling: moments later a sheet of snow came crashing toward him.
Fortunately, Mr. Jacobson was able to jump into a cave just before the avalanche hit. Just as fortunately, he had matches with him and was able to light a fire.
Hours later, when everyone but Mr. Jacobson had returned, a rescue team was sent to search for him.
After several hours they saw smoke curling from the cave and went to investigate.
Poking his head into the entrance, one of the rescuers yelled, "Mr. Jacobson, are you there? It's the Red Cross."
Bristling, the harried executive called back, "Get lost. I gave at the office!"

Return to: Top of Page, Groaner Joke List, My Little Sister's Jokes,
---
Redneck Style Home Repair Projects ...
Download Slide Show
Submitted by Dewey, Pensacola, FL

Return to: Top of Page, List of Audio/Videos, My Little Sister's Jokes,
---
You Might be a redneck if...
A little rain doesn't spoil the fishing...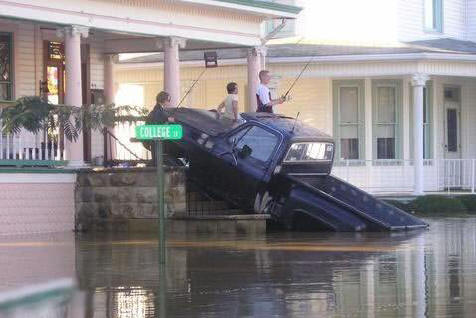 You carry your front porch with you...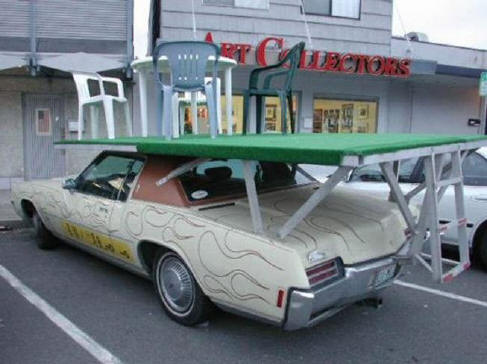 You need fashion tips from your husband...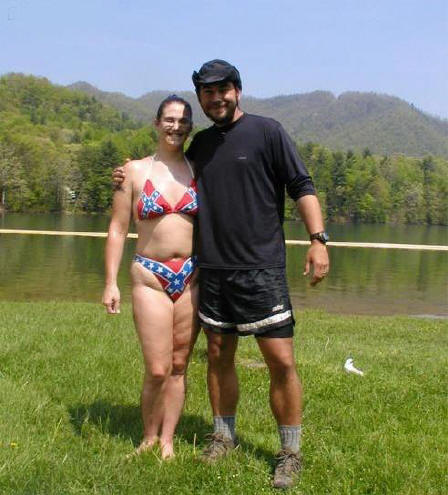 You wear a shirt like this for your engagement picture...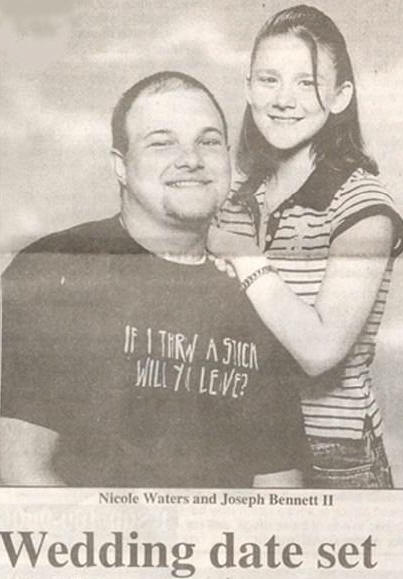 Your wedding picture looked like this..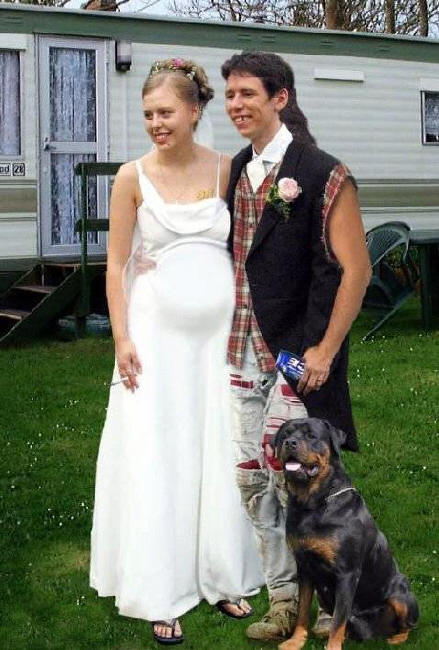 And your wedding cake looked like this...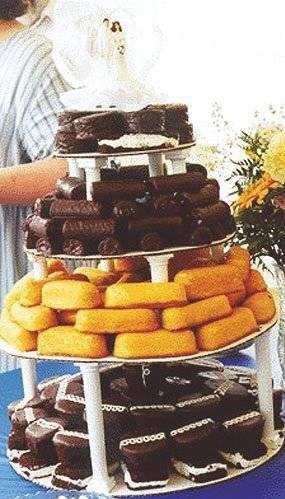 Your mailbox looks like this..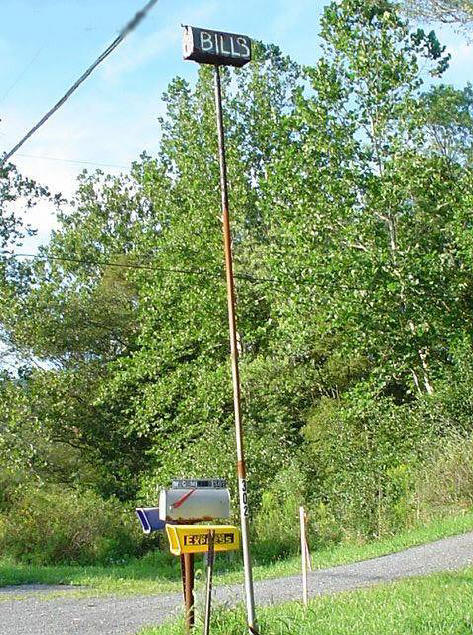 Your doghouse looks like this...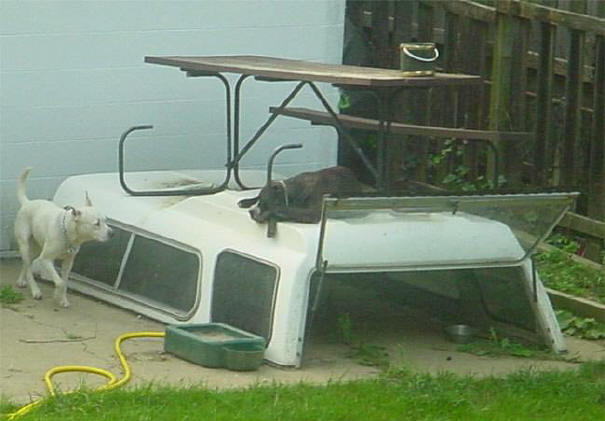 Your pickup looks like this...
You have a deer's butt for a door bell...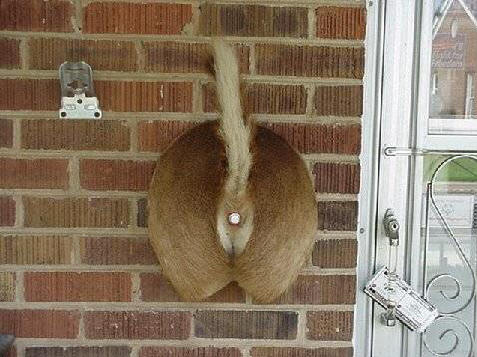 You don't need a lake to do a little skiing...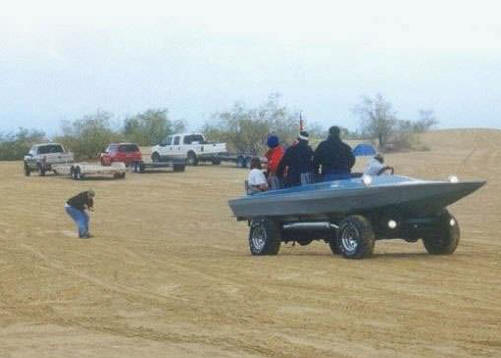 Or if your wife is quoted in the local paper saying...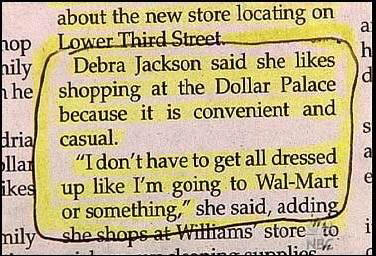 Also submitted by Audrey, Emmitsburg, MD.

Return to: Top of Page, List of Photos, My Little Sister's Jokes,
---