Three guys go into a bar: a guy from Dallas, a guy from San Francisco, and a guy from Boulder.
They drank and got a little rowdy. Suddenly, completely without warning, the Texan grabbed a bottle of tequila, unscrewed the top, took a good swig, and threw the bottle into the air.
He then jerked a Colt .45 pistol out of his pocket and shot the bottle, spraying tequila all over everything and everybody.
The patrons at the bar shouted, "Hey, bud, why'd you waste that tequila?"
The Texan said, "Heck, it's just tequila. Us Texans go across the border all the time and get all the tequila we want."
Not to be outdone, the Californian whipped out a corkscrew and uncorked a bottle of wine. He poured some into a glass, swirled it, sniffed,commented on the tart insolence of its bouquet, sipped, tossed the bottle in the air, nicked it with a round from a silly little chrome-plated pistol, and showered a couple of patrons at the bar with wine.
The patrons, upset by the casual waste and general lack of concern for their safety, expressed their displeasure and astonishment, to which the Californian replied, "Well, I'm from Napa Valley, and we have more than enough wine where I come from."
The Boulderite, a quiet observer up to this point, touched the crystal hanging from his neck, adjusted his Birkenstocks, flipped back his ponytail, put down his guitar, and borrowed a bottle opener from the bartender. He popped the top off a bottle of Fat Tire beer, hammered it back, threw the empty bottle into the air, pulled a 9mm Beretta, took careful aim, shot both the Californian and the Texan, and caught the falling bottle.
The patrons screamed in utter disbelief, "Why'd you do that?"
The Boulderite replied, "I'm from Colorado. We've already got too many Texans and way too many Californians, but glass bottles, now those can be recycled!"
Submitted by Dave, and yes, he's from Bolder, CO.
Return to: Top of Page, List of Un-Categorizable Jokes, My Little Sister's Jokes,
---
Freddie was eighteen years old, friendly, and eager to do things right.
Unfortunately, he wasn't especially bright. He had just started his first job, as a delivery boy and general go-fer at a furniture warehouse. His first task was to go out for coffee.

He walked into a nearby coffee shop carrying a large thermos. When the counterman finally noticed him, he held up the thermos.

"Is this big enough to hold six cups of coffee?" he said. The counterman looked at the thermos, hesitated for a few seconds, then finally said, "Yeah. It looks like about six cups to me."

"Good," Freddie said. "Give me two regular, two black, and two decaf."
Submitted by Kenneth, Shropshire, England

Return to: Top of Page, Groaner Joke List, My Little Sister's Jokes,
---
A guru was so impressed by the spiritual progress of his disciple that ...
... judging he needed no further guidance, he left him on his own in a little hut on the banks of a river.
Each morning after ablutions he would hand his loincloth out to dry. It was his only possession! One day, he was dismayed to find it torn to shreds by rats. So he had to beg for another from the villagers. When the rats nibbled holes in that one too, he got himself a kitten. He had no more trouble with rats but now, in addition to begging for his own food, he had to beg for milk as well.
"Too much trouble begging," he thought, "and too much of a burden for the villagers. I shall keep a cow." When he got the cow, he had to beg for fodder. "Easier to till the land around my hut," he thought. But that proved troublesome too for it left him with little time for meditation. So he employed labourers to till the land for him. Now overseeing the labourers became a chore, so he married a wife who would share this task with him. Before long, of course, he was one of the wealthiest men in the village.
Years later his guru happened to drop by and was surprised to see a palatial mansion where once a hut had stood. He said to one of his servants, "Isn't this where a disciple of mine used to live?"
Before he got a reply the disciple himself emerged. "What's the meaning of all this, my son?" asked Guru.
"You're not going to believe this, sir," said the man, "but there was no other way I could keep my loincloth."
Submitted by Lindsay, Melbourne, Australia
Return to: Top of Page, Clean Joke List, My Little Sister's Jokes,
---
The older I get, the more I enjoy Saturday mornings.
Perhaps it's the quiet solitude that comes with being the first to rise, or maybe it's the unbounded joy of not having to be at work. Either way, the first few hours of a Saturday morning are most enjoyable.
A few weeks ago, I was shuffling toward the garage with a steaming cup of coffee in one hand and the morning paper in the other. What began as a typical Saturday morning turned into one of those lessons that life seems to hand you from time to time. Let me tell you about it:
I turned the dial up into the phone portion of the band on my ham radio in order to listen to a Saturday morning swap net. Along the way, I came across an older sounding chap, with a tremendous signal and a golden voice. You know the kind; he sounded like he should be in the broadcasting business. He was telling whom-ever he was talking with something about "a
thousand marbles." I was intrigued and stopped to listen to what he had to say.
"Well, Tom, it sure sounds like you're busy with your job. I'm sure they pay you well but it's a shame you have to be away from home and your family so much. Hard to believe a young fellow should have to work sixty or seventy hours a week to make ends meet. It's too bad you missed your daughter's "dance recital" he continued. "Let me tell you something that has helped me keep my own priorities." And that's when he began to explain his theory of a "thousand marbles."
"You see, I sat down one day and did a little arithmetic. The average person lives about seventy-five years. I know, some live more and some live less, but on average, folks live about seventy-five years.
"Now then, I multiplied 75 times 52 and I came up with 3900, which is the number of Saturdays that the average person has in their entire lifetime. Now, stick with me, Tom, I'm getting to the important part.
It took me until I was fifty-five years old to think about all this in any detail", he went on, "and by that time I had lived through over twenty-eight hundred Saturdays." "I got to thinking that if I lived to be seventy-five, I only had about a thousand of them left to enjoy. So I went to a toy store and bought every single marble they had. I ended up having to visit three toy stores to round up 1000 marbles. I took them home and put them inside a large, clear plastic container right here in the shack next to my gear."
"Every Saturday since then, I have taken one marble out and thrown it away. I found that by watching the marbles diminish, I focused more on the really important things in life. There is nothing like watching your time here on this earth run out to help get your priorities straight."
"Now let me tell you one last thing before I sign-off with you and take my lovely wife out for breakfast. This morning, I took the very last marble out of the container. I figure that if I make it until next Saturday then I have been given a little extra time. And the one thing we can all use is a little more time."
"It was nice to meet you Tom, I hope you spend more time with your family, and I hope to meet you again here on the band. This is a 75 Year old Man, K9NZQ, clear and going QRT, good morning!"
You could have heard a pin drop on the band when this fellow signed off. I guess he gave us all a lot to think about. I had planned to work on the antenna that morning, and then I was going to meet up with a few hams to work on the next club newsletter..
Instead, I went upstairs and woke my wife up with a kiss. "C'mon honey, I¢m taking you and the kids to breakfast." "What brought this on?" she asked with a smile. "Oh, nothing special, it's just been a long time since we spent a Saturday together with the kids. And hey, can we stop at a toy store while we're out? I need to buy some marbles...

Return to: Top of Page, List of Inspirational Stories, My Little Sister's Jokes,
---
European semi-trucks whose trailers are decorated to look like the sides are missing and the products they are hauling are painted on the sides and back.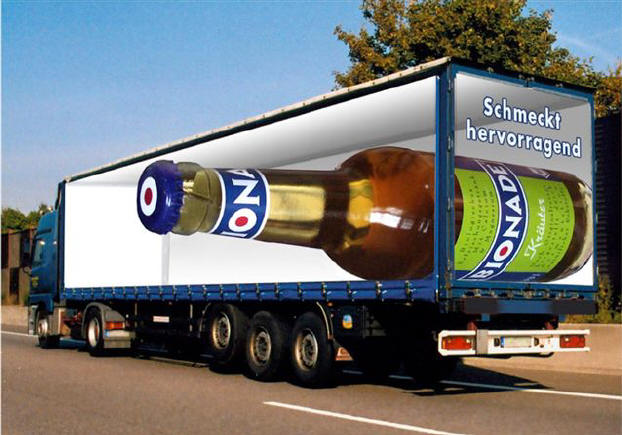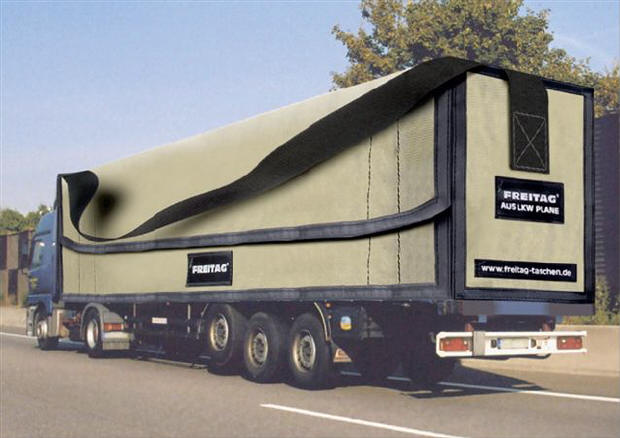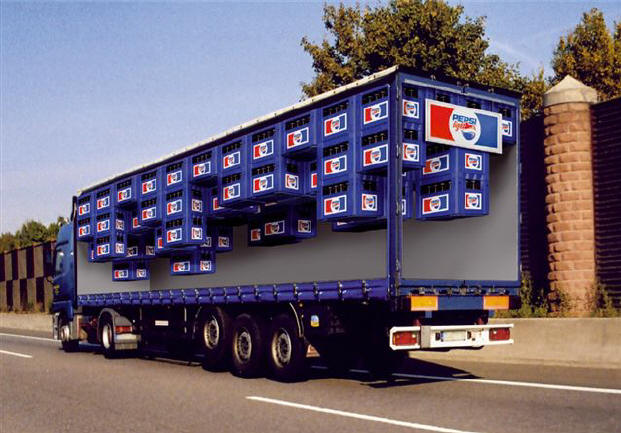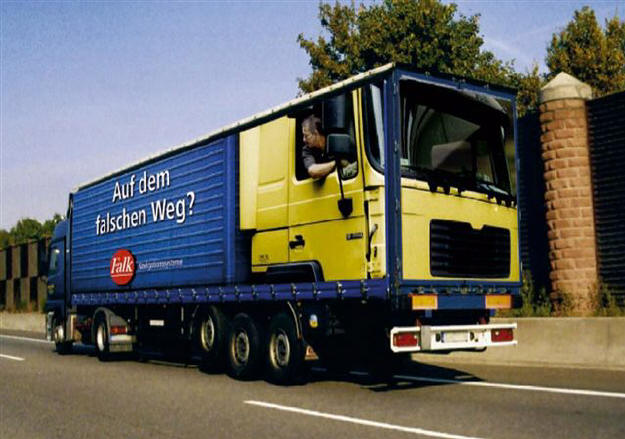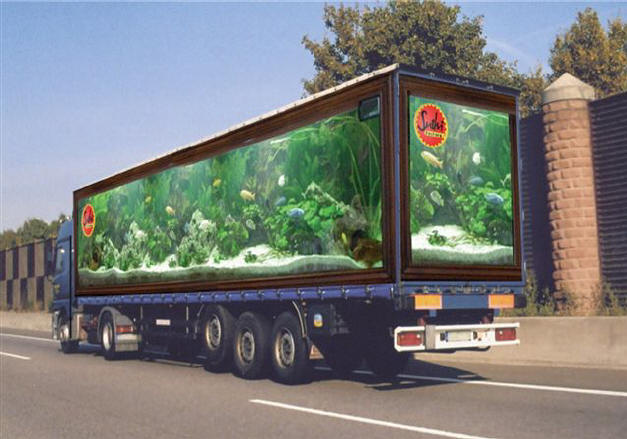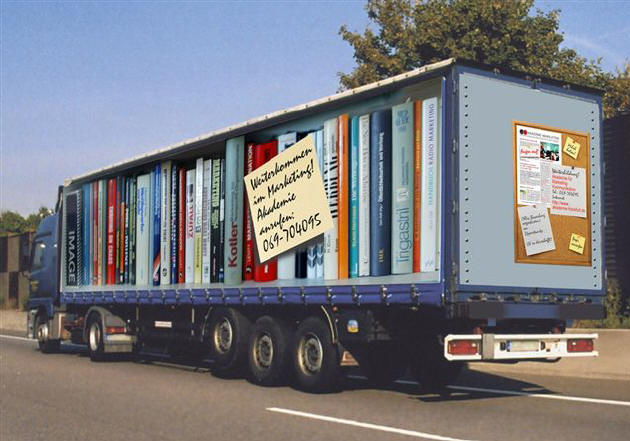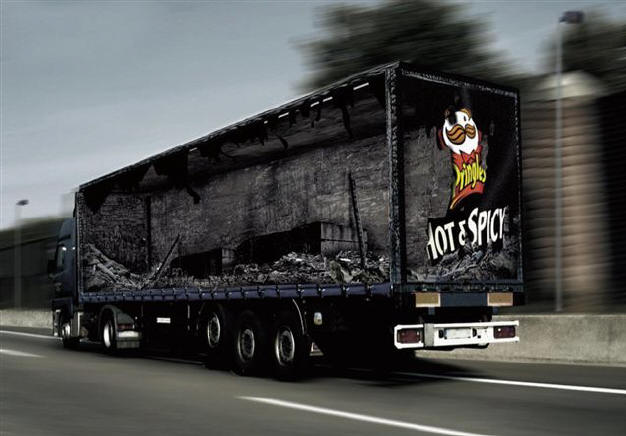 |
The last one is for Pringles-Hot & Spicy. The "inside" of the trailer has the appearance of having been through a fire.
Submitted by Jeffrey, Germantown, Md.

Return to: Top of Page, List of Photos, My Little Sister's Jokes,
---