Bill and Tom are two Irishmen working at the local sawmill.
One day Bill slips and his arm gets caught and severed by the big bench saw. Tom quickly puts the limb in a plastic bag and rushes it and Bill to the local hospital.
Next day, Tom goes to the hospital and asks after Bill.
The nurse says, 'Oh he's out in Rehab exercising'. Tom couldn't believe it, but here's Bill out the back exercising his now reattached arm. The very next day he's back at work in the saw mill.
A couple of days go by, and then Bill slips and severs his leg on another big saw thing. So Tom puts the limb in a plastic bag and rushes it and Bill off to hospital.
Next day he calls in to see him and asks the nurse how he is.
The nurse replies, 'He's out in the Rehab again exercising. And sure enough, here's Bill out there doing some serious work on the treadmill.
And Bill comes back to work.
But, as usual, within a couple of days he has another accident and severs his head. Wearily Tom puts the head in a plastic bag and transports it and Bill to hospital.
Next day he goes in and asks the nurse how Bill is. The nurse breaks down and cries and says, 'He's dead.'
Tom is shocked, but not surprised. 'I suppose the saw finally did him in.'
Submitted by Kenneth, Shropshire, England

Return to: Top of Page, List of Ethnic Jokes, My Little Sister's Jokes,
---
Two guys sat down for lunch in the office cafeteria.
"Hey, whatever happened to Pete in payroll?" one asked.
"He got this harebrained notion he was going to build a new kind of car," his co-worker replied.
"How was he going to do it?"
"He took an engine from a Pontiac, tires from a Chevy, seats from a Lincoln, hubcaps from Caddy and, well, you get the idea."
"So what did he end up with?"
"Ten years to life."
Submitted by Bill, Ardmore, Pa.
Return to: Top of Page, Clean Joke List, My Little Sister's Jokes,
---
Interesting Quotes
If you want to say it with flowers, a single rose says: "I'm cheap!" -Delta Burke
Women complain about premenstrual syndrome, but I think of it as the only time of the month that I can be myself. -Roseanne
I am not the boss of my house. I don't know when I lost it. I don't know if I ever had it. But I have seen the boss's job and I do not want it. -Bill Cosby
My mom said the only reason men are alive is for lawn care and vehicle maintenance. -Tim Allen
We have women in the military, but they don't put us in the front lines. They don't know if we can fight, if we can kill. I think we can. All the general has to do is walk over to the women and say, "You see the enemy over there? They say you look fat in those uniforms." -Elayne Boosler
Always be nice to your children because they are the ones who will choose your rest home. -Phyllis Diller
Electricity can be dangerous. My nephew tried to stick a penny into a plug. Whoever said a penny doesn't go far didn't see him shoot across that floor. I told him he was grounded. -Tim Allen
If you can't beat them, arrange to have them beaten. -George Carlin
I am a marvelous housekeeper. Every time I leave a man I keep his house. -Zsa Zsa Gabor
Submitted by Dick, Williamsport, Md.

Return to: Top of Page, List of Humorous Sayings, My Little Sister's Jokes,
---
A minister tells of his first Sunday in a new parish and of presenting the children's message.
It seems the sanctuary in the new church had some magnificent stained glass windows, so his message centered on how each of us is called to help make up the whole picture of life (the life of the community of the faithful). Like the pictures in the windows, it takes many little panels of glass to make the whole picture.
And then he said, "You see each one of you is a little pane." And then pointing to each child, "You're a little pane. And you're a little pane. And you're a little pane. And..."
It took a few moments before he realized why everyone was laughing so hard.

Return to: Top of Page, List of Religious Jokes, My Little Sister's Jokes,
---
Special Poem for Senior Citizens
A row of bottles on my shelf
Caused me to analyze myself.
One yellow pill I have to pop
Goes to my heart so it won't stop.
A little white one that I take
Goes to my hands so they won't shake.
The blue ones that I use a lot
Tell me I'm happy when I'm not.
The purple pill goes to my brain
And tells me that I have no pain.
The capsules tell me not to wheeze
Or cough or choke or even sneeze.
The red ones, smallest of them all
Go to my blood so I won't fall.
The orange ones, very big and bright
Prevent my leg cramps in the night.
Such an array of brilliant pills
Helping to cure all kinds of ills.
But what I'd really like to know..........
Is what tells each one where to go!
There's always a lot to be thankful for if you take time to look for it. For example I am sitting here thinking how nice it is that wrinkles don't hurt...
Submitted by Bob, Rockville, Md.

Return to: Top of Page, List of Jokes About Aging, My Little Sister's Jokes ,
---
Beautiful Slide Show - Download Slideshow

Submitted by Dewey, Pensacola, FL

Return to: Top of Page, List of Audio/Videos, My Little Sister's Jokes,
---
Finally, error messages I understand!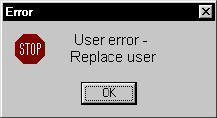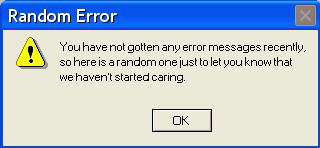 Submitted by Mary Jo, Emmitsburg, Md.

Return to: Top of Page, List of Photos, My Little Sister's Jokes,
---