Paddy staggered home very late after an evening with his drinking buddy, Mick.
He took off his shoes to avoid waking his wife, Bridget. He tiptoed as quietly as he could toward the stairs leading to their upstairs bedroom, but misjudged the bottom step. As he caught himself by grabbing the banister, his body swung around and he landed heavily on his rump. The bottle of "Jameson" in each back pocket broke and made the landing especially painful.
Managing not to yell, Paddy sprung up, pulled down his pants, and looked in the hall mirror to see that his butt cheeks were cut and bleeding.
He managed to quietly find a full box of Band-Aids and began putting a Band-Aid as best he could on each place he saw blood. He then hid the now almost empty Band-Aid box and stumbled his way to bed.
In the morning, Paddy woke up with searing pain in both his head and butt. Bridget sat staring at him from a cross the room. She said, "Paddy McGuire, ye were drunk again last night, weren't ye?"
Paddy said, "Why are ye accusin' me of such a thing?"
"Ah, well," Bridget said, "it could be the open front door; it could be the broken glass at the bottom of the stairs; it could be the drops of blood trailing through the house; it could be yer bloodshot eyes; but mostly, I'm thinkin', it's all those Band-Aids stuck to the hall mirror."
Submitted by Bill, Ardmore, Pa.

Return to: Top of Page, List of Ethnic Jokes, My Little Sister's Jokes,
---
Cute Kid's Answers to Grown-up Relationship Questions
How Do You Decide Who to Marry?
You got to find somebody who likes the same stuff. Like, if you like sports, she should like it that you like sports, and she should keep the chips and dip coming. - Alan, age 10
No person really decides before they grow up who they're going to marry. God decides it all way before and you get to find out later who you're stuck with. - Kristen, age 10 (isn't she a treasure)
What Is the Right Age to Get Married?
Twenty-three is the best age because you know the person FOREVER by then. - Camille, age 10
No age is good to get married at. You got to be a fool to get married. - Freddie, age 6 (very wise for his age)
How Can a Stranger Tell If Two People Are Married?
You might have to guess based on whether they seem to be yelling at the same kids. - Derrick, age 8
What Do You Think Your Mom and Dad Have in Common?
Both don't want any more kids. - Lori, age 8
What Do Most People Do on a Date?
Dates are for having fun and people should use them to get to know each other. Even boys have something to say if you listen long enough. - Lynnette, age 8
On the first date they just tell each other lies and that usually gets them interested enough to go for a second date. - Martin, age 10 (who said boys do not have brains)
What Would You Do on a First Date That Was Turning Sour?
I'd run home and play dead. The next day I would call all the newspapers and make sure they wrote about me in all the dead columns. -Craig, age 9
When Is it Okay to Kiss Someone?
When they're rich. - Pam, age 7 (I could not have said it better myself)
The law says you have to be eighteen, so I wouldn't want to mess with that. - Curt, age 7 (good point)
The rule goes like this: if you kiss someone then you should marry them and have kids with them. It's the right thing to do. - Howard, age 8
Is it Better to Be Single or Married?
It's better for girls to be single but not for boys. Boys need someone to clean up after them. - Anita, age 9 (bless you child)
How Would the World Be Different If People Didn't Get Married?
There sure would be a lot of kids to explain, wouldn't there? - Kelvin, age 8
How Would You Make a Marriage Work?
Tell your wife that she looks pretty, even if she looks like a truck. - Ricky, age 10 (the boy already understands)
Submitted by Bill, Gettysburg, Pa.

Return to: Top of Page, List of Cute Kids Sayings, My Little Sister's Jokes,
---
The Pope met with his Cardinals to discuss a proposal from the leader of Israel.
"Your Holiness", said one of his Cardinals, "Mr. Olmert wants to challenge you to a game of golf to show the friendship and ecumenical spirit shared by the Jewish and Catholic faiths."
The Pope thought this was a good idea, but he had never held a golf club in his hand. "Don't we have a Cardinal to represent me?" he asked.
"None that plays very well," a Cardinal replied. "But," he added, "there is a man named Jack Nicklaus, an American golfer who is a devout Catholic. We can offer to make him a Cardinal, then ask him to play Mr. Olmert as your personal representative. In addition, to showing our spirit of cooperation, we'll also win the match."
Everyone agreed it was a good idea. The call was made. Of course, Nicklaus was honored and agreed to play. The day after the match, Nicklaus reported to the Vatican to inform the Pope of the result. "I have some good news and some bad news, your Holiness," said the golfer.
"Tell me the good news first, Cardinal Nicklaus," said the Pope.
"Well, your Holiness, I don't like to brag, but even though I've played some pretty terrific rounds of golf in my life, this was the best I've ever played, by far. I must've been inspired from above. My drives were long and true, and my putting was absolutely perfect. With all due respect, my play was truly miraculous."
"And there's bad news?", the Pope asked.
"Yes," Nicklaus sighed. "I lost to Rabbi Tiger Woods by three strokes."
Submitted by Jay, Long Island, NY.

Return to: Top of Page, List of Sports Jokes, My Little Sister's Jokes,
---
Recent Quips from Late Night - Take 25
"The election is three weeks away and there are rumors the Republicans are getting ready for an election night disaster, which would be a first -- a disaster they were actually prepared for." --Bill Maher
"On Tuesday, the U.S. population hit 300 million. 'Oh, that's so cute,' said China." --Amy Poehler
"If recent polls are correct and Democrats win back control of the House and Senate, President Bush's administration will be transformed into an early lame duck. Worse, Cheney will then shoot it." --Seth Meyers
"This is a bleak time for the Republican Party. You know you have trouble when the least embarrassing guy in your group is Arnold Schwarzenegger." --Jimmy Kimmel
"In Las Vegas, a 32-year-old mother told police that Republican Congressman Jim Gibbons, who is running for governor in Nevada, got drunk, put his hand on her thigh, complained about his marriage and then tried to have sex with her in the parking garage. A congressman trying to have sex with an adult woman? This is the best news Republicans have had in years." --Jay Leno
"U.S. Intelligence this week confirmed North Korea's claim that it exploded a nuclear bomb deep inside a mountain. This officially makes North Korea a nuclear threat, but only if they can lure their enemies deep inside a mountain." --Amy Poehler
"Elections are only a few weeks away and it looks like the Republicans are going to lose a lot of them. I guess desperate times require desperate measures. [on screen: RNC's TV ad depicting another terrorist attack by Osama bin Laden, followed by a reminder to vote 11/7]. Let me get this straight. Osama bin Laden is threatening to attack America again, so what we should do is vote for the people who haven't been able to catch him for the last five years?." --Jimmy Kimmel
Submitted by Kenneth, Shropshire, England

Return to: Top of Page, List of Political Jokes, My Little Sister's Jokes,
---
One October my wife and I spent a vacation on Washington's Olympic Peninsula.
We were eager to visit the rain forests near the coast, but we heard that snow slides had made some of the roads impassable. Although apprehensive about the conditions we might run into, we drove on.
Sure enough, we had gone only a short way up the High Rain Forest Road when we saw a sign: "Ice 10 miles." Five miles farther on there was another: "Ice 5 miles."
The next one was: "Ice 1/2 mile." We practically crept that half-mile.
Then we came to the last sign. It was outside a small grocery store, and it read: "Ice 75 cents."
Submitted by Kenneth, Shropshire, England

Return to: Top of Page, Groaner Joke List, My Little Sister's Jokes,
---
A Telemarketers Nightmare ...
Download Video
Submitted also by Jay, Long Island, NY

Return to: Top of Page, List of Audio/Videos, My Little Sister's Jokes,
---
What Sorry Looks Like ...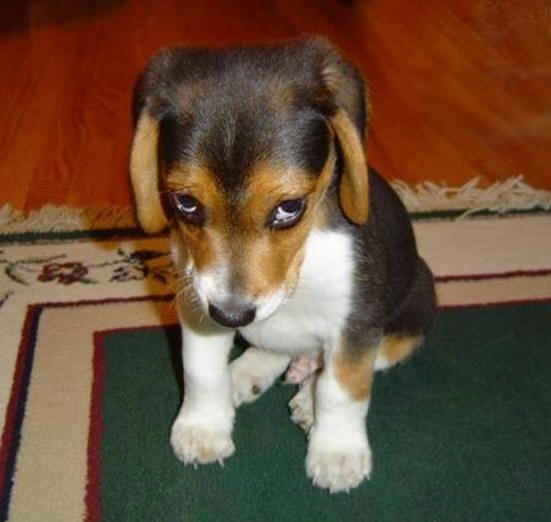 Submitted by Audrey, Emmitsburg, Md.

Return to: Top of Page, List of Photos, My Little Sister's Jokes,
---