Notes from an inexperienced chili taster
... named FRANK, who was visiting Texas from New Jersey & fell into it:
"Recently I was lucky enough to be the 10,000th attendee at the State Fair in Texas, & was asked to fill in to be a judge at a chili cook-off. Apparently the original judge #3 called in sick at the last moment, & I happened to be standing there when the call came in. I was assured by the other two judges (Native Texans) that it would be a fun event & a true taste of Texas hospitality. They assured me that the chili wouldn't be all that spicy, & besides they told me I could have free beer during the tasting, so I accepted.
Here are the scorecards from the event:
Chili # 1: Mike's Maniac Mobster Monster Chili
JUDGE ONE: A little too heavy on tomato. Amusing kick.
JUDGE TWO: Nice, smooth tomato flavor. Very mild..
FRANK: Holy Crap, what the hell is this stuff? You could remove dried paint from your driveway with it. Took me two beers to put the flames out. Hope that's the worst one. These Texans are crazy.

Chili # 2: Arthur's Afterburner Chili
JUDGE ONE: Smoky, with a hint of pork. Slight Jalapeno tang.
JUDGE TWO: Exciting BBQ flavor, needs more peppers to be taken seriously.
FRANK: Keep this out of reach of children! I'm not sure what I am supposed to taste besides pain. I had to wave off 3 people who wanted to give me the Heimlich maneuver. They had to walkie-talkie in 3 extra beers when they saw the look on my face.

Chili # 3: Fred's Famous Burn Down the Barn Chili
JUDGE ONE: Excellent firehouse chili! Great kick. Needs more beans.
JUDGE TWO: A beanless chili, a bit salty, good use of red peppers.
FRANK: Call the EPA, I've located a uranium spill. My nose feels like I have been snorting Drano. Everyone knows the routine by now. Barmaid pounded me on the back; now my backbone is in the front part of my chest.

Chili # 4: Bubba's Black Magic
JUDGE ONE: Black bean chili with almost no spice. Disappointing.
JUDGE TWO: Hint of lime in the black beans. Good side dish for fish or other mild foods, not much of a chili.
FRANK: I felt something scraping across my tongue, but was unable to taste it. Sally, the bar maid, was standing behind me with fresh refills; that 300 lb. bitch is starting to look HOT, just like this nuclear-waste I'm eating.

Chili # 5: Linda's Legal Lip Remover
JUDGE ONE: Meaty, strong chili. Cayenne peppers freshly ground, adding considerable kick. Very impressive.
JUDGE TWO: Chili using shredded beef; could use more tomato. Must admit the cayenne peppers make a strong statement.
FRANK: My ears are ringing, and I can no longer focus my eyes. I farted & 4 people behind me needed paramedics. The contestant seemed offended when I told her that her chili had given me brain damage. Sally saved my tongue from bleeding by pouring beer directly on it from a pitcher. It really pisses me off that the other judges asked me to stop screaming. Screw those rednecks!

Chili # 6: Vera's Very Vegetarian Variety
JUDGE ONE: Thin yet bold vegetarian variety chili. Good balance of spice & peppers.
JUDGE TWO: The best yet. Aggressive use of peppers, onions & garlic. Superb.
FRANK: My intestines are now a straight pipe filled with gaseous, sulfuric flames. No one seems inclined to stand behind me except that slut Sally. I need to wipe my ass with a snow cone!

Chili # 7: Susan's Screaming Sensation Chili
JUDGE ONE: A mediocre chili with too much reliance on canned peppers.
JUDGE TWO: Ho Hum, tastes as if the chef literally threw in a can of chili peppers at the last moment. I should note that I am worried about Judge Number 3. He appears to be in a bit of distress as he is cursing uncontrollably.
FRANK: You could put a grenade in my mouth, pull the pin, & I wouldn't feel a damn thing. I've lost the sight in one eye, & the world sounds like it is made of rushing water. My shirt is covered with chili which slid unnoticed out of my mouth. My pants are full of lava-like brown goo to match my damn shirt. At least during the autopsy they'll know what killed me. I've decided to stop breathing, it's too painful. Screw it, I'm not getting any oxygen anyway. If I need air, I'll just suck it in through the 4 inch hole in my stomach.

Chili # 8: Helen's Mount Saint Chili
JUDGE ONE: A perfect ending, this is a nice blend chili, safe for all, not too bold but spicy enough to declare its existence.
JUDGE TWO: This final entry is a good, balanced chili, neither mild nor hot. Sorry to see that most of it was lost when Judge Number 3 passed out, fell & pulled the chili pot on top of himself. Not sure if he's going to make it. Poor Yank.
FRANK: -------------- (editor's note: Judge #3 was unable To report)
Submitted by Mike, Broomfield, Co.

Return to: Top of Page, List of Funny Stories, My Little Sister's Jokes,
---
You might be a Redneck If...
Your wife can't fix you dinner because she has cheerleading practice.
You take your dog for a walk and you both use the tree at the corner
You ever get hot flashes at cattle auctions
You have ever financed a tattoo
Slamming the door on your truck creates an instant sunroof.
You paint your car with house paint
Steeling road signs is a family outing.
Your side by side refrigerator consist of two igloo coolers
Some offers you a silver plate and you pull off you belt buckle and say "no thanks, I've already got one"
You've ever yelled out the window "KIDS!! STOP PLAYIN' ON THAT SHEET METAL!'
Your child's first pet was a chicken
You think God looks like Hank Williams, Jr.
You have more guns than teeth
Your baby's first words were "Attention, KMart shoppers"
Your front porch collapses and kills more than three dogs
You use your belt buckle as identification
Your belt buckle is bigger than your head
Your family tree doesn't fork
You consider dating second cousins 'playing the field'
You've ever used your fishing license as a form of identification
You missed your graduation because your kids were sick
You refer to fifth grade as "My senior year"
Somebody yells "Hoe down!" and your wife hits the floor
The highlight of your family reunion was your sister's nude dancing debut
You go to your sister's wedding so you can kiss the bride
Your family reunion was ruined 'cause your daddy burnt the Spam
You go fishing with a generator and a piece of copper wire
Fancy eating out (for you) involves drivin' to the next window
Submitted by Andy, Gettysburg, Pa.

Return to: Top of Page, List of Redneck Jokes, My Little Sister's Jokes,
---
Women's Profound Sayings
Reason to smile: Every 7 minutes of every day, someone in an aerobics class pulls a hamstring.
One of life's mysteries is how a 2 pound box of candy can make a woman gain 5 lbs.
The best way to forget all your troubles is to wear tight shoes.
The nice part about living in a small town is that when you don't know what you're doing, someone else does.
The older you get, the tougher it is to lose weight because by then, your body and your fat are really good friends.
I gave up jogging for my health when my thighs kept rubbing together and setting my pantyhose on fire.
Amazing! You hang something in your closet for awhile and it shrinks two sizes!
Skinny people irritate me! Especially when they say things like, "You know, sometimes I just forget to eat." Now I've forgotten my address, my mother's maiden name, and my keys. But I've never forgotten to eat. You have to be a special kind of stupid to forget to eat.
A friend of mine confused her valium with her birth control pills. She had 14 kids, but she doesn't really care.
The trouble with some women is that they get all excited about nothing ... and then they marry him!
I read this article that said the typical symptoms of stress are: eating too much, impulse buying, and driving too fast. Are they kidding? That is my idea of a perfect day.
I know what Victoria's Secret is. The secret is that nobody older than 30 can fit into their stuff.
If men can run the world, why can't they stop wearing neckties? How intelligent is it to start the day by tying a noose around your neck?
Submitted by Kenneth, Shropshire, England
Return to: Top of Page, List of Jokes About Men, My Little Sister's Jokes,
---
Boo time ...
Download Video
Submitted by Bill, Ardmore, Pa.

Return to: Top of Page, List of Audio/Videos, My Little Sister's Jokes,
---
And you thought your job was hazardous! Take 7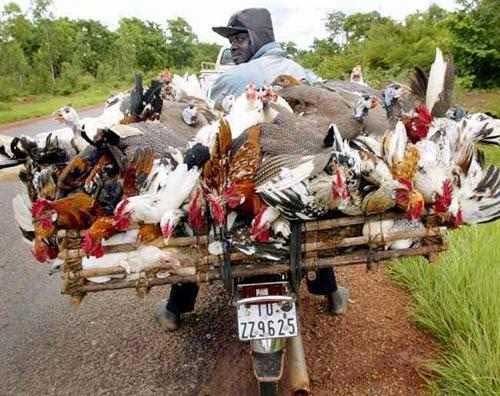 Submitted by Lindsay, Melbourne, Australia

Return to: Top of Page, List of Photos, My Little Sister's Jokes,
---