This is a story about a couple who had been happily married for years.
The only friction in their marriage was the husband's habit of farting loudly every morning when he awoke. The noise would wake his wife and the smell would make her eyes water and make her gasp for air.
Every morning she would plead with him to stop ripping them off because it was making her sick. He told her he couldn't stop it and that it was perfectly natural. She told him to see a doctor; she was concerned that one day he would blow his guts out.
The years went by and he continued to rip them out! Then one Thanksgiving morning as she was preparing the turkey for dinner and he was upstairs sound asleep, she looked at the bowl where she had put the turkey innards and neck, gizzard, liver and all the spare parts and a malicious thought came to her.
She took the bowl and went upstairs where her husband was sound asleep and, gently pulling back the bed covers, she pulled back the elastic waistband of his underpants and emptied the bowl of turkey guts into his shorts.
Some time later she heard her husband waken with his usual trumpeting which was followed by a blood curdling scream and the sound of frantic footsteps as he ran into the bathroom.
The wife could hardly control herself as she rolled on the floor laughing, tears in her eyes! After years of torture she reckoned she had got him back pretty good.
About twenty minutes later, her husband came downstairs in his blood stained underpants with a look of horror on his face. She bit her lip as she asked him what was the matter.
He said, "Honey, you were right. All these years you warned me and I didn't listen to you."
"What do you mean?" asked his wife.
"Well, you always told me that one day I would end up farting my guts out, and today it finally happened. But by the grace of God, some Vaseline, I think I got most of them back in."
Submitted by Bill, Ardmore, PA.

Return to: Top of Page, Groaner Joke List, My Little Sister's Jokes,
---
List of all the Christmas related things that must be banned before someone gets hurt:
Eggnog. Hideously fattening; leads to coronary artery disease. When "spiked" it incites the drinker to turn to more dangerous holiday beverages, including mulled wine, hard cider and schnapps.
Decorations. Broken glass ornaments can lead to fatal bleeding in hemophiliacs. Strings of lights offer unusual electrocution opportunities. Extravagant outdoor lighting displays can cause automobile pileups on the street and/or blindness. Live animals in a manger might bite children.
Carols. Hypothermia risk. Certain high notes are hard to hit, causing embarrassment, stress and other harbingers of early death. Religious themes of carols could prove offensive to some listeners and inadvertently trigger a clash of civilizations.
Sledding. Involves a kinetic event that would more properly be described as skidding. Any close analysis will reveal that sleds not only have poor traction but are expressly designed to have minimal grip on a slick surface. Should be every bit as illegal as dangling a baby from a balcony.
Hearths. The ultimate fire hazard. People often use them to have open fires, complete with exploding embers that can land on furniture, on heavily gelled hair or even on a small furry pet that could suddenly go FOOF! and turn into the Yowling Fireball of Doom.
Menorahs. Still more open fire. Why not just pass around blowtorches and cans of gasoline?
Artificial Christmas trees. Fairfax County assistant fire marshal Mike Reilly, defending the ban on cut trees, said Tuesday: "I just put up my nine-foot artificial tree. I don't think it's a major inconvenience when you look at the risks." Obviously, plastic Christmas trees are growing to enormous size these days, and anyone who stands under a nine-foot colossus runs the risk of being crushed.
Gifts. Small gifts are a choking hazard. Large gifts lead to hernias. Coal in the stocking of a person who has been bad poses a severe fire risk. CDs have wrapping that requires the use of knives and scissors in a manner that can lead to the loss of a finger. Shopping leads to excessive debt, anxiety and compensatory high-risk behaviors such as smoking, heavy drinking and attempted gift returns. Improper gift-buying, such as when a well-meaning male gives his sweetheart something unromantic, like a Dustbuster, or a 52-piece socket wrench set, or a jumbo can of Dr. Scholl's Foot Deodorant Spray, can lead to domestic violence.
Mistletoe. The number of unwanted pregnancies resulting from the placement of mistletoe on the ceiling and over doorways has never been properly calculated, but is surely astronomical. Tongues are a choking hazard.
Shopping mall Santas. A strange man wearing a disguise who asks small children to sit in his lap. You make the call.
Reindeer. Lyme disease vectors.
Elves. Ideology and political allegiance unknown. Terror risk?"
Submitted by Megan, College Park, Md.
Return to: Top of Page, Christmas Joke List, My Little Sister's Jokes,
---
In a small Southern town there was a "Nativity Scene" that showed great skill and talent ...
... had gone into creating it. One small feature bothered me. The three wise men were wearing firemen's helmets!
Totally unable to come up with a reason or explanation, I left. At a "Quik Stop" on the edge of town, I asked the lady behind the counter about the helmets. She exploded into a rage, yelling at me, "You darn Yankees never do read the Bible!"
I assured her that I did, but simply couldn't recall anything about firemen in the Bible.
She jerked her Bible from behind the counter and ruffled through some pages, and finally jabbed her finger at a passage. Sticking it in my face she said "See, it says right here, 'The three wise men came from afar'!".
Submitted by Debbie, Middletown, Md.
Return to: Top of Page, Christmas Joke List, My Little Sister's Jokes,
---
A well-known speaker started off his seminar by holding up a $20.00 bill.
In the room of 200, he asked, "Who would like this $20 bill?" Hands started going up.
He said, "I am going to give this $20 to one of you but first, let me do this. He proceeded to crumple up the $20 dollar bill. He then asked, "Who still wants it?"
Still the hands were up in the air.
Well, he replied, "What if I do this?" And he dropped it on the ground and started to grind it into the floor with his shoe. He picked it up, now crumpled and dirty. "Now, who still wants it?"
Still the hands went into the air.
My friends, we have all learned a very valuable lesson. No matter what I did to the money, you still wanted it because it did not decrease in value. It was still worth $20. Many times in our lives, we are dropped, crumpled, and ground into the dirt by the decisions we make and the circumstances that come our way. We feel as though we are worthless. But no matter what has happened or what will happen, you will never lose your value. Dirty or clean, crumpled or finely creased, you are still priceless to those who DO LOVE you. The worth of our lives comes not in what we do or who we know, but by WHO WE ARE. You are special - "Don't EVER forget it."
Submitted by Jamie, Crofton, Md.

Return to: Top of Page, List of Inspirational Stories, My Little Sister's Jokes,
---
Be careful ... you might not always get what you expect - Download Video

Submitted by Al, Seattle, Wa.

Return to: Top of Page, List of Audio/Videos, My Little Sister's Jokes,
---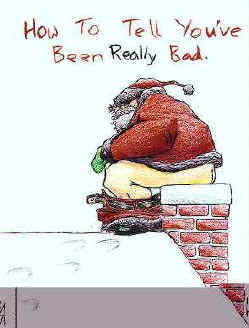 Return to: Top of Page, List of Photos, My Little Sister's Jokes,
---