Incarnation UCC Holds Annual Picnic
The day dawned inauspiciously but sparkling after a blessed three inches of rain, and despite doubts whether it should be held, Incarnation had its annual picnic on Monday, August 11th, at the home of Audrey and Eric Glass.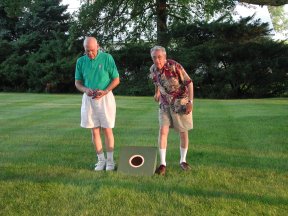 It was the right decision as Tuesday was the rain date, and we had a rain shower that evening at just about the time the hot dogs would have been coming off the grill.
Bingo and quoits and a homemade version (by Norine Haas and her father) of "Hit the Hole" were the attractions of the evening. Pat Holahan was our bingo caller and entertainer of the evening, and Edie Long won the "grand bingo prize" of the game with a full card.
After a beautiful sunset, everyone went home relaxed and gorged with all that good food the Incarnation women are known to prepare.
And of course ... Chef Eric at the grill!