Incarnation Surprises Pastor Ted
On Sunday, May 18, 2003, when Pastor Ted Haas entered the sanctuary, he was surprised to find friends, colleagues, relatives and former congregants in the pews ready to celebrate Pastor Ted's 50th anniversary of his ordination. Pastor Ted graduated from Lancaster Theological Seminary in 1953, and he and Norine had just returned from there after enjoying the 50th reunion with his graduating class.
Pastor Ted's first job was as assistant pastor at Christ Reformed Church in Hagerstown, MD and from there he became pastor at First UCC in Hellertown, PA where he met his future wife, Norine, when she came home from nursing school at Temple University to play the organ one Sunday. Pastor Ted officially retired in 1994 after being at Grace UCC in Frederick, MD for 19 years. He has since served as interim pastor at five churches, and has been interim pastor at Incarnation UCC since November 2001.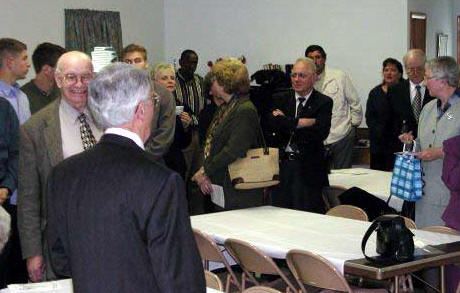 Here Pastor Ted and Norine greeted guests in the Fellowship Hall.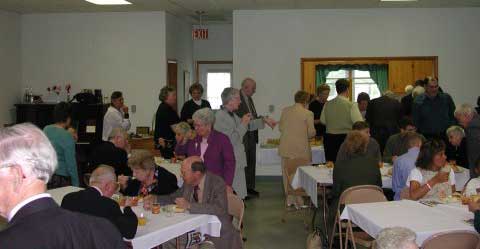 The women served a luncheon to everyone following the worship service.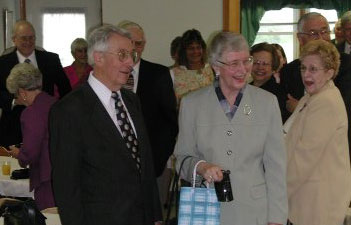 Pastor Ted enjoyed mingling with the well-wishers.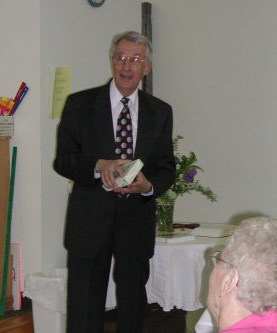 The congregation presented Pastor Ted with a gift certificate to Waldenbooks. Reading is one of Pastor Ted's favorite pasttimes. The congregation also presented Pastor Ted with a gift certificate to their favorite restaurant. Next to reading Pastor Ted's favorite pasttime is eating.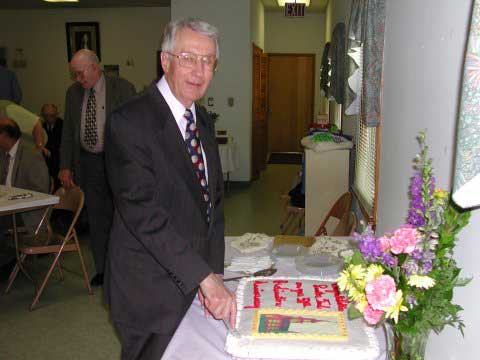 Pastor Ted cuts the first slice of his anniversary cake.