Incarnation United Church of Christ Celebrates Its 235th Anniversary
Incarnation United Church of Christ, 124 West Main Street in Emmitsburg, continues to celebrate the 235th anniversary of its founding. October 19th, 2003 was a special Sunday to honor that occasion. The service began with a piano and organ prelude performing Sibelius' "Finlandia," with Janet Springer at the piano and Audrey Glass at the organ. Former pastor, the Rev. Margaret Dodds, brought greetings to the congregation and congratulated them on their 235th birthday. Margaret and her husband Dick will be moving to a community retirement home in Penney, Florida in December.
Several members of the Force Performance Company from the Oxford School of Performing Arts, under the direction of Dawn Glass, treated the congregation to a celebration of dance.
The Rev. Ted Haas told worshippers how dance, music and the arts have been used over many centuries to inspire faith. King David of Israel danced before the Lord. The psalms in the Old Testament call for praising God with many musical instruments and dance. Christian priests developed the drama of the Mass at the center of worship. Churches today are enriching traditional services with new ways to praise the Lord and inspire God's people.
| | |
| --- | --- |
| Brittany Swartz, dancing to "Tell Him" sung by Celine Dion and Barbra Striesand | Allyssa Rommel performing a liturgical dance |
| Ashley Betmarik, performing to the music of "I Cry" | Dawn Glass, performing to "I Surrender," sung by Celine Dion and Barbra Sreisand |
| Nicole Hemler, leading in the group for their finale dance | The Force performing to "Love by Grace" |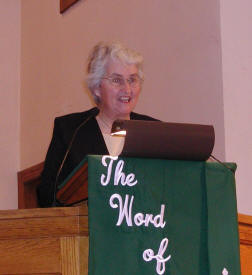 The Rev. Margaret Dodds greets her former congregation