You are in the middle of some kind of project around the house...
...Mowing the lawn, putting in a new fence, painting the living room or whatever. You are hot and sweaty, covered in dust, lawn clippings, dirt or paint. You have your old work clothes on. You know the outfit -- shorts with the hole in the crotch, old T-shirt with a stain from who-knows-what and an old pair of tennis shoes. Right in the middle of this great home improvement project you realize you need to run to Home Depot to get something to help complete the job. Depending on your age you might do the following:
In your 20's: Stop what you are doing. Shave, take a shower, blow dry your hair, brush your teeth, floss and put on clean clothes. Check yourself in the mirror and flex. Add a dab of your favorite cologne because you never know, you just might meet some hot chick while standing in the checkout lane. And you went to school with the pretty girl running the register.
In your 30's: Stop what you are doing, put on clean shorts and shirt. Change shoes. You married the hot chick so no need for much else. Wash your hands and comb your hair. Check yourself in the mirror. Still got it. Add a shot of your favorite cologne to cover the smell. The cute girl running the register is the kid sister to someone you went to school with.
In your 40's: Stop what you are doing. Put on a sweatshirt that is long enough to cover the hole in the crotch of your shorts. Put on different shoes and a hat. Wash your hands. Your bottle of Brute Cologne is almost empty so you don't want to waste any of it on a trip to Home Depot. Check yourself in the mirror and do more sucking in than flexing. The hot young thing running the register is your daughter's age and you feel weird thinking she is spicy.
In your 50's: Stop what you are doing. Put a hat on, wipe the dirt off your hands onto your shirt. Change shoes because you don't want to get dog doo-doo in your new sports car. Check yourself in the mirror and you swear not to wear that shirt anymore because it makes you look fat. The Cutie running the register smiles when she sees you coming and you think you still have it. Then you remember the hat you have on is from Bubba's Bait & Beer Bar and it says, 'I Got Worms .'
In your 60's: Stop what you are doing. No need for a hat anymore.. Hose the dog doo-doo off your shoes. The mirror was shattered when you were in your 50's. You hope you have underwear on so nothing hangs out the hole in your pants. The girl running the register may be cute, but you don't have your glasses on so you are not sure.
In your 70's: Stop what you are doing. Wait to go to Home Depot until the drug store has your prescriptions ready, too. Don't even notice the dog doo-doo on your shoes. The young thing at the register smiles at you because you remind her of her grandfather.
In your 80's: Stop what you are doing. Start again. Then stop again. Now you remember you need to go to Home Depot. Go to Wal-Mart instead and wander around trying to think what it is you are looking for. Fart out loud and you think someone called out your name. You went to school with the old lady who greeted you at the front door.
In your 90's & beyond: What's a home deep hoe? Something for my garden? Where am I? Who am I? Why am I reading this? Did I send it? Did you? Who farted?
Submitted by Dick, Williamsport, Md.

Return to: Top of Page, List of Jokes About Aging, My Little Sister's Jokes ,
---
A little boy was afraid of dark.
One night his mother told him to go out to the back porch and bring her the broom. The little boy turned to his mother and said, "Mama, I don't want to go out there. It's dark."

The mother smiled reassuringly at her son. you don't have to be afraid of the dark," she explained. "Jesus is out there He'll look after you and protect you."

The little boy looked at his mother real hard and asked, "Are you sure he's out there?"

"Yes, I'm sure . He is everywhere, and he is always ready to help you when you need him." she said.

The little boy thought about that for a minute and then went to the back door and cracked it a little. Peering out into the darkness, he called, "Jesus? If you're out there, would you please hand me the broom?"

Return to: Top of Page, List of Cute Kids Sayings, My Little Sister's Jokes,
---
The Power of Alcohol:
A man is waiting for his wife to give birth. The doctor comes in and informs the dad that his son was born without torso, arms or legs. The son is just a head! But the dad loves his son and raises him as well as he can, with love and compassion.
After 21 years, the son is now old enough for his first drink. Dad takes him to the bar, tearfully tells the son he is proud of him and orders up the biggest, strongest drink for his boy. With all the bar patrons looking on curiously and the bartender shaking his head in disbelief, the boy takes his first sip of alcohol.
Swoooosh! Plop!! A torso pops out! The bar is dead silent; then bursts into whoops of joy. The father, shocked, begs his son to drink again. The patrons chant 'Take another drink!'
The bartender continues to shake his head in dismay. Swoooosh! Plip! Plop!! Two arms pop out.
The bar goes wild. The father, crying and wailing ,begs his son to drink again..The patrons chant,'Take another drink! Take another drink!!' The bartender ignores the whole affair and goes back to polishing glasses, shaking his head, clearly unimpressed by the amazing scenes.
By now the boy is getting tipsy, but with his new hands he reaches down, grabs his drink and guzzles the last of it. Plop! Plip!! Two legs pop out. The bar is in chaos.
The father falls to his knees and tearfully thanks God. The boy stands up on his new legs and stumbles to the left then staggers to the right through the front door, into the street, where a truck runs over him and kills him instantly The bar falls silent.
The father moans in grief. The bartender sighs and says...
...., He should've quit while he was a head.
Submitted by Bill, Ardmore, Pa.

Return to: Top of Page, Groaner Joke List, My Little Sister's Jokes,
---
I rode home with a blond female coworker about five years ago.
I asked her to wait for me while I used the ATM machine. She asked if I trusted "those people."
"People *who*?" I asked?
She said, "The ATM operates by having a person inside the box. Every time you put in your card, he takes it, looks at it, and checks his paper files and folders for your account number. Here he can find your PIN and check the balance. This person then asks you to ENTER your PIN, cross checks it, and if all matches, you can proceed. If not, he keeps your card.
"If you ask for a statement, he types it from his books and you get the printout. If you ask for a withdrawal, he checks the balance and any restrictions, and if all is ok, gives you the amount. He *then* calls all of the other branches and ATMs, tells them how much you've withdrawn, so they can update *their* books.
"Wonder where they find all those little people at??"
This person with her ATM theory might have been misinformed...
Submitted by Kenneth, Shropshire, England

Return to: Top of Page, Blonde Joke List, My Little Sister's Jokes,
---
Jake is struggling through a bus station with two huge and obviously heavy suitcases...
... when a stranger walks up to him and asks "Have you got the time?"
Jake sighs, puts down the suitcases and glances at his wrist. "It's a quarter to six," he says.
"Hey, that's a pretty fancy watch!" exclaims the stranger.
Jake brightens a little. "Yeah, it's not bad. Check this out" - and he shows him a time zone display not just for every time zone in the world, but for the 86 largest metropoli. He hits a few buttons and from somewhere on the watch a voice says "The time is eleven 'til six" in a very West Texas accent. A few more buttons and the same voice says something in Japanese. Jake continues "I've put in regional accents for each city". The display is unbelievably high quality and the voice is simply astounding.
The stranger is struck dumb with admiration. "That's not all," says Jake. He pushes a few more buttons and a tiny but very hi-resolution map of New York City appears on the display. "The flashing dot shows our location by satellite positioning," explains Jake. "View recede ten," Jake says, and the display changes to show eastern New York state.
"I want to buy this watch!" says the stranger.
"Oh, no, it's not ready for sale yet; I'm still working out the bugs," says the inventor. "But look at this," and he proceeds to demonstrate that the watch is also a very creditable little FM radio receiver with a digital tuner, a sonar device that can measure distances up to 125 meters, a pager with thermal paper printout and most impressive of all, the capacity for voice recordings of up to 300 standard-size books," though I only have 32 of my favorites in there so far" says Jake.
"I've got to have this watch!" says the stranger.
"No, you don't understand; it's not ready."
"I'll give you $1000 for it!"
"Oh, no, I've already spent more than that."
"I'll give you $5000 for it!"
"But it's just not fair."
"I'll give you $15,000 for it!" And the stranger pulls out a checkbook. Jake stops to think. He's only put about $8500 into materials and development, and with $15 000 he can make another one and have it ready for merchandising in only six months. The stranger frantically finishes writing the check and waves it in front of him. "Here it is, ready to hand to you right here and now. $15,000. Take it or leave it." Jake abruptly makes his decision. "OK," he says and peels off the watch. They make the exchange and the stranger starts happily away.
"Hey, wait a minute," calls Jake after the stranger, who turns around warily. Jake points to the two suitcases he'd been trying to wrestle through the bus station. "Don't forget your batteries."

Return to: Top of Page, Clean Joke List, My Little Sister's Jokes,
---
It was only a matter of time before the German Pope made changes to the mass ...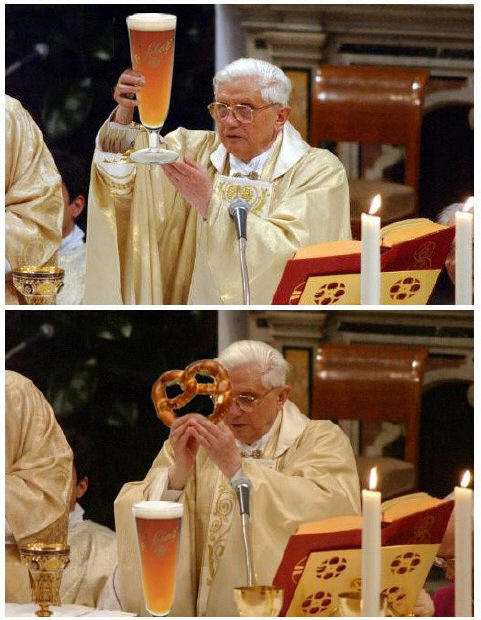 Submited by Dewy, Pensecola, Fl.

Return to: Top of Page, List of Photos, My Little Sister's Jokes,
---