A rookie police officer was out for his first ride in a cruiser with an experienced partner.
A call came in telling them to disperse some people who were loitering. The officers drove to the street and observed a small crowd standing on a corner. The rookie rolled down his window and said, "Let's get off the corner, people."
A few glances, but no one moved, so he barked again, "Let's get off that corner...NOW!"
Intimidated, the group of people began to leave, casting puzzled stares in his direction. Proud of his first official act, the young policeman turned to his partner and asked, "Well, how did I do?"
"Pretty good," chuckled the veteran policemen, "especially since this is a bus stop!"
Submitted by Andy, Gettysburg, Pa.

Return to: Top of Page, Clean Joke List, My Little Sister's Jokes,
---
Murphy's Law Addenda
Everyone has a photographic memory. Some don't have film.
He who laughs last, thinks slowest.
A day without sunshine is like, well, night.
Change is inevitable, except from a vending machine.
Back up my hard drive? How do I put it in reverse?
I just got lost in thought. It was unfamiliar territory.
When the chips are down, the buffalo is empty.
Seen it all, done it all. Can't remember most of it.
Those who live by the sword get shot by those who don't.
I feel like I'm diagonally parked in a parallel universe.
She's always late. Her ancestors arrived on the Juneflower.
You have the right to remain silent. Anything you say will be misquoted; then used against you.
Honk if you love peace and quiet.
Despite the cost of living, have you noticed how it remains so popular?
Nothing is foolproof to a sufficiently talented fool.
Remember ... if the world didn't suck, we'd all fall off.
If you have a 50/50 chance of getting something right, there's a 90 percent probability you'll get it wrong.
If you lined up all the cars in the world end to end, someone would be stupid enough to try and pass them.
You can't have everything. Where would you put it?
Latest survey shows that three out of four people make up 75 percent of the world's population.
If the shoe fits, get another one just like it.
The things that come to those who wait may be the things left by those who got there first.
Flashlight: A case for holding leaking dead batteries.
Shin: A device for finding furniture.
A fine is a tax for doing wrong. A tax is a fine for doing well.
Everybody lies, but it doesn't matter since nobody listens.
I wish the buck stopped here, I could use a few.
When you go to court, you put yourself in the hands of 12 people who weren't smart enough to get out of jury duty.
Light travels faster than sound, so some people appear bright until you hear them speak.
Submitted by Bill, Narberth, Pa.
Return to: Top of Page, List of Humorous Sayings, My Little Sister's Jokes,
---
There was a Christian lady who lived next door to an atheist.
Everyday, when the lady prayed, the atheist guy could hear her. He thought to himself, "She sure is crazy, praying all the time like that. Doesn't she know there isn't a God?"
Many times while she was praying, he would go to her house and harass her, saying "Lady, why do you pray all the time? Don't you know there is no God?" But she kept on praying.
One day, she ran out of groceries. As usual, she was praying to the Lord explaining her situation and thanking Him for what He was gonna do. AS USUAL, the atheist heard her praying and thought to himself. "Hmph. I'll fix her."
He went to the grocery store, bought a whole bunch of groceries, took them to her house, dropped them off on the front porch, rang the door bell and then hid in the bushes to see what she would do.
When she opened the door and saw the groceries, she began to praise the Lord with all her heart, jumping, singing and shoutin' everywhere!
The atheist then jumped out of the bushes and told her, "You ol' crazy lady, God didn't buy you those groceries, I bought those groceries!"
Well, she broke out and started running down the street, shouting and praising the Lord. When he finally caught her, he asked what her problem was.
She said, "I knew the Lord would provide me with some groceries, but I didn't know he was gonna make the devil pay for them!"
Submitted by Patty, Ringos, NJ.

Return to: Top of Page, List of Religious Jokes, My Little Sister's Jokes,
---
A fifteen year-old boy came home with a Porsche...
... and his parents began to yell and scream, "Where did you get that car???!!!"
He calmly told them, "I bought it today."
"With what money?" demanded his parents. "We know what a Porsche costs."
"Well," said the boy, "this one cost me fifteen dollars."
So the parents began to yell even louder. "Who would sell a car like that for fifteen dollars?!" they said.
"It was the lady up the street," said the boy. "I don't know her name---they just moved in. She saw me ride past on my bike and asked me if I wanted to buy a Porsche for fifteen dollars."
"Oh, God," moaned the mother, "she must be a child abuser. Who knows what she will do next? John, you go right up there and see what's going on."
So the boy's father walked up the street to the house where the lady lived and found her out in the yard calmly planting petunias.
He introduced himself as the father of the boy to whom she had sold a Porsche for fifteen dollars and demanded to know why she did it.
"Well," she said, "this morning I got a phone call from my husband. I thought he was on a business trip, but it seems he has run off to Hawaii with his secretary and doesn't intend to come back. He asked me to sell his new Porsche and send him the money. So I did."
Submitted by Kenneth, Shropshire, England

Return to: Top of Page, List of Jokes About Men, My Little Sister's Jokes,
---
The answer to the eternal question "Is it better to be a jock or a nerd?":
Michael Jordan made over $300,000 a game. That equals $10,000 a minute, at an average of 30 minutes per game. With $40 million in endorsements, he made $178,100 a day, working or not.
If he sleeps 7 hours a night, he makes $52,000 every night while visions of sugarplums dance in his head.
If he goes to see a movie, it'll cost him $7.00, but he'll make $18,550 while he's there.
If he decides to have a 5 minute egg, he'll make $618 while boiling it.
He makes $7,415/hr more than minimum wage.
He'll make $3,710 while watching an episode of Friends.
If he wanted to save up for a new Acura NSX ($90,000) it would take him a whole 12 hours.
If someone were to hand him his salary and endorsement money, they would have to do it at the rate of $2.00 every second.
He'll probably pay around $200 for a nice round of golf, but will be reimbursed $33,390 for that round.
Assuming he puts the federal maximum of 15% of his income into a tax deferred account (401k), he will hit the federal cap of $9500 at 8:30 a.m. on January 1st.
If you were given a penny for every 10 dollars he made, you'd be living comfortably at $65,000 a year.
He'll make about $19.60 while watching the 100 meter dash in the Olympics.
He'll make about $15,600 during the Boston Marathon. While the common person is spending about $20 for a meal in his trendy Chicago restaurant, he'll pull in about $5600.
This year, he'll make more than twice as much as all U.S. past presidents for all of their terms combined.
Amazing isn't it?
However, if Jordan saves 100% of his income for the next 250 years, he'll still have less than Bill Gates has today.
Game over. Nerd wins.

Return to: Top of Page, Computer Joke List, My Little Sister's Jokes,
---
A man is in court for murder and the judge says ...
... You are charged with beating your wife to death with a hammer.'
Then a voice at the back of the court says, 'you bastard.'
Then the judge continues, 'you are also charged With beating your daughter to death with a hammer.'
Again the voice at the back of the court says, 'you bastard.'
The judge says, 'now we cannot have any more of these outbursts from you or I shall charge You With contempt, now what is the problem?'
Then the man at the back of the court says, 'fifteen years I lived next door to that bastard and every time I asked to borrow a hammer he said he never had one!'
Return to: Top of Page, List of Jokes About Marriage, My Little Sister's Jokes,
---
Winter is almost over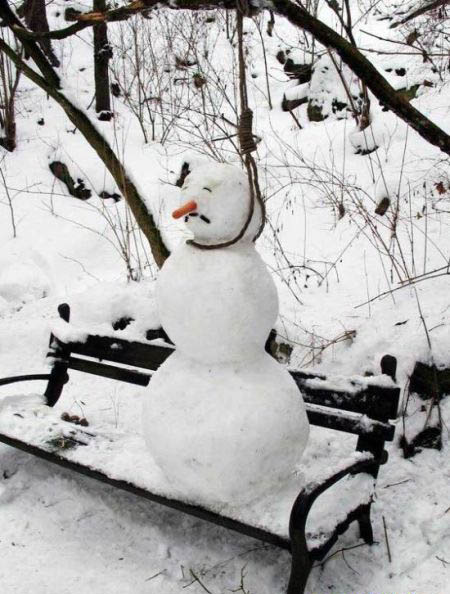 Return to: Top of Page, List of Photos, My Little Sister's Jokes,
---