After going through Lamaze classes with his expectant wife...
..., the proud new father remained by his wife's bedside throughout labor and delivery.
Wanting to be as sympathetic as possible, he took his wife's hand afterward and said emotionally, "Tell me how it was, darling, how it actually felt to give birth."
"Okay, honey," his wife replied.
"Smile as hard as you can."
Beaming down beautifully at his wife and newborn child, the man commented, "That's not so hard."
She continued, "Now stick a finger in each corner of your mouth."
He obeyed, smiling broadly.
"Now stretch your lips as far as they'll go," she went on.
"Still not too tough," he remarked.
"Right," she snapped. "Now pull them over your head."
Submitted by Bill, Ardmore, Pa.

Return to: Top of Page, List of Jokes About Marriage, My Little Sister's Jokes,
---
Recent Quips From Late Night
"McCain took a swipe at Obama. Did you see, in the speech? He said, 'I'm not running for president because I think I'm blessed with such personal greatness that history has anointed me to save our country in its hour of need. No, I'm running because my wife wants another house." -Bill Maher
"Should we be nervous about a man who preaches against wasteful spending when his wife is wearing $300,000?" -Jimmy Kimmel
"You know, Sarah Palin is the Governor of Alaska, you know that. And she's a lifelong member of the National Rifle Association. So great, is what I'm thinking, another vice president that shoots a drinking buddy; just get ready." -David Letterman
"Alaska Governor Sarah Palin is out on the campaign trail. Today, she attended a rally in Wisconsin. The Alaska Governor said she was thrilled to visit Wisconsin. because she's never been to the Deep South." -Conan O'Brien
"As you know, several times, McCain talked about serving his country in Vietnam, which is a nice change after 16 years and two presidents who could never quite explain how they got out of serving their country in Vietnam." -Jay Leno
"McCain was introduced at the convention last night by his wife -- I won't say 'trophy wife' -- but she did $300,000 worth of clothes and jewelry on, no matter to the party of the little guy. But Cindy McCain talked about how his character, honor and integrity made him the exact kind of married man she was looking to pick up at a bar." -Bill Maher
There was a story going around that said Oprah doesn't want to have Sarah Palin on her show. Oprah claims there have been absolutely no discussions about having Palin on, but that she would love to after the campaign is over. Apparently, between 'Nate Berkus' Bathroom Makeovers' and 'The Best Jeans for Curvy Women,' they're all booked up. They don't have a slot open. It has nothing to do with Obama." -Jimmy Kimmel
"John McCain turned 72 years old last Friday, but the Chinese are making him a birth certificate that says he's only 33 and then he'll be ready to go." -David Letterman
"Last night, John McCain said that under the Democratic health care plan, a bureaucrat would stand between you and your doctor, as opposed to the Republican health care plan, where an accountant would stand between you and your health care." -Jay Leno
"I'm sure the change that John McCain wants to bring is very different from the change George Bush wanted to bring [on screen: video montage of speeches from Bush in 2000 and McCain this year talking about various ways of changing Washington -- all of them mirror each other]. Things are really going to be different now." -Jon Stewart

Return to: Top of Page, Recent Quips from Late Night List, My Little Sister's Jokes,
---
Bread Facts ...
More than 98 percent of convicted felons are bread users.
Fully HALF of all children who grow up in bread-consuming households score below average on standardized tests.
In the 18th century, when virtually all bread was baked in the home, the average life expectancy was less than 50 years; infant mortality rates were unacceptably high; many women died in childbirth; and diseases such as typhoid, yellow fever, and influenza ravaged whole nations.
More than 90 percent of violent crimes are committed within 24 hours of eating bread.
Bread has been proven to be addictive. Subjects deprived of bread and given only water to eat begged for bread after as little as two days.
Bread is often a "gateway" food item, leading the user to "harder" items such as butter, jelly, peanut butter, and even cold cuts.
Bread has been proven to absorb water. Since the human body is more than 90 percent water, it follows that eating bread could lead to your body being taken over by this absorptive food product, turning you into a soggy, gooey bread-pudding person.
Newborn babies can choke on bread.
Bread is baked at temperatures as high as 400 degrees Fahrenheit! That kind of heat can kill an adult in less than one minute.
Most American bread eaters are utterly unable to distinguish between significant scientific fact and meaningless statistical babbling.
Submitted by Kenneth, Shropshire, England

Return to: Top of Page, List of Interesting Facts, My Little Sister's Jokes,
---
She was only a whisky maker, but he loved her still...
The roundest knight at King Arthur's round table was Sir Cumference. He acquired his size from too much pi.
I thought I saw an eye doctor on an Alaskan island, but it turned out to be an optical Aleutian.
A rubber band pistol was confiscated from algebra class because it was a weapon of math disruption.
The butcher backed into the meat grinder and got a little behind in his work.
No matter how much you push the envelope, it'll still be stationery.
A dog gave birth to puppies near the road and was cited for littering
A grenade thrown into a kitchen in France would result in Linoleum Blownapart
Two silk worms had a race. They ended up in a tie.
Time flies like an arrow. Fruit flies like a banana.
A hole has been found in the nudist camp wall. The police are looking into it.
Atheism is a non-prophet organization.
Two hats were hanging on a hat rack in the hallway. One hat said to the other, "You stay here. I'll go on a-head."
I wondered why the baseball kept getting bigger. Then it hit me.
A sign on the lawn at a drug rehab center said: "Keep off the Grass."
A small boy swallowed some coins and was taken to a hospital. The boy's grandmother telephoned, and the nurse said, "No change yet."
A chicken crossing the road is poultry in motion.
The short fortune-teller who escaped from prison was a small medium, at large.
The man who survived mustard gas and pepper spray is now a seasoned veteran.
A backward poet writes in-verse.
In democracy it's your vote that counts. In feudalism it's your count that votes.
When cannibals ate a missionary, they got a taste of religion.
Don't join dangerous cults -- practice safe sects!
Submitted by Bob, Rockville, Md

Return to: Top of Page, Groaner Joke List, My Little Sister's Jokes,
---
The attached video is of dolphins playing with silver colored rings...
Download Video
... which they have the ability to make under water to play with. It isn't known how they learn this, or if it's an inbred ability.
As if by magic the dolphin does a quick flip of its head and a silver ring appears in front of its pointed beak. The ring is a solid, donut shaped bubble about 2-ft across, yet it doesn't rise to the surface of the water! It stands upright in the water like a magic doorway to an unseen dimension. The dolphin then pulls a small silver donut from the larger one.
Looking at the twisting ring for one last time a bite is taken from it, causing the small ring to collapse into a thousands of tiny bubbles which head upward towards the water's surface. After a few moments the dolphin creates another ring to play with. There also seems to be a separate mechanism for producing small rings, which a dolphin can accomplish by a quick flip of its head.
An explanation of how dolphins make these silver rings is that they are "air-core vortex rings". Invisible, spinning vortices in the water are generated from the tip of a dolphin's dorsal fin when it is moving rapidly and turning. When dolphins break the line, the ends are drawn together into a closed ring. The higher velocity fluid around the core of the vortex is at a lower pressure than the fluid circulating farther away. Air is injected into the rings via bubbles released from the dolphin's blowhole. The energy of the water vortex is enough to keep the bubbles from rising for a reasonably few seconds of play time.
Submitted by former Emmitsburg Mayor Ed!

Return to: Top of Page, List of Audio/Videos, My Little Sister's Jokes,
---
One in a million shot ...Mother Nature's way of saying 'Have a nice day!'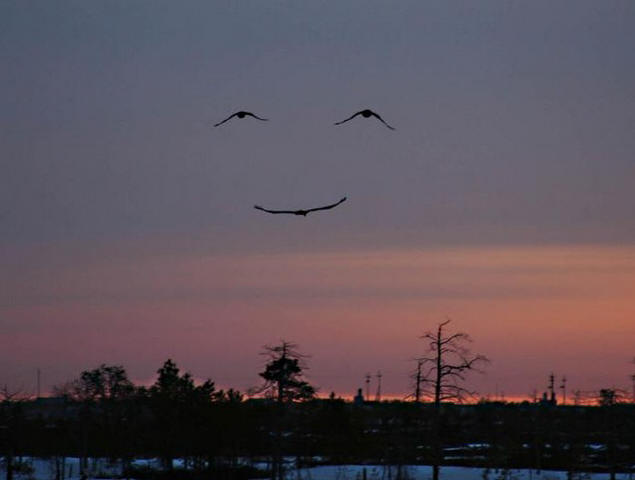 Submitted by Audrey, Emmitsburg, Md.

Return to: Top of Page, List of Photos, My Little Sister's Jokes,
---