In a small mid-western conservative town, a new bar/tavern started a building...
... to open up their business. The local Baptist church started a campaign to block the bar from opening with petitions and prayers.
Work progressed, however right up till the week before opening, when a lightning strike hit the bar and it burned to the ground.
The church folks were rather smug in their outlook after that, till the bar owner sued the church on the grounds that the church was ultimately responsible for the demise of his building, either through direct or indirect actions or means.
The church, in its reply to the court, vehemently denied all responsibility or any connection to the building's demise.
As the case made its way into court, the judge looked over the paperwork at the hearing and commented, "I don't know how I'm going to decide this, but as it appears from the paperwork, we have a bar owner that believes in the power of prayer, and an entire church congregation that doesn't."
Submitted by Bob, Rockville, Md.

Return to: Top of Page, List of Religious Jokes, My Little Sister's Jokes,
---
An Englishman, a Scotsman and an Irishman were trying to see the Olympics without tickets....
So they got to the stadium during one of the main events and discussed how they would be able to attend without paying.
The Englishman walked around the stadium and saw a pole lying on the ground and picked it up. He walked to the entrance and said, "Peter. England. Pole throwing." The guards let him in without hesitation.
While walking, the Scotsman sees a manhole. He picks up the cover, carries it under his arm to the entrance and says, "McGregor. Scotland. Discus throwing." The guards let him in also.
The Irishman is very frantic, since both his friends are now inside. He walks around the stadium and finds a roll of barbed wire. He picks it up, walks to the entrance and says, "Murphy. Ireland. Fencing."
Submitted by Kenneth, Shropshire, England

Return to: Top of Page, List of Ethnic Jokes, My Little Sister's Jokes,
---
More Animal Truisms
If you think dogs can't count, try putting three dog biscuits in your pocket then giving Fido only two of them.
In order to keep a true perspective of one's importance, everyone should have a dog that will worship him and a cat that will ignore him.
No one appreciates the very special genius of your conversation as the dog does.
Outside of a dog, a book is probably man's best friend. Inside of a dog, it's too dark to read.
People that hate cats will come back as mice in their next life.
Things that upset a terrier may pass virtually unnoticed by a Great Dane. =
We wonder why the dogs always drink out of our toilets, but look at it from their point of view: why do humans keep peeing into their water bowls?
When a man's best friend is his dog, that dog has a problem.
Submitted by Bill, Ardmore, Pa.

Return to: Top of Page, List of Jokes about Animals, My Little Sister's Jokes,
---
Great Answer from Florida Sheriff!!!
As reported earlier this week, some dirtbag who got pulled over in a routine traffic stop in Florida ended up "executing" the deputy who stopped him The deputy was shot eight times, including once behind his right ear at close range. Another deputy was wounded and a police dog killed. A statewide manhunt ensued. The low-life was found hiding in a wooded area with his gun. SWAT team officers fired and hit the guy 68 times.
Now here's the kicker:
Naturally, the media asked why they shot him 68 times. Polk County Sheriff Grady Judd, told the Orlando Sentinel - "That's all the bullets we had."
(Talk about an all time classic answer!!!)
Submitted by Lindsay, Melbourne, Australia (How did he hear about this????)

Return to: Top of Page, List of Un-Categorizable Jokes, My Little Sister's Jokes,
---
My friend's husband is always telling her that housekeeping would be a snap...
... if only she would organize her time better. Recently he had a chance to put his theory into practice while his wife was away.

When I popped in one evening to see how he was managing, he crowed, "I made a cake, frosted it, washed the kitchen windows, cleaned all the cupboards, scrubbed the kitchen floor, walls and ceiling and even had a bath."

I was about to concede that perhaps he was a better manager than his wife, when he added sheepishly, "When I was making the chocolate frosting, I forgot to turn off the mixer before taking the beaters out of the bowl, so I had to do all the rest."
Also submitted by Kenneth, Shropshire, England

Return to: Top of Page, List of Jokes About Marriage, My Little Sister's Jokes,
---
A guy who lives at Lake Conroe (50 miles north of Houston) saw a ball bouncing...
... around kind of strange in the lake and went to investigate. It turned out to be a flathead catfish who had obviously tried to swallow a basketball which became stuck in its mouth!! The fish was totally exhausted from trying to dive, but unable to because the ball would always bring him back up to the surface. The guy tried numerous times to get the ball out, but was unsuccessful. He finally had his wife cut the ball in order to deflate it and release the exhausted catfish.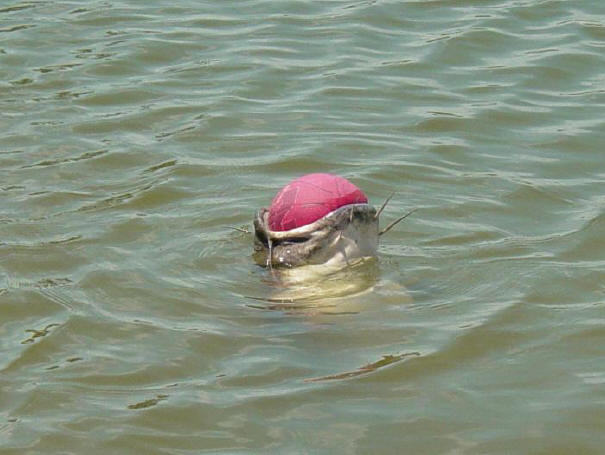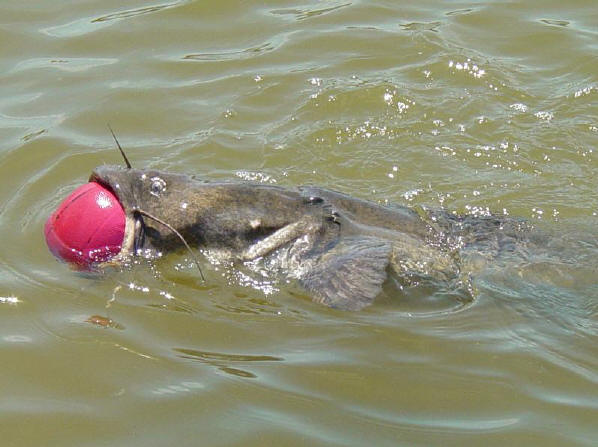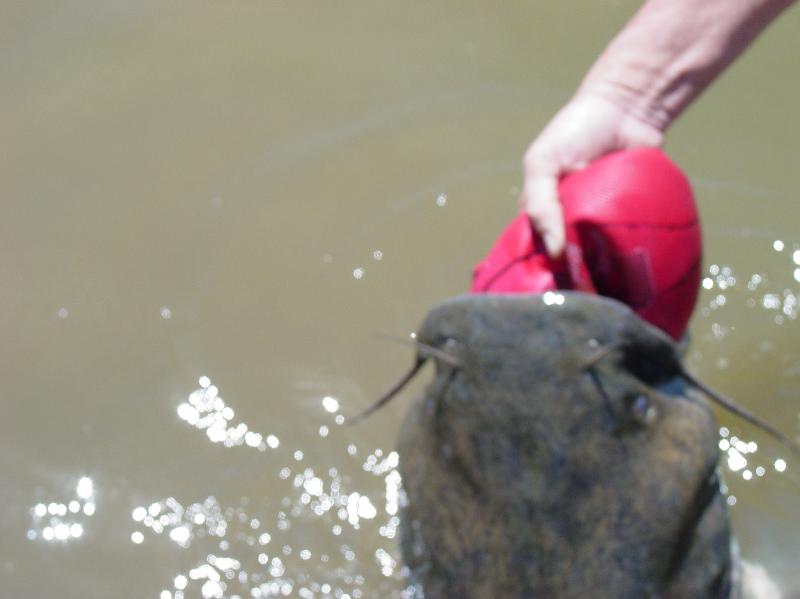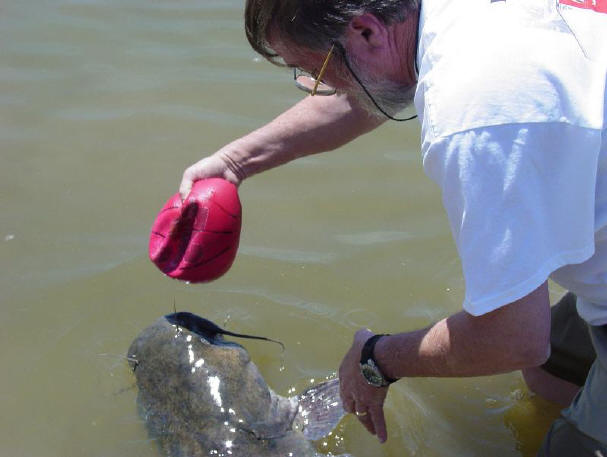 Be kinder than necessary. 'Cause everyone you meet is fighting some kind of battle.
Submitted by Bob, Rockville, Md.

Return to: Top of Page, List of Photos, My Little Sister's Jokes,
---