A man goes into the doctor.
He says, "Doc, you gotta check my leg. Something's wrong. Just put your ear up to my thigh, you'll hear it!"
The doctor cautiously placed his ear to the man's thigh, only to hear, "Gimme 20 bucks. I really need 20 bucks."
"I've never seen or heard anything like this before. How long has this been going on?" The doctor asked.
"That's nothing Doc. Put your ear to my knee."
The doctor put his ear to the man's knee and heard it say, "Man, I really need 10 dollars. Just lend me 10 bucks!!"
"Sir, I really don't know what to tell you. I've never seen anything like this." The doctor was dumbfounded.
"Wait Doc, that's not all. There's more, just put your ear up to my ankle," the man urged him.
The doctor did as the man said and was blown away to hear his ankle plead, "Please, I just need 5 dollars. Lend me 5 bucks, please, if you will."
"I have no idea what to tell you. There's nothing about it in my books," he said, as he frantically searched all his medical reference books.
"I can make a well educated guess though," he continued. "Based on life and all my previous experience, I can tell you that your leg seems to be broke in three places."
Submitted by Kenneth, Shropshire, England

Return to: Top of Page, Groaner Joke List, My Little Sister's Jokes,
---
A New Mexico cowboy was overseeing his herd in a remote mountainous pasture...
... when suddenly a brand-new BMW advanced out of a dust cloud towards him. The driver, a young man in a Brioni suit, Gucci shoes, Ray Ban sunglasses and YSL tie, leans out the window and asks the cowboy, "If I tell you exactly how many cows and calves you have in your herd, will you give me a calf?"
The cowboy looks at the man, obviously a yuppie, then looks at his peacefully grazing herd and calmly answers, "Sure, Why not?"
The yuppie parks his car, whips out his Dell notebook computer, connects it to his Cingular RAZR V3 cell phone, and su rfs to a NASA page on the Internet, where he calls up a GPS satellite navigation system to get an exact fix on his location which he then feeds to another NASA satellite that scans the area in an ultra-high-resolution photo. The young man then opens the digital photo in Adobe Photoshop and exports it to an image processing facility in Hamburg, Germany. Within seconds, he receives an email on his Palm Pilot that the image has been processed and the data stored. He then accesses a MS-SQL database through an ODBC connected Excel spreadsheet with email on his Blackberry and, after a few minutes, receives a response.
Finally, he prints ou t a full-color, 150-page report on his hi-tech, miniaturized HP LaserJet printer and finally turns to the cowboy and says,"You have exactly 1,586 cows and calves."
"That's right. Well, I guess you can take one of my calves," says the cowboy. He watches the young man select one of the animals and looks on amused as the young man stuffs it into the trunk of his car.
Then the cowboy says to the young man, "Hey, if I can tell you exactly what your business is, will you give me back my calf?"
The young man thinks about it for a second and then says, "Okay, why not?"
"You're a U. S. Congressman", says the cowboy.
"Wow! That's correct," says the yuppie, "but how did you g uess that?"
"No guessing required." answered the cowboy. "You showed up here even though nobody called you; you want to get paid for an answer I already knew, to a question I never asked. You tried to show me how much smarter than me you are; and you don't know a thing about cows... this is a herd of sheep."
"Now give me back my dog."
Submitted by Dick, Williamsport, Md.

Return to: Top of Page, List of Political Jokes, My Little Sister's Jokes,
---
At one time in my life, I thought I had a handle on the meaning of the word "service."
"It's the act of doing things for other people."
Then, I heard these terms which reference the word SERVICE:
Internal Revenue Service, Postal Service, Telephone Service, Civil Service, City & County Public Service, Customer Service, Service Stations
Then I became confused about the word "service." This is not what I thought "service" meant.
So today, I overheard two farmers talking, and one of them said he had hired a bull to "service" a few of his cows. BAM! It all came into perspective. Now I understand what all those "service" agencies are doing to us.
I hope you now are as enlightened as I am.
Submitted by Lindsay, Melbourne, Australia.

Return to: Top of Page, List of Un-Categorizable Jokes, My Little Sister's Jokes,
---
On some air bases the Air Force is on one side of the field and civilian aircraft ...
... use the other side of the field, with the control tower in the middle.
One day the tower received a call from an aircraft asking, "What time is it?"
The tower responded, "Who is calling?"
The aircraft replied, "What difference does it make?"
The tower replied, "It makes a lot of difference. If it is an American Airlines flight, it is 3 o'clock. If it is an Air Force plane, it is 1500 hours. If it is a Navy aircraft, it is 6 bells. If it is an Army aircraft, the big hand is on the 12 and the little hand is on the 3. If it is a Marine Corps aircraft, it's Thursday afternoon."
Also submitted by Kenneth, Shropshire, England

Return to: Top of Page, Clean Joke List, My Little Sister's Jokes,
---
Magazine Ads of yesteryear - take 2
2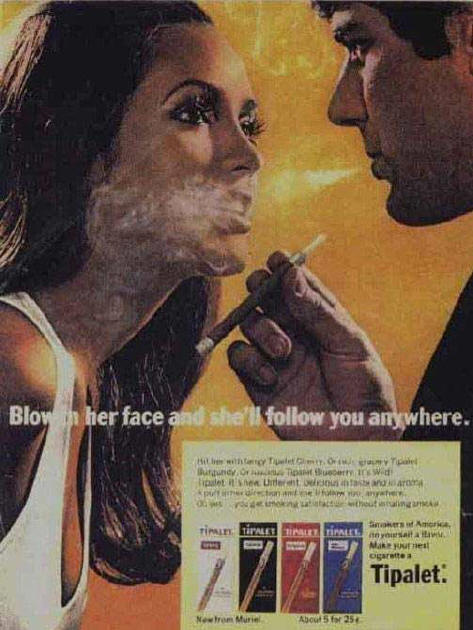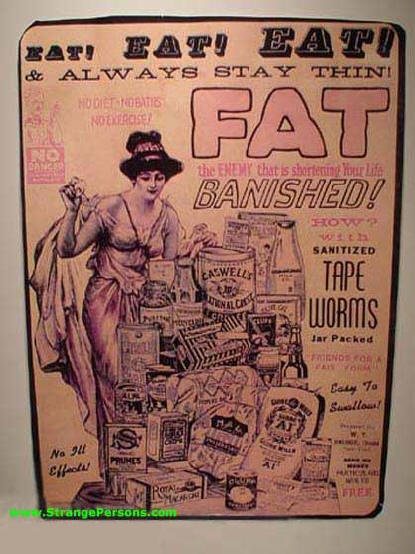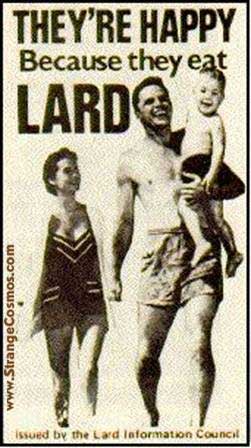 Also submitted by Dick, Williamsport, Md.

Return to: Top of Page, List of Photos, My Little Sister's Jokes,
---