Ways to Confuse Santa Claus
Instead of milk and cookies, leave him a salad, and a note explaining that you think he could stand to lose a few pounds.
While he's in the house, go find his sleigh and write him a speeding ticket.
Leave him a note, explaining that you've gone away for the holidays. Ask if he would mind watering your plants.
While he's in the house, replace all his reindeer with exact replicas. Then wait and see what happens when he tries to get them to fly.
Keep an angry bull in your living room. If you think a bull goes crazy when he sees a little red cape, wait until he sees that big, red Santa suit!
Build an army of mean-looking snowmen on the roof, holding signs that say "We hate Christmas," and "Go away Santa"
Leave a note by the telephone, telling Santa that Mrs. Claus called and wanted to remind him to pick up some milk and a loaf of bread on his way home.
Set a bear trap at the bottom of the chimney. Wait for Santa to get caught in it, and then explain that you're sorry, but from a distance, he looked like a bear.
While he's in the house, find the sleigh and sit in it. As soon as he comes back and sees you, tell him that he shouldn't have missed that last payment, and take off.
Submitted by Kenneth, Shropshire, England

Return to: Top of Page, Christmas Joke List, My Little Sister's Jokes,
---
Christmas Riddles
What do you have in December that you don't have in any other month? The letter "D".
What do you call a polar bear wearing ear muffs? Anything you want. He can't hear you!
What do you call a chicken at the North Pole? Lost.
Just before Christmas, an honest politician, a generous lawyer and Santa Claus were riding in the elevator of a very posh hotel. Just before the doors opened they all noticed a $20 bill lying on the floor. Which one picked it up? Santa of course, because the other two don't exist!
What happened when Santa's cat swallowed a ball of yarn? She had mittens.
What do you call it when your Christmas tree explodes? A tannen-bomb. (tannenbaum)
What's red and white and red and white and red and white? Santa Claus rolling down a hill.
Where did the mistletoe go to become rich and famous? Holly-wood.
Why did Frosty go to live in the middle of the ocean? Because snow man is an island.
Submitted by Andy, Gettysburg, Pa.

Return to: Top of Page, Christmas Joke List, My Little Sister's Jokes,
---
As you know, it is very important for Santa and his reindeer to be very quiet...
... when they deliver presents on Christmas Eve so no one will know they are there. One Christmas Eve Santa Claus landed on a rooftop and suddenly he heard a very loud, "Snort sniff honk honk snort!" coming from one of his reindeer.
Since he was in the sleigh behind them, he didn't know which one it was. It happened again, only louder this time. "Snort sniff honk honk snort!"
Dogs in the neighbourhood began to bark. "Shhh!" Santa hissed. "Please be quiet!"
He went to work lifting the sack of toys out of the sleigh when he heard it again, only a lot louder this time. "SNORT SNIFF HONK HONK SNORT!" Lights came on all over the neighbourhood and some people even stuck their heads out of their windows.
Santa was horrified. Jumping back into the sleigh, he drove quickly back to the North Pole. He lined up all the reindeer and announced, "We are not going to deliver another present until the reindeer who is making funny noises with his nose steps forward and apologizes!"
None of the reindeer stepped forward.
Santa held up a piece of paper. "I know who it is and I have written your name on this paper. But I want to give you a chance to do the right thing on your own."
Still none of the reindeer came forward. So Santa did the only thing he could do. He read off the rude-nosed reindeer...
Submitted by Bill, Ardmore, Pa.
Return to: Top of Page, Christmas Joke List, My Little Sister's Jokes,
---
Two British traffic patrol officers from North Berwick...
... were involved in an unusual incident while checking for speeding motorists on the A1, Great North Road.

One of the officers used a hand-held radar device to check the speed of a vehicle approaching over the crest of a hill, and was surprised when the speed was recorded at over 400 mph. Their radar suddenly malfunctioned and the officers were not able to reset it.

Just then a deafening roar over the tree tops revealed that the radar had in fact locked on to a NATO Tornado fighter jet which was engaged in a low-flying exercise over the Border district, approaching from the North Sea.

Back at police headquarters the chief constable fired off a stiff complaint to the Royal Air Force Liaison office.

Back came the reply in true laconic RAF style:

"Thank you for your message, which allows us to complete the file on this incident. You may be interested to know that the tactical computer in the Tornado detected the presence of, and subsequently locked onto, your hostile radar equipment and automatically sent a jamming signal back to it.

Furthermore, an air-to-ground missile aboard the fully-armed aircraft had also automatically locked onto your equipment. Fortunately the alert pilot flying the Tornado recognized the situation for what it was, quickly responded to the missile systems alert status, and was able to override the automated defence system before the missile was launched and your hostile radar installation was destroyed.

Good Day Sir
Submitted by Bob, Rockville, Md.

Return to: Top of Page, List of Funny Stories, My Little Sister's Jokes,
---
A motorcycle patrolman was rushed to the hospital with an inflamed appendix.
The doctors operated and advised him that all was well. However, the patrolman kept feeling something pulling at the hairs in his crotch.
Worried that it might be a second surgery the doctors hadn't told him about, he finally got enough energy to pull his hospital gown up enough so he could look at what was making him so uncomfortable.
Taped firmly across his pubic hair were three wide strips of adhesive tape, the kind that doesn't come off easily. Written in large black letters was the sentence.
"Get well quick..... from the nurse you gave a ticket to last week."
Submitted by Dick, Williamsport, Md.

Return to: Top of Page, Clean Joke List, My Little Sister's Jokes,
---
These rocket scientists are concreting solid steel pillars to stop vehicles from parking...
... on the pavement outside a sports bar downtown Bugtussle, KY. They are cleaning up at the end of the day. How long do you think it will be before they realize where their vehicle is parked?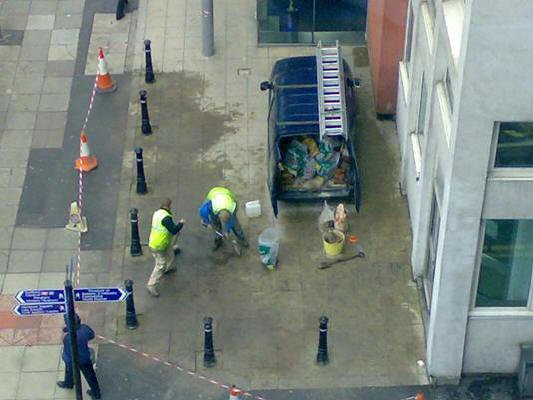 Submitted by Bill, Ardmore, Pa.

Return to: Top of Page, List of Photos, My Little Sister's Jokes,
---