How To Know You're Ready For Parenthood
Mess Test: Smear peanut butter on the sofa and curtains. Now rub your hands in the wet flower bed and rub on the walls. Cover the stains with crayons. Place a fish stick behind the couch and leave it there all summer.
Toy Test: Obtain a 55-gallon box of Legos. (If Legos are not available, you may substitute roofing tacks or broken bottles.) Have a friend spread them all over the house. Put on a blindfold. Try to walk to the bathroom or kitchen. Do not scream (this could wake a child at night).
Grocery Store Test: Borrow one or two small animals (goats are best) and take them with you as you shop at the grocery store. Always keep them in sight and pay for anything they eat or damage.
Dressing Test: Obtain one large, unhappy, live octopus. Stuff it into a small net bag making sure that all arms stay inside.
Feeding Test: Obtain a large plastic milk jug. Fill it halfway with water. Suspend from the ceiling with a stout cord. Get the jug swinging. Try to insert spoonfuls of soggy cereal (such as Fruit Loops or Cheerios) into the mouth of the jug while pretending to be an airplane. Now dump the contents of the jug on the floor.
Night Test: Prepare by obtaining a small cloth bag and fill it with 8 to 12 pounds of sand. Soak it thoroughly in water. At 8 PM begin to waltz and hum with the bag until 9 PM. Lay down your bag and set your alarm for 10:00 PM. Get up, pick up your bag, and sing every song you have ever heard. Make up about a dozen more and sing them until 4:00 AM. Set alarm for 5:00 AM. Get up and make breakfast. Keep this up for 5 years. Look cheerful.
Physical Test (Women): Obtain a large bean-bag chair and attach it to the front of your clothes. Leave it there for 9 mo. Now remove 10% of the beans.
Physical Test (Men): Go to the nearest drug store. Set your wallet on the counter. Ask the clerk to help himself. Now proceed to the nearest food store. Go to the head office and arrange for your paycheck to be directly deposited to the store. Purchase a newspaper. Go home and read it quietly for the last time.
Final Assignment: Find a couple who already has a small child. Lecture them on how they can improve their child's discipline, patience, tolerance, toilet training, and table manners. Suggest many things they can improve as well. Emphasize to them that they should never allow their children to run riot. Enjoy this experience. It will be the last time you'll have all the answers.
Submitted by Kenneth, Shropshire, England

Return to: Top of Page, List of Jokes About Marriage, My Little Sister's Jokes,
---
Recent Quips from Late Night Take - 10
"The head of the Fraternal Order of Police said it took Patrick Kennedy 19 hours to come up with an official explanation. Which may sound bad, but it still beats his dad's record by two hours, so it's pretty good." --Jay Leno
"This I a bit of a scandal. The police at the scene did not give him a sobriety test, and they gave him a ride home. I'm not saying he got special treatment, but they also tucked him into bed and put a trash can next to it in case he had to throw up." --Bill Maher
"Kennedy blamed his seemingly intoxicated state after the car crash on his sleeping medication. I believe it's called Jagermeister." --Jay Leno
"The director of the CIA, Porter Goss, resigned, surprisingly. I guess on Friday he resigned. He said he wanted to spent more time giving bad intelligence to his family." --David Letterman
"President Bush said catching a 7.5 pound fish was his best moment since becoming president. You know the sad thing, a lot of historians would agree with that." --Jay Leno
[On Bush saying Porter Goss 'led ably'] "Ouch. That guy must have sucked. I mean f'gosh sakes, Mike Brown drowned New Orleans and he got 'heckuva job.' George Tenet thought WMDs were a slam dunk. He got the Presidential Medal of Freedom. Led ably? I think the last guy who was said to have led ably was Gary Cherone when he took over Van Halen. You do not want to be the poor man's Sammy Hagar." --Jon Stewart
Also submitted by Kenneth, Shropshire, England

Return to: Top of Page, List of Political Jokes, My Little Sister's Jokes,
---
A tourist walks into a curio shop in San Francisco Looking around at everything ...
..., he notices a very lifelike, life-sized bronze statue of a rat. It has no price tag, but is so striking that he decides he must have it. So he takes it to the owner and asks, "How much for the bronze rat?"
The owner replies, "$12 for the rat and $100 for the story."
The tourist gives the man $12 and says, "I'll just take the rat, you can keep the story."
As he walks down the street, carrying his bronze rat, he notices that a few real rats have crawled out of the alleys and sewers and begun following him down the street. This is disconcerting, and he begins walking faster. But, within a couple of blocks, the herd of rats behind him has grown to hundreds, and they begin squealing. He begins to trot toward the Bay, looking around to see that the rats now number in the MILLIONS, and are squealing and coming toward him faster and faster.
Concerned, even scared, he runs to the edge of the Bay and throws the bronze rat as far out into the water as he can. Amazingly, the millions of rats all jump into the Bay after it, and are all drowned.
The man walks back to the curio shop.
"Ah ha", says the owner, "you have come back for the story?"
"No", says the man, "I came back to see if you have a bronze Republican."

Submitted by Dick, Williamsport, Md.

Return to: Top of Page, List of Political Jokes, My Little Sister's Jokes,
---
Dictionary for Women
Argument (ar*gyou*ment) n.: A discussion that occurs when you're right, but he hasn't realized it yet.
Airhead (er*hed) n.: What a woman intentionally becomes when pulled over by a policeman.
Bar-be-que (bar*bi*q) n.: You bought the groceries, washed the lettuce, chopped the tomatoes, diced the onions, marinated the meat and cleaned everything up, but, he "made the dinner."
Blonde jokes (blond joks) n.: Jokes that are short so men can understand them.
Cantaloupe (kant*e*lope) n.: Gotta get married in a church.
Clothes dryer (kloze dri*yer) n.: An appliance designed to eat socks.
Diet Soda (dy*it so*da) n.: A drink you buy at a convenience store to go with a half pound bag of peanut M&Ms.
Eternity (e*ter*ni*tee) n.: The last two minutes of a football game.
Exercise (ex*er*siz) v To walk up and down a mall, occasionally resting to make a purchase.
Grocery List (grow*ser*ee list) n. What you spend ½ an hour writing, then forget to take to the store.
Hair Dresser (hare dres*er) n.: Someone who is able to create a style you will never be able to duplicate again. See "Magician."
Hardware Store (hard*war stor) n.: Similar to a black hole in space -- if he goes in, he isn't coming out anytime soon.
Childbirth (child*brth) n.: You get to go through 36 hours of contractions; he gets to hold your hand and say "focus,...breathe...push..."
Lipstick (lip*stik) n.: On your lips, coloring to enhance the beauty of your mouth. On his collar, coloring only a tramp would wear...!
Park (park) v./n. Before children, a verb meaning, "to go somewhere and neck." After children, a noun meaning a place with a swing set and slide.
Patience (pa*shens) n.: The most important ingredient for dating, marriage and children. See also "tranquilizers."
Waterproof Mascara (wah*tr*pruf mas*kar*ah) n.: Comes off if you cry, shower, or swim, but will not come off if you try to remove it.
Valentine's Day (val*en*tinez dae) n.: A day when you have dreams of a candlelight dinner, diamonds, and romance, but consider yourself lucky to get a card.
Submitted by Jay, Long Island, NY.

Return to: Top of Page, List of Jokes About Men, My Little Sister's Jokes,
---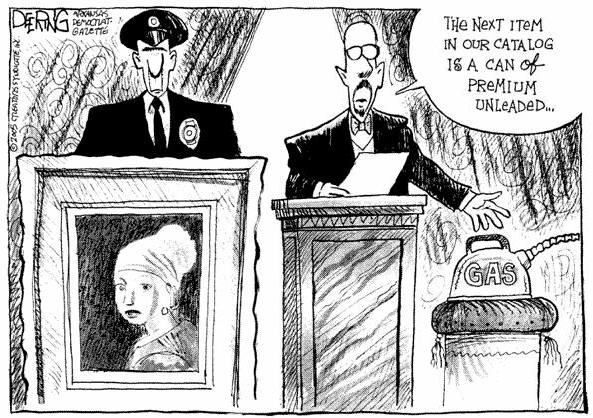 Return to: Top of Page, List of Photos, My Little Sister's Jokes,
---