A truck driver hauling a tractor-trailer load of computers stops for a beer . . .
. .. As he approaches the bar he sees a big sign on the door saying "NERDS NOT ALLOWED--ENTER AT YOUR OWN RISK!" He goes in and sits down.
The bartender comes over to him, sniffs, says he smells kind of nerdy, asks him what he does for a living. The truck driver says he drives a truck, and the smell is just from the computers he is hauling. The bartender says OK, truck drivers are not nerds, and serves him a beer. As he is sipping his beer, a skinny guy walks in with tape around his glasses, a pocket protector with twelve kinds of pens and pencils, and a belt at least a foot too long. The bartender, without saying a word, pulls out a shotgun and blows the guy away.
The truck driver asks him why he did that. The bartender said not to worry, the nerds are over-populating Silicon Valley, and are in season now. You don't even need a license, he said. So the truck driver finishes his beer, gets back in his truck, and heads back onto the freeway. Suddenly he veers to avoid an accident, and the load shifts. The back door breaks open and computers spill out all over the freeway. He jumps out and sees a crowd already forming, grabbing up the computers. They are all engineers, accountants and programmers wearing the nerdiest clothes he has ever seen.
He can't let them steal his whole load. So remembering what happened in the bar, he pulls out his gun and starts blasting away, felling several of them instantly. A highway patrol officer comes zooming up and jumps out of the car screaming at him to stop. The truck driver said, "What's wrong? I thought nerds were in season."

"Well, sure." said the patrolman, "But you can't bait 'em."
Submitted by Julie, Middleburg, Va.

Return to: Top of Page, Computer Joke List, My Little Sister's Jokes,
---
World's Easiest Quiz
(Passing requires 4 correct answers)
How long did the Hundred Years War last?
Which country makes Panama hats?
From which animal do we get catgut?
In which month do Russians celebrate the October Revolution?
What is a camel's hair brush made of?
The Canary Islands in the Pacific are named after what animal?
What was King George VI's first name?
What color is a purple finch?
Where are Chinese gooseberries from?
What is the color of the black box in a commercial airplane?
Answers
116 years
Ecuador
Sheep and Horses
November
Squirrel fur
Dogs
Albert
Crimson
New Zealand
Orange, of course.
Submitted by Andy, Gettysburg, Pa.

Return to: Top of Page, List of Interesting Facts, My Little Sister's Jokes,
---
Alice and Frank are Bungee-jumping one day...
Alice says to Frank, "You know, we could make a lot of money running our own Bungee-jumping business in Mexico."
Frank thinks this is a great idea, so they pool their money and buy everything they need: a tower, an elastic cord, insurance, etc. They travel to Mexico and begin to set up on the square. As they are constructing the tower, a crowd begins to assemble. Slowly, more and more people gather to watch them at work. When they had finished, there was such a crowd, they thought it would be a good idea to give a demonstration. So, Alice jumps. She bounces at the end of the cord, but when she comes back up, Frank notices that she has a few cuts and scratches. Unfortunately, Frank isn't able to catch her and she falls again, bounces, and comes back up again. This time, she is bruised and bleeding. Again, Frank misses her. Alice falls again and bounces back up. This time, she comes back pretty messed up -- she's got a couple broken bones and is almost unconscious. Luckily, Frank finally catches her this time and says, "What happened? Was the cord too long?"
Barely able to speak, Alice gasps, "No, the Bungee cord was fine...It was the crowd. What the hell is a pinata?!"
Submitted by Bill, Narberth, Pa.

Return to: Top of Page, Groaner Joke List, My Little Sister's Jokes,
---
You know the price of gas is getting bad when they start drawing cartoon about it - take 9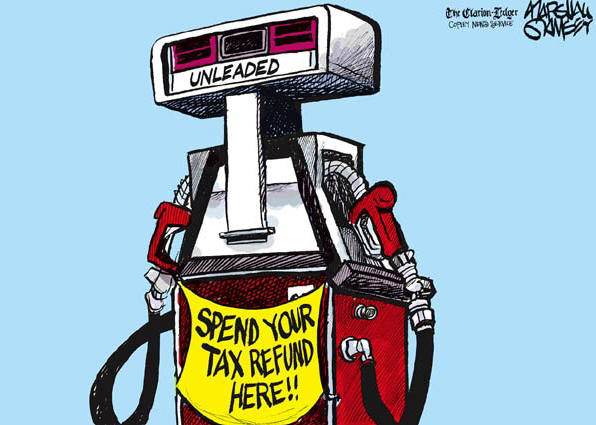 Return to: Top of Page, List of Photos, My Little Sister's Jokes,
---