Family to reunite in new home
Chris Patterson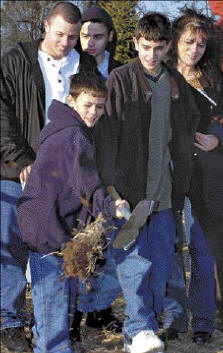 Sara Lee (far right) watches her son, Greg, 12, move some dirt during a groundbreaking ceremony for the latest Habitat for Humanity project in Emmitsburg. Lee and her sons, Joseph, Curtis, Gage and Greg, were chosen to live in the new home.
A bitter cold wind blew Sunday afternoon on the crowd gathered in a vacant Emmitsburg lot. The group was there to break ground on a new home for single mother Sara Lee and her four teenage boys.
The Habitat for Humanity home will be the first built by the nonprofit group in Emmitsburg and the 23rd in Frederick County.
After introductions and prayers, Lee and her boys, along with local notables such as Frederick County Commissioner Michael L. Cady (R) of Frederick and Emmitsburg Mayor James Hoover, took shovels to the frozen soil for the official groundbreaking.
Lee told the crowd of about 100 about the circumstances that brought her to that place.
She told of how the father of her first three boys died of cancer and, later, about divorcing the father of her youngest son.
The family was left in a dilapidated home, with a hole in the bathroom's shower through which one could see the basement. The house needed drywall and insulation, exterior doors needed new locks, and nearly everything needed repair, she said.
When circumstances became unbearable, Lee rented a two-bedroom apartment and two of her boys went to live with her mother.
Though the accommodations they live in now are cleaner and safer, the family lives apart, and Lee struggles to be a mother to her boys who live in different places.
"My boys' belongings are spread from one place to another and trying to juggle supporting them, gathering laundry weekly and making sure everybody is doing what they should while out of my care is no easy task," she said, her voice cracking.
"Although I do feel that this has brought us closer together as a family and made us realize that having each other is most important, we do hope that this opportunity will bring us all back together again in a safe, warm, habitable place that we can call our home."
At a dinner at St. Joseph's Parish Hall following the groundbreaking, Lee danced with one of her boys and laughed with the many supporters who came to celebrate. But her eyes were still red, and the wear and tear of living the way she has was apparent.
It was only with God that she was able to make it, she said, and she credited God with making it possible for her to not only be reunited with her children soon, but to own a home next door to her best friend.
Lee and her sons will live in a four-bedroom, one-bath ranch home made possible by a partnership among Habitat, the United Methodist Churches of Frederick County, and the students of Mount Saint Mary's University and Gettysburg College.
Lee, like other Habitat for Humanity beneficiaries, will pay a mortgage, but the terms are significantly reduced, making it possible for her to live there.
Read other news stories related to the Emmitsburg Town Government