An 85-year-old man went to his doctor's office to get a sperm count.
The doctor gave the man a jar and said, "Take this jar home and bring back a semen sample tomorrow."
The next day the 85-year-old man reappeared at the doctor's office and gave him the jar, which was as clean and empty as on the previous day. The doctor asked what happened and the man explained: "Well, doc, it's like this - First I tried with my right hand, but nothing. Then I tried with my left hand, but still nothing.
Then I asked my wife for help. She tried with her right hand, then her left, still nothing. She tried with her mouth, first with the teeth in, then with her teeth out, and still nothing. We even called up Arleen, the lady next door and she tried too, first with both hands, then an armpit and she even tried squeezin' it between her knees, but still nothing."
The doctor was shocked! "You asked your neighbor?"
The old man replied, "Yep. And no matter what we tried, we still couldn't get the jar open."
Submitted by Bill, Narberth, Pa.

Return to: Top of Page, Clean Joke List, My Little Sister's Jokes
---
The preacher noticed little Billy was staring up at the plaque that hung in the foyer of the church.
It was covered with names and small American flags were mounted on either side of it. The seven-year-old had been staring at the plaque for some time, so the preacher walked up, stood beside the little boy, and said quietly: "Good morning, Billy."
"Good morning, Preacher," replied the young man, still focused on the plaque. "Preacher, what is this?"
"Well, son, it's a memorial to all the young men and women who died while in the service."
Soberly, they stood together, staring at the plaque.
Little Billy's voice was barely audible when he asked: "Which service, the 9:45 or the 11:00?"
Submitted by Mike, Broomfield, Co.

Return to: Top of Page, Clean Joke List, My Little Sister's Jokes
---
A team of archaeologists excavating in Israel came upon a cave.
Written across the cave wall were the following symbols, in this order of appearance from left to right: a woman, a donkey, a shovel, a fish, and a Star of David.
It was considered a unique find, and the writings were said to be at least three thousand years old. The piece of stone was removed, brought to the museum, and archaeologists from around the world came to study the ancient symbols. They held a huge meeting after months of conferences to discuss the meaning of the markings.
The president of the society summarized findings and pointed at the first symbol. "This looks like a woman. We can judge that this race was family oriented and held women in high esteem. You can also tell they were intelligent, as the next symbol resembles a donkey; so, they were smart enough to have animals help them till the soil.
The next drawing looks like a shovel of some sort, which means they even had tools to help them. Even further proof of their high intelligence is the fish, which means that if a famine had hit the earth and food didn't grow, they would take to the sea for food. The last symbol appears to be the Star of David, which means they were evidently Hebrews."
The audience applauded enthusiastically. But, a little old man stood up in the back of the room and said, "Idiots! Hebrew is read from right to left. It says, 'Holy Mackerel! Dig the ass on that woman!'"

Return to: Top of Page, Clean Joke List, My Little Sister's Jokes
---
It was early one morning when the Pastor heard a noise outside his door.

When he opened it, he found a donkey standing outside, which immediately fell over dead.

Not exactly knowing what to do about the situation, he called the local sheriff and told him about what was laying before him.

The sheriff couldn't resist jabbing at the Minister and said, "Pastor, I thought the first duty of the Minister was to bury the dead."

Without hesitation, the Pastor said, "No, the first duty of the Minister is to notify the next of kin."

Submitted by Andy, Gettysburg, PA.

Return to: Top of Page, Clean Joke List, My Little Sister's Jokes
---
A small town prosecuting attorney called his first witness to the stand in a trial ...
- a grandmotherly, elderly woman. He approached her and asked, "Mrs. Jones, do you know me?"
She responded, "Why, yes, I do know you Mr. Williams. I've known you since you were a young boy. And frankly, you've been a big disappointment to me. You lie, you cheat on your wife, you manipulate people and talk about them behind their backs. You think you're a rising big shot when you haven't the brains to realize you never will amount to anything more than a two-bit paper pusher. Yes, I know you."
The lawyer was stunned. Not knowing what else to do he pointed across the room and asked, "Mrs. Williams, do you know the defense attorney?"
She again replied, "Why, yes I do. I've known Mr. Bradley since he was a youngster, too. I used to baby-sit him for his parents. And he, too, has been a real disappointment to me. He's lazy, bigoted, he has a drinking problem. The man can't build a normal relationship with anyone and his law practice is one of the worst in the entire state. Not to mention he cheated on his wife with three different women. Yes, I know him."
The defense attorney was also surprised and shocked. At this point, the judge brought the courtroom to silence and called both counselors to the bench.
In a very quiet voice, he said with menace, "If either of you bastards asks her if she knows me, you'll be jailed for contempt.

Return to: Top of Page, Clean Joke List, My Little Sister's Jokes
---
The Japanese eat very little fat and suffer fewer heart attacks than the British or Americans.
On the other hand, the French eat a lot of fat and also suffer fewer heart attacks than the British or Americans.
The Japanese drink very little red wine and suffer fewer heart attacks than the British or Americans.
The Italians drink excessive amounts of red wine and also suffer fewer heart attacks than the British or Americans.
Conclusion: Eat & drink what you like. It's speaking English that kills you.
Submitted by Barb, Unionville, Pa

Return to: Top of Page, Clean Joke List, My Little Sister's Jokes
---
In 18th-century vagabond in England, exhausted and famished, came to a roadside Inn with a sign reading: "George and the Dragon."
He knocked. The Innkeepers wife stuck her head out a window.
"Could ye spare some victuals?"
The woman glanced at his shabby, dirty clothes. "No!" she shouted.
"Could I have a pint of ale?"
"No!" she shouted.
"Could I at least use your privvy?"
"No!" she shouted again.
The vagabond said, "Might I please ...?"
"What now?" the woman screeched, not allowing him to finish.
"Dye suppose," he asked, "that I might have a word with George?"
Submitted by Max, Austin, Tx.

Return to: Top of Page, Clean Joke List, My Little Sister's Jokes
---
The old Cherokee chief sat in his reservation hut smoking the ceremonial pipe . . .
. . ., eyeing the two US government officials sent to interview him.
"Chief Two Eagles," one official began, "you have observed the white man for many generations, you have seen his wars and his products, you have seen all his progress, and all his problems."
The chief nodded.
The official continued, "Considering recent events, in your opinion, where has the white man gone wrong?"
The chief stared at the government officials for over a minute, and then calmly replied. "When white man found the land, Indians were running it. No taxes. No debt. Plenty buffalo. Women did most of the work. Medicine man free. Indian men hunted and fished all the time"
The chief smiled, and added quietly, "White man dumb enough to think he could improve system like that."
Submitted by Marianne, Columbia, Md.

Return to: Top of Page, Clean Joke List, My Little Sister's Jokes
---
What's Amore?
When the moon hits your eye
Like a big pizza pie
That's amore.

When an eel bites your hand
And that's not what you planned
That's a moray.

When our habits are strange
And our customs deranged
That's our mores.

When your horse munches straw
And the bales total four
That's some more hay.

When Othello's poor wife
She gets stabbed with a knife
That's a Moor, eh?

When a Japanese knight
Used a sword in a fight
That's Samurai.
(Author Unknown)
Submitted by Wink, The Bronx, NY.

Return to: Top of Page, Clean Joke List, My Little Sister's Jokes
---
A man left for a vacation to Jamaica.
His wife was on a business trip and was planning to meet him there the next day. When he reached his hotel, he decided to send his wife a quick e-mail message. Unable to find the scrap of paper on which he had written her e-mail address, he did his best to type it in from memory.
Unfortunately, he missed one letter, and his note was directed instead to an elderly preacher's wife whose husband had passed away only the day before. When the grieving widow checked her e-mail, she took one look at the monitor, let out a piercing scream, and fell to the floor dead. At the sound, her family rushed into the room and saw this note on the screen: "Dearest Wife, Just got checked in. Everything prepared for your arrival tomorrow. Your Loving Husband. P.S. Sure is hot down here."

Return to: Top of Page, Clean Joke List, My Little Sister's Jokes
---
Let me clear up any misconceptions you may have had about food and diets . . .
Q: I've heard that cardiovascular exercise can prolong life. Is this true?
A: Your heart is only good for so many beats, and that's it ... Don't waste them on exercise. Everything wears out eventually. Speeding up your heart will not make you live longer; that's like saying you can extend the life of your car by driving it faster. Want to live longer? Take a nap.
Q: Should I cut down on meat and eat more fruits and vegetables?
A: You must grasp logistical efficiencies. What does a cow eat? Hay and corn. And what are these? Vegetables. So a steak is nothing more than an efficient mechanism of delivering vegetables to your system. Need grain? Eat chicken. Beef is also a good source of field grass (green leafy vegetable). And a pork chop can give you 100% of your recommended daily allowance of vegetable slop.
Q: Is beer or wine bad for me?
A: Look, it goes to the earlier point about fruits and vegetables. As we all know, scientists divide everything in the world into three categories: animal, mineral, and vegetable. We all know that beer and wine are not animal, and they are not on the periodic table of elements, so that only leaves one thing, right? My advice: Have a burger and a beer and enjoy your liquid vegetables.
Q: How can I calculate my body/fat ratio?
A: Well, if you have a body, and you have body fat, your ratio is one to one. If you have two bodies, your ratio is two to one, etc.
Q: What are some of the advantages of participating in a regular exercise program?
A: Can't think of a single one, sorry. My philosophy is: No Pain - Good.
Q: If I stop smoking, will I live longer?
A: Nope. Smoking is a sign of individual expression and peace of mind. If you stop, you'll probably stress yourself to death in record time.
Q: Aren't fried foods bad for you?
A: You're not listening. Foods are fried these days in vegetable oil. In fact, they're permeated in it. How could getting more vegetables be bad for you?
Q: What's the secret to healthy eating?
A: Thicker gravy.
Q: Will sit-ups help prevent me from getting a little soft around the middle?
A: Definitely not! When you exercise a muscle, it gets bigger. You should only be doing sit-ups if you want a bigger stomach.
Q. Is chocolate bad for me?
A: Are you crazy? Cocoa beans... Another vegetable. It's the best feel good food around!
I hope this has cleared up any misconceptions you may have had about food and diets. Have a cookie... flour is a veggie! "When life hands you lemons, ask for a bottle of tequila and salt."
Submitted by Sister Wink, Brooklyn, NY

Return to: Top of Page, Clean Joke List, My Little Sister's Jokes
---
How to Dispose of Junk Mail
When you get ads in your phone or utility bill, include them with the payment. Let them throw it away.
When you get those pre- approved letters in the mail for everything from credit cards to 2nd mortgages and junk like that, most of them come with postage paid return envelopes, right? Well, why not get rid of some of your other junk mail and put it in these cool little envelopes! Send an ad for your local chimney cleaner to American Express. Or a pizza coupon to Citibank. If you didn't get anything else that day, then just send them their application back!
If you want to remain anonymous, just make sure your name isn't on anything you send them. You can send it back empty if you want to just to keep them guessing!
Eventually, the banks and credit card companies will begin getting all their junk back in the mail. Let's let them know what it's like to get junk mail, and best of all THEY'RE paying for it! Twice!
Let's help keep our postal service busy since they say e-mail is cutting into their business, and that's why they need to increase postage.
Submitted by Kevin, Dallas, Tx.

Return to: Top of Page, Clean Joke List, My Little Sister's Jokes
---
The State of North Dakota has mobilized it's elite Special Forces Ground Units specializing in subterranean warfare to Afghanistan.
Secretary of Defense Donald Rumsfeld announced today that over 100,000 of these elite fighters would be mobilized immediately to search out and destroy Taliban and al-Qaida forces hiding in caves and in the mountains.
"We didn't think we were going to have to use these elite forces" said Rumsfeld, "but it's time to end this thing ... these fighters are specially trained for subterranean attack and can even be used to locate and dismantle land mines".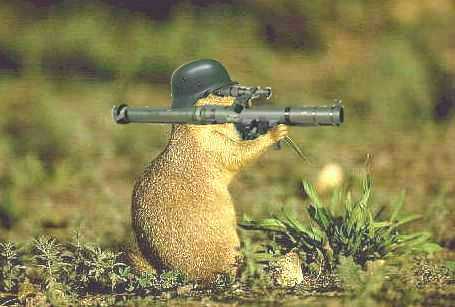 Return to: Top of Page, Clean Joke List, My Little Sister's Jokes
---