Lent
Pastor John Talcott
Christ's Community Church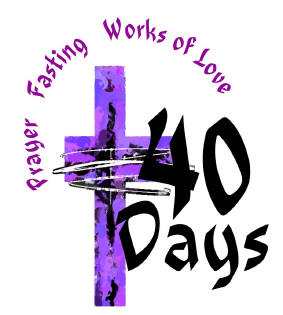 (3/2017) As we enter the liturgical season of Lent, so closely matched to spring, it calls to mind the hope of new life, growth, and change that honestly should characterize every season of our Christian lives. Lent really is both a reminder and an invitation into the grace filled life of the follower of Jesus Christ. As we enter this season of reflection, we remember the Son of God, who comes into our history, lived without sin, died on the cross, rose from the dead, and ascended back into heaven. That is good news… amazing news… not just of a believer's forgiveness today, but of lasting hope for tomorrow!
With that in mind, there is no doubt some confusion when hearing the call for believers to exercise self-denial, to identify with the Lord's suffering and death, and to prepare through works of prayer, fasting and almsgiving. It doesn't sound or look much like good news to a world that is starving for a glimmer of hope; just a glint of good news. So how do I, pastor of Christ's Community Church… how do we, the Church, the body of Christ, align our faith, values, and practice with the gospel of Jesus Christ, who said, "When you fast, do not look somber as the hypocrites do" (Matthew 6:16).
Well I for one, will delight in the Lord, rejoicing in God my Savior, who has clothed me with garments of salvation, even "a robe of righteousness" (Isaiah 61:10). I refuse to allow myself to get caught up in a spirit of mourning or somberness this Lenten season, because it's just not right to say, "Jesus was rejected, shamed, and suffered… so I need to be rejected, to be shamed, and suffer too." It's just not right to think that somehow there's humility in that… that somehow there's still the gospel of grace, because it's not there. It's just not true to think that there is something… anything… that you or I can do to aid our Lord, the suffering servant, in the sufficiency of His sacrifice (Isaiah 53:11).
The Bible is very clear in Hebrews 10:10 that "we have been made holy through the sacrifice of the body of Jesus Christ once for all". It was a once for all occasion, complete, and sufficient. When the Lord had offered for all time one sacrifice for sins, he sat down at the right hand of God. "It is finished" he said (John 19:30). And since that time "he waits for his enemies to be made his footstool, because by one sacrifice he has made perfect forever those who are being made holy" (Hebrews 10:12-14). As we face these 40 days of Lent, may we be reminded that it was for all 365 days, every day of the year into eternity, that Jesus Christ "gave himself for us to redeem us from all wickedness" (Titus 2:15).
Each and every day of the year we are beneficiaries of His grace. Daily we can celebrate… daily we can rejoice… "Surely the Lord has done great things" (Joel 2:21). Our King has come, righteous and having salvation. Be glad and rejoice, for He has "made perfect forever those who are being made holy" (Hebrews 10:14). He gave himself, not inclusive of anything we do, not through the life we live, but through his sinless life, his substitutionary death, and his bodily resurrection.
The big idea I want to convey is this; God has done something for us. "God so loved the world that he gave his one and only Son, that whoever believes in him shall not perish but have eternal life" (John 3:16). He "gave" means it's a gift. You and I can't stand before God and say, "I earned it." No one can stand before God and say, "I deserved it… I was baptized as a baby... I went to church my whole life... I gave generously... I tried to do good… helped the poor… looked after widows and orphans." All of that may be great, but it's not enough to overcome the debt of our sin to God… it's not enough to pay the price. But here is where we encounter the good news recorded in Romans 3:23-24, "All have sinned and fall short of the glory of God, and are justified freely by his grace through the redemption that came by Christ Jesus."
So what God is saying is this, we're all sinners, we've all messed up, and we're all separated from him. His just judgment, his wrath hangs over all of us, like an unsurpassable mountain. Yet the great truth of the Lenten season is that Jesus comes as "the Lamb of God, who takes away the sin of the world" (John 1:29)! The Christ, the Son of God, lives a perfect life, and doesn't sin, but in love of us, in love for us, he goes to the cross, dies in our place for our sins, and takes the wrath of God and punishment that we deserve. The end result being, that God's wrath is taken away, it's diverted from us, and poured out on Jesus Christ. We are the beneficiaries, receiving the inheritance, the forgiveness, the life, love, and righteousness of Jesus Christ, when we trust him and receive his grace.
That's the heart of everything I believe as a follower of Jesus Christ. That's the reason why, at Christ's Community Church, we celebrate Lent with great joy. Not only do we celebrate what Jesus has done for us, but we also celebrate what Jesus does in us and through us. I pray that we would never lose sight of the fullness of the glory of the Christ, never be derailed, and never diminishing in any way what Jesus accomplishes for us who believe. I am eternally grateful for the work he has done in us. And I pray that the joy of Christ may be in you and that your joy may be complete (John 15:11). I pray that this Lenten season, you will take the opportunity to respond to God, pursuing a new life, overseen by a new Master, whose name is the Lord Jesus Christ. God bless you!
To learn more about Christ Community Church visit them on-line at www.cccemmitsburg.org or better yet, join them for Sunday service at 303 W. Lincoln Ave. Emmitsburg.
Read past sermons by Pastor John Talcott