The last supper: eleven elusive courses
on the RMS Titanic
Sharon Racine
If you knew your next meal would be your last, what would you eat? I would imagine that few people have had the luxury of choosing their final culinary indulgences, but if I could, I would be sure to stuff myself with a delicious Thanksgiving-style feast, complete with homemade stuffing, jellied cranberry sauce, and fresh apple pie a-la-mode. I guess itís safe to say that Thanksgiving dinner is my all-time favorite meal.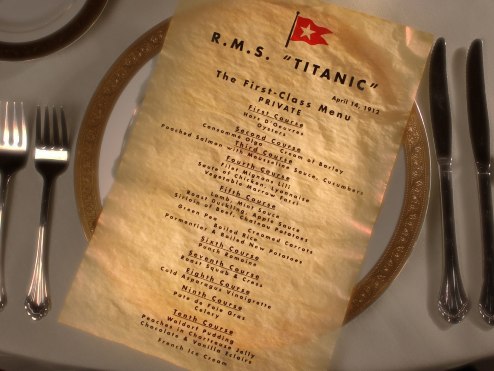 Though fun to imagine, the idea of the "last meal" becomes suddenly chilling when placed in a specific context Ė for example, the sinking of the Titanic. As the 100th anniversary of the Titanicís first and last voyage approaches, I canít help but consider the thousands of passengers who enjoyed a sumptuous feast on that fateful night of April 14, 1912, completely unaware that it was their last.
The thought of this final feastís decadence becomes almost comical to us outsiders, analyzing the ins and outs of the Titanicís wasted grandeur. If the first-class passengers had known that their servings of poached salmon were the last main course they would ever enjoy, would they have even bothered? Or maybe chewed a little slower? Savored a little longer? Itís hard to say, but one look at the first-class dinner menu quashes any doubt that this multi-course final meal was indeed extravagant.
A first course* of oysters was followed by cream of barley soup, then poached salmon with mousseline sauce and cucumbers. Guests had a choice of filet mignon, sautťed chicken, and vegetable marrow farci for the fourth course, not to be outdone by course number 5: lamb with mint sauce, roast duckling with apple sauce, sirloin of beef, green peas, creamed carrots, boiled rice, and boiled new potatoes.
Full yet? Guests would have had to save room for a sixth course of punch Romaine, followed by roast squab and cress, then cold asparagus vinaigrette. The ninth course was a rich pate de Foie Gras with celery, followed up with the tenth (and best!) course of sweets, which included Waldorf pudding, peaches in chartreuse jelly, chocolate and vanilla eclairs, chocolate mousse, and French ice cream. Fruits and cheeses were served as the final dessert course.
Yes, this eleven-course feast, punctuated by endless glasses of wine and liqueur, is certainly one for the history books. The haunting question remains, however; if the Titanic had not sank, would we even think twice about the last eleven courses ever to be served in first class on the Titanic, April 14, 1912?
*Meals for each course obtained from www.armchair.com/recipe/titanic1.html.
Recipes from the Titanic, circa 1912 via Southernfood.about.com
Cream of Barley soup
Ingredients:
1 teaspoon dried parsley flakes
1/2 teaspoon dried leaf thyme
2 bay leaves
1 cup pearl barley
1 cup onion, chopped
1 cup celery, chopped
1/2 cup leeks, chopped
3 ham hocks or 1/2 to 1 cup diced smoked ham
3 1/2 quarts chicken broth
6 tablespoons instant mashed potatoes
1 cup whipping cream
Preparation:
Combine all ingredients except mashed potatoes and cream in crockpot. Cover and cook on low 4 to 5 hours. Remove ham hocks, if used, and discard. Also, discard bay leaves. Add instant mashed potatoes, stirring well, and add cream. Cook on high for 15 minutes longer.
Poached salmon steaks with Hollandaise sauce
Ingredients:
Sauce:
1/2 cup butter
3 large egg yolks
1 tablespoon lemon juice
1/8 teaspoon salt
dash cayenne pepper or hot pepper sauce
2 tablespoons hot water
Salmon:
1 tablespoon lemon juice
1 tablespoon salt
1 small onion, sliced
fresh or freeze-dried dill or parsley
3 to 4 peppercorns
6 salmon steaks
Preparation:
Heat the butter in a heavy saucepan until hot and foamy, but do not let the butter brown. In a small bowl, whisk or beat egg yolks with 1Tbsp lemon juice, 1/8 tsp salt, and cayenne pepper or hot sauce. Gradually beat in butter, then water. Return mixture to saucepan and beat over very low heat until mixture is slightly thickened. Serve immediately or let stand over warm water for up to 30 minutes.
Makes about 2/3 cup of sauce.
Put 4 cups of boiling water in a large skillet; add 1 tablespoon lemon juice, 1 Tbsp salt, onion slices, a few parsley or dill sprigs, and peppercorns. Bring to a boil; gently add the salmon steaks to the boiling mixture. Bring to a boil; reduce heat to a simmer. Cover and continue cooking for about 6 to 8 minutes, or until the salmon flakes easily with a fork. Remove carefully to a platter with a slotted spoon or spatula. Spoon 2 to 3 tablespoons of sauce over each salmon steak. Serves 6.
Guinea Hen with Raspberries
Ingredients:
1 guinea hen, about 3 pounds
Kosher salt and freshly ground black pepper
2 cups raspberries
2 tablespoons unsalted butter, softened
3 thyme sprigs
Ĺ cup port
1 tablespoon raspberry jam or jelly
1 tablespoon red wine vinegar
Preparation:
Preheat the oven to 425EF. Pat the bird dry and season it inside and out with salt and pepper. Set Ĺ cup of the raspberries aside and place the rest inside the hen. Truss it, then smear the skin with the softened butter.
Place the hen and the thyme in a Dutch oven or flameproof casserole. Pour in 1 cup water, cover, and place in the oven. Cook for 1 to 1 ľ hours or until the thigh juices run clear when pierced with a skewer or an instant-read thermometer inserted into the thigh reads 165EF. Transfer the hen to a platter, breast down, and cover loosely with aluminum foil.
Skim off the fat from the cooking juices and bring to a boil over medium-high heat. Add the port, raspberry jam or jelly, and vinegar and bring back to a boil, then boil for 3 to 5 minutes, until reduced to 1/3 cup. Add any juices from the resting hen and check the seasoning. Strain the sauce through a sieve into a sauceboat and add the remaining raspberries.
Remove the trussing string, from the guinea hen. Carve and serve with the sauce.
French Chocolate Mousse
Ingredients:
2 cups heavy cream
4 egg yolks
3 tablespoons granulated sugar
1 teaspoon vanilla extract
7 oz bittersweet chocolate, melted and kept lukewarm
Preparation:
Heat 2/3 cup of cream in small saucepan until it just begins to steam. In a separate bowl, whisk together the egg yolks and sugar, and then add half of hot cream, whisking constantly, until the mixture is thoroughly combined. Add the warm egg-cream blend back into the hot cream in the saucepan and cook over low heat, stirring constantly, until the mixture reaches 165 degrees on a digital candy thermometer. Remove from the heat and stir in the vanilla extract and melted chocolate. Chill the chocolate custard thoroughly.
Beat remaining 1-1/3 cups of cream in a separate bowl until stiff peaks form. Thoroughly stir Ĺ cup of the whipped cream into the chilled chocolate custard, and then gently fold in the remaining cream. The chocolate mousse is ready when the chocolate custard is thoroughly incorporated into the whipped cream, and no marbling shows. Serve chilled.
Makes 8 servings.
aron Racine