In My Own Words
New Yearís resolutions that matter
Nick Pane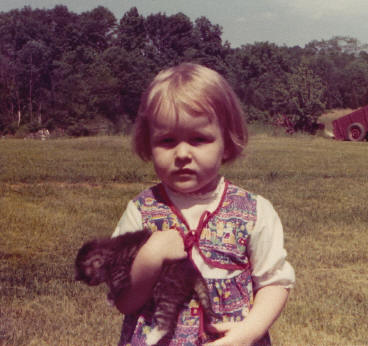 Before she could even walk or talk, Jennifer Vanderau demonstrated what would become a lifelong passion for caring for animals. As a result of Jenís efforts, thousands of animals have been rescued and placed in loving homes.
(1/2013) Each year on December 31st, as the clock moves closer to midnight, the eyes of the world turn to Times Square in New York City. About one million people attend the annual parties and festivities, while billions more celebrate with smaller parties of their own as the new year is ushered in. The new year is always an exciting and symbolic time for many - it represents a new beginning, starting over, and wiping the slate clean to begin new goals and aspirations, more commonly known as New Year's Resolutions.
The common theme with New Year's Resolutions is that they challenge the resolutioner to make a change or difference. The change normally involves something personal, such as the ever-popular vows to lose weight, discontinue smoking, or making smarter financial decisions. These obviously are all great things to strive for, and if the new year is all it takes for you to decide to make a positive change in your lifestyle or well-being, then more power to you. Of course, the whole point of a resolution is to follow through with your plan, undoubtedly the hardest part.
It's no small task to follow through with a resolution. Many resolutions involve adding, subtracting, or changing something in your life that had originally been commonplace, and now you think you want to do something about it. You lay out the entire game plan, and with a little dedication and time, you fully expect to come out on the other side as a brand new person. The time then comes for you to make good on your word, you realize the magnitude of your self-imposed expectations and the amount of effort it will take to topple the beast, and everyone's favorite two-word phrase pops into your head: "Screw it."
Breaking or forgetting about a New Year's Resolution is hardly unusual. Resolutions certainly have a reputation of not being fulfilled, and though I don't mean to single anyone out, it's probably a safe bet to assume laziness is the main culprit. It's not surprising that resolutions often fall by the wayside - it's really easy to talk about a plan to exercise more or eat healthier. Carrying out said plan is hard, and in terms of resolutions, it's something that you likely don't really want to do.
I came to this seemingly linear conclusion pretty quickly, so of course it got me thinking. The intent of a New Year's Resolution is clear, but why do so many resolutions seem to fail? Resolutioners mean well, but it seems they lose their drive or desire to change something about themselves rather quickly. Could it be, perhaps, that our perceptions of New Year's Resolutions are simply misguided? What if we turned the focus of New Year's Resolutions away from ourselves? I couldn't help but wonder if a person's motivation would be different if it meant friends, family, or even complete strangers were impacted by their actions. I admittedly feel that we live in a country that is selfish by nature, but maybe we have this whole New Year's Resolution thing all wrong. Not only would I like to see people come through with their New Year's Resolutions, but I'd like to see more out of their resolutions than an attempt at weight loss. Be inspired by the actions of people who have already made a difference in some way, and challenge yourself to do your part in helping people, or in one specific case, helping animals.
If you are a frequent reader, you won't have to go very far to learn more about Jen Vanderau, the Director of Communications for Cumberland Valley Animal Shelter, and a contributor to the paper. The shelter, as you may well have already guessed, is involved with animals that are homeless and in need. The shelter helps the animals in any way that is necessary, and then does its part in finding a good home for as many of these animals as possible. No doubt Jen is an animal lover herself, suggesting in one of her many heartwarming articles that animals "bring so much to the world. Not the least of which is the laughter and joy of their antics and silliness." I don't know about you, but I would venture to argue that Jen pours a lot of passion into what she does.
The shelter itself is non-profit, so it isn't as if any of the volunteers could make a living by helping the animals. However, that is exactly what makes organizations like the shelter so great - the staff members, volunteers, and anyone else associated with the cause is not driven by money or the social hierarchy. The devotion and dedication provided to these animals is purely out of love, care, and respect. It is unlikely we will ever see a world without animals in need, making these organizations all the more essential. People such as Jen and the other members of the shelter's staff recognize this, and cared enough to do something about it.
According to Jen, "A group of people actually raised enough money to buy [the shelter] back from Harrisburg [Humane Society]" back in the 90s, and the Cumberland Valley Animal Shelter was born. At this point in time, "more than 2,000 animals come through [the shelter's] doors every year", and it's unlikely that number will go down. The shelter acts as a gateway though, tending to the animals they receive with the intention of finding those animals a good home. It is a small organization that is making a huge difference, and the best part about it all is that the staff and volunteers do it all because they have a desire to help.
This is exactly the type of New Year's Resolution I was attempting to address. The whole idea of a resolution is to embrace something that you don't already do, and you don't act on it out of any kind of forced necessity. If you have to make yourself go through with your resolution, it's more than likely that you won't see that resolution through to the end. There are obviously exceptions to the rule, and I applaud those people. That being said, I still can't help but wonder if we would be motivated even more by our resolutions if the intent was to do something for others.
Personally, I won't miss 2012. Between, among countless other events, the presidential election, turmoil in Syria, Egypt, and Gaza, a European economic crisis that has impacted the United States, Hurricane Sandy, and two horrific tragedies that rocked this nation to its core and made us familiar with names like "Aurora" and "Newtown", 2012 was horrible, and I expect I am not alone in this line of thinking (unless of course you brought home a medal from London, in which case, congratulations). Of course, following such a slew of negativity, we all hear about how change must be brought about. Well, here's your chance. Consider something you've never done before, something you've wanted to do before but never got around to it for whatever reason. Think about something to do in the community that interests you, and make that your resolution. The world has enough glorified terrorists and hateful people - go be more like the staff members of the Cumberland Valley Animal Shelter instead.
Read other articles by Nick Pane