Mount Softball
Megan Kinsella
MSM Class of 2013
(5/2011) Good morning, afternoon, evening (take your pick) Emmitsburg! Enjoying this beautiful, blissful month of May? May. That small, three-letter word holds more meaning than you might realize. I know for a fact that there will be approximately 2,000 students walking with a lighter step around May 14th, when exams are finished, dorm rooms are vacated, and sun-roofs are opened wide on the drive home for summer vacation. I'm getting a little bit ahead of myself, though. In the next two weeks, research papers will be handed in (you know, the ones we've supposedly been "working on all semester long"), group projects will be presented, exam study guides will be made, and all-nighters will be pulled. Not only does the end of the school year entail a heavy school work load, but the Mount's sports teams are still working hard, preparing for their championship seasons.
Last month, we covered the ins and outs of the men's baseball team here at the Mount. Going along with the same theme, May's sports section is highlighting the Mountaineer's softball team. In the 2010 spring season, the women went 25-25 overall and 7-12 in Northeast Conference play. Although they were picked to finish 8th in this year's NEC preseason coaches' poll, the team has made some changes— including a new coach and revamped playing field— that have proven to be valuable in their ability to come from behind and surprise rival teams. In a preseason interview, sophomore Alexa Tuck said that "compared to the 2010 season, this season is expected to be better in every way possible. We have an extremely talented team. All we have to do is tweak a few little things and we will become the ultimate underdog story."
Nagro Steps up as New Softball Skipper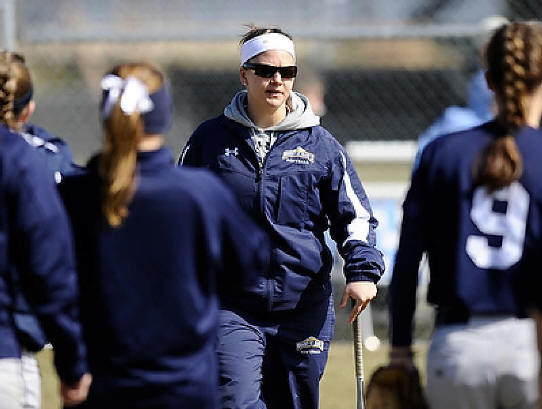 Anna Nagro began her first season this year as the eighth softball head coach in program history. A four year letter winner and starting catcher at St. Bonaventure University in New York, Nagro knows softball. She says, "I believe in excellence on and off the field: fundamentals, hard work, dedication, and passion for the sport." After graduating with a degree in physical education, Nagro coached three seasons at D'Youville, a Division III school in Buffalo, New York, where she led her team to 42 victories. Lynne Robinson, the Mount's Director of Athletics, excitedly welcomed Nagro in the beginning of the year, saying, "Anna's collegiate coaching and playing experience perfectly position her to lead our program and we look forward to her joining the Mount family." Senior catcher Nicole Reeder, when asked about playing for a new coach, said that she is extremely excited about the impact that Nagro has already made on the program. "I believe she has made a huge difference to our team's attitude and my own. She is our coach, but truly cares about each of us as individuals as well, which is something the team has been lacking." Nagro's coaching philosophy, along with practicing hard and being a leader for her team, is that she wants the girls to get more out of their four years playing here than just wins and losses. "I want it to be an entire experience," she says. "I don't want the kids to come to practice every day, stay for two hours, then leave. I want it to be more than just softball practice, workouts, travel… I want to make an impact on their lives, I want them to enjoy being in college. Being a Division I athlete is not something that everyone can say that they did." It is safe to say that Nagro's presence here at the Mount as the softball team's new head coach is both refreshing and inspiring.
Our Lady of the Meadows Field
Not only does the team have a fresh face on the coaching staff with Nagro, but the entire program has a new image due to the renovation of their stadium and field. On Saturday September 25th, crowds gathered on the east side of campus for the dedication of Our Lady of the Meadows Field. The dedication of the newly revamped venue included a welcome address and speeches by President Thomas Powell, Director of Athletics Lynne Robinson, and head coach Anna Nagro, followed by a blessing of the field and players by Rev. Thomas Lane. After President Powell threw out the first pitch, the women went on to hand Hagerstown Community College back-to-back losses. The renovation of the field, which included a brand new back stop and grass outfield, all new dirt on the infield, bleachers behind home plate and along the first base line, and a state-of-the art press box, was made possible by the generosity of Irv and Ella Straw. In an interview at the dedication ceremony, junior Liz Christiansen was overjoyed and exceedingly grateful for the new venue: "Thank you so much, this is such a big deal for us, we now have a field just like the baseball team's and we really appreciate [the Straw's] donation." Irv, who graduated from Mount St. Mary's in 1952, donated money for the new fields because softball and baseball were his loves here at the Mount, and he wanted to give back to the place that gave him so much when he was here as a student. The new stadium and field have certainly been put to good use, as the Mount women hosted 21 games this season, including Northeast Conference match-ups against St. Francis, Bryant, Monmouth, Fairleigh Dickinson, and Central Connecticut State.
Season Highlights
As of April 20th, the women were 14-22 overall and 4-8 in Northeast Conference play. However, with 12 more games to play, including 8 conference games, the softball team is gunning for a fantastic conclusion to their 2011 season. Earlier in the spring, they traveled to Jacksonville Florida for a tournament over spring break March 11-13th, where they clinched an exciting victory over Alabama State and fought hard against Kansas, losing 2-3. Other non-conference victories in March included wins against George Mason, UMBC, Iona, North Carolina Central, and UMES. In their first conference match-up on April 2nd, the women traveled to Hamden, CT where they went 1-1 against Quinnipiac. Later, they crushed St. Francis in both ends of a double header at home on April 17th. At the end of April, the Mount women are keeping themselves busy, playing against Northeast Conference teams Robert Morris, Monmouth, Fairleigh Dickinson, and Central Connecticut State. Be sure to make your way out to support the girls in their last two home games of the season on May 1st at the Our Lady of the Meadows Field. If you didn't get a chance to watch the softball team in action this season, be on the lookout for their fall 2011 schedule.
So Long Seniors
Graduating and moving on is always a hard thing to do, but the strides made by the softball team this past year make it that much more bitter-sweet for the team's seniors to pick up and move out. Five players will be graduating this May, including pitchers Beth Everist and Amanda Hanson, catcher Nicole Reeder, shortstop Jenna Zimmermann, and outfielder Courtney Zingle. "The seniors have been really great," says Nagro. "They've shown me around the school and told me the things I need to know. They've brought a lot of leadership to the team, which is huge and they are all leaders in their own way, which has been really important to us, too." Fellow player Alexa Tuck commented on the seniors' leadership, saying "The seniors this year have done an amazing job at stepping up and taking the place of those before them— it is extremely inspiring." The contributions made by these women over the past four years are monumental, and they will be greatly missed by the coaching staff and their peers alike.
Well folks, thanks for stopping by this month's Sports Scene! As you have hopefully gathered by now, I am a fanatic of all sports. I grew up playing soccer, lacrosse, basketball, and, only when the boys on the play ground allowed it, flag football and dodge ball. However, my heart and my loyalties lie with my first love, the purest of activities, the Taj Mahal of all sports. Yep, you guessed it… running. Now that we got the boring sports out of the way (I jest, of course), be on the lookout for next month's Track and Field article. Until then, make it a great month, Emmitsburg!