Mount Sports
Life Lessons
Megan Kinsella
MSM Class of 2013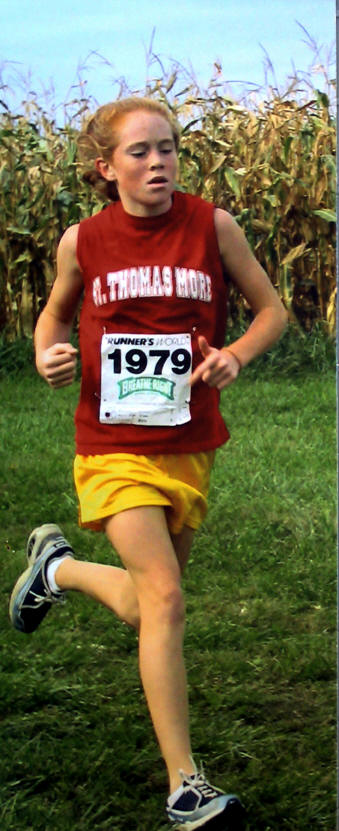 (7/2011) Good day, fine citizens of Emmitsburg! Iíve decided to take a different route with this monthís Sports article and tell you a little bit about myself. I have played sports my entire life. Like every other 20th century American kid, I started playing soccer before I could walk, and I was a kickball pro by the age of five. After a few years, I added basketball and lacrosse into the mix. I spent more than half of my middle school recesses begging the boys to let me play in their football games. I joined the cross country team in 6th grade and running soon became my passion. Throughout all of my active childhood and young-adult life, sports have taught me so much about who I am, where I am going, and everything in between.
As a twenty (almost twenty-one, woo hoo!) year old, I havenít been around long enough to be considered wise, but I do know a few things about this little thing we call life. I love how the most meaningful lessons donít come from the classroom, but from lived experiences. Yes, itís important to memorize your multiplication tables and be able to diagram a sentence (if anyone sees the importance in that, please let me know because I still donít get it), but there's so much more than that. Helen Keller agreed with me 100% when she said that "life is a succession of lessons which must be lived to be understood." Of all the sports Iíve played, cross country has taught me the most, and I continue to be a student of the almighty running god every single day.
Accepting Challenges
As I said, I started my running career in 6th grade. Up until then, I was obsessed with the idea of making it big in basketball. At a whopping 4 foot 2 inches, I spent my younger years persuading my parents that they had the privilege of housing the next Sue Bird under their roof. Well, fate (and my father) had other plans.
One day in the fall, my dad approached me with a challenge. He told me that the local schools were putting together a two mile race for their 6th, 7th, and 8th graders. Then, he did the unspeakable: He dared me to enter. After I laughed in his face and told him to get a life, he decided to get a little more serious, and he bet me that I couldnít finish the race. This is where things started to get intense. The old "oh yeah? watch me" syndrome kicked in and I found myself nervously standing on the starting line the next morning with a hundred other kids. The starter stepped up in front of the group, gave us instructions, and bellowed those infamous words: "On your marks, get setÖ" and then the gunÖ BOOM! And, in the words of Forrest Gump, "I was runniní!"
Adrenaline shot through my small body and since I had no idea how to pace myself or exactly how long two miles was, I flew like a bat out of hell. I quickly found myself out in front of the pack and was ecstatic to discover how much I actually enjoyed running: it was very freeing, practically effortless. I crossed the finish line in first place and skipped over to my dad, who was grinning ear to ear. I ran for the next three years of middle school with continual success, and then continued my running career in high school, improving significantly every season. And now I find myself here, at the Mount, competing at a Division One level and loving every minute of it. Who would have thought! So class, this is our first lesson for the day: never back down from a challenge, no matter how daunting it may seem or how nervous you may be. Who knows where it will lead you!
Giving Up
Whatís that old saying about giving up? Oh yeahÖ donít do it. Winston Churchill famously said, "Never give in, never give in, never, never, never, never - in nothing, great or small, large or petty." He didnít say anything profound or original or even eloquent, so why are those words so well known? Because we can all relate to them. Running is a constant battle of mind over matter, forcing yourself to continue when every part of your body is screaming at you to stop. There comes a moment in every race when you are exhausted beyond measure and you feel like you canít go another step. In that moment, you have a decision to make: do you settle for less than the best? Or do you persevere, knowing that the pain will be worth the gain?
The NEC Country Championships were in Connecticut in 2009, at Quinnipiac University. As a freshman, I was racing against girls who were two and three years older than me. Itís an understatement to say I was nervous: I was downright terrified. I had a good season leading up to the meet, so my coach thought I was going to be able to surprise some people and place in the top 15. The game plan was to get a good start and stick with the lead pack, letting them set the pace and pull me through the miles. After the first mile and a half, I was in perfect position to finish in the top ten, and I felt great. After mile two, I picked up the pace and moved into third, a few yards behind the leaders. I held position for the next half mile and was still feeling pretty good when two girls passed me. I let them go, hoping that I could catch them later. Then another girl passed me and another, and I soon found myself in 9th place with a quarter of a mile left in the race, and I was fading fast. I began reasoning with myself: "Iím alright with 9th place, thatís great for a freshman! I wasnít even expecting to get top 10. This is fine." But, it turns out "fine" wasnít good enough. I saw my family cheering along the home stretch and heard my coach yelling all the hard-core, inspirational things coaches are supposed to say at moments like those, and I made the decision to go for it. With 200 yards left, I ignored the pain and started sprinting. I passed two girls, then a couple more, and then another. I finally crossed the finish line, after what felt like an eternity, and I was handed a silver medal. Not only did I place second, but I ran my personal best 5k time and was awarded Rookie of the Year honors for the Northeast Conference.
Looking back, that was one of the most exciting and satisfying moments I have ever had in my running career. I learned that settling for less than the best is never an option, and the human body can always do more than the mind will let it. So this brings us to the conclusion of lesson number two: never ever ever give up. We all have moments in our lives when weíre tempted to throw in the towel, convincing ourselves that we canít go any further or that weíre okay with settling. However, its making the conscious decision to persevere that turns the Average Joe into a champion.
Coincidences
I have one more lesson I want to share with you before the bell rings, and it looks like itís getting close so Iíll make it brief. There are no such things as coincidences. Nothing happens by chance. I know itís clichť but Iím going to say it anyway: everything happens for a reason. Iíve always been a big advocate of this belief and recently running has backed up my conviction.
Freshman year I was struggling a lot with picking a major. I was leaning heavily toward Elementary Education, but the work load was extremely stressful and I didnít really enjoy what I was doing. By the end of second semester sophomore year, I decided to drop out of the education classes and declare a double major in Communications and English. I wasnít sure that I made the right decision, and was starting to get nervous thinking about my future. I was really stressing out about it one day at track practice and was contemplating making the switch back to Elementary Education. Two teammates and I set out for a long run and decided to explore a new route on the roads behind the school. About 45 minutes into the run we came across a man on the side of the road who said hello and asked us if we could do him a favor. We nervously smiled, but kept running, waiting for him to continue. He proceeded to ask us if he could take our picture while we ran past his driveway, to which we responded by picking up the pace tremendously. He laughed and quickly explained that his name was Mike Hillman and that he was the editor of the Emmitsburg News Journal (sounds familiar, no?). He told us that he wanted to showcase Mount Athletic talent by putting our picture on the front page of the paper. We obliged and, after modeling for our new-found friend. began talking about school. Mike asked us about our majors and he was delighted to discover that I am an English/Communications major. He excitedly offered me a job working for him, writing sports articles for The Journal. I told him that I was way too busy and there was absolutely no way I could fit monthly articles into my schedule. End of story. Kaput. The end.
I jest, of course. I agreed, taking it as a blessing and a definite sign that I had chosen the right major. Writing for this paper has given me a great experience and I really love what I am doing. So, voila, there you have it folks: there are no such things as a coincidences.
See you in August, Emmitsburg! Class dismissed.
Read Other Articles on Mount Sports