Mount Track and Field
Ananda Rockita
(2/2010) A team making strides in Emmitsburg ....
You may have been at the gym or notably known as the "ARCC" on Mount St. Mary's soil and observed some athletes at play. Lacrosse players in the weight room, some soccer and softball athletes outdoors on the back fields. However when classes are over in the late afternoon, the ARCC becomes a playground for numerous track athletes. Pole vaulting, hurdling, and sprinting are just some of what you will observe through the window from the cardio room and right before the entrance doors. These athletes are not only winners in the Northeast Conference, but also in the classroom.
Mount St. Mary's has seen a plethora of successful track and field athletes. Many athletes from the Mount program history received honors such as All-American and one person even won a gold medal in the Olympics.
Peter Rono earned his Masters and Bachelors degree from the Mount. He was also the gold-medal winner in the 1988 Summer Olympics for the 1.500 meters event and represented his country of Kenya.
Even though Rono was originally from Kenya, many of the athletes actually come from neighboring states such as New Jersey and Pennsylvania.
The Track and Field team is divided between outdoor and indoor athletes adding up to about sixty men and women athletes on the team.
Most recently, sophomore Rick Villanova, a member of the Mount St. Mary's men's indoor track and field, had been named one of the Mount Athletes of the Week for the week of Dec. 8
Villanova, a pole vaulter, was the best of the field of 12 competitors that matched the height of the winning NEC Indoor Championship meet in the previous year. Villanova won the pole vault with a mark of 4.65m (15'3").
Junior Chad Brown has also set some records during only two years of being apart of the team. He currently sets the best in all time records for the 55m dash and also the 60m dash.
The team is also coached by Mount Alumni and has a coaching staff of five for the team, Jim Stevenson, Jim Deegan, Larry O'Hara, Jay Phillips, and Nina Victorin.
Stevenson, the head coach for the team, has helped the team bring 13 school records. The athletes he has helped coach have won several Northeast Conference record and All-East honors. Stevenson was also in fact graduated Mount St. Mary's in 1995 who set records himself. He did not only set records in the Northeast Conference, but was also selected to represent his country on some decathlons. He was a Division 1 All-American decathlete and captured a silver medal in the British National Decathlon Championships.
Jay Phillips, one of the Assistant coaches for the team and also the head coach for, graduated Mount St. Mary's in 2005 and immediately helped coach the team there on. He set records for the team during his campaign being a well-known sprinter. He was also apart of the Mount's All-East 4x400 relay team that to this day still holds the school record.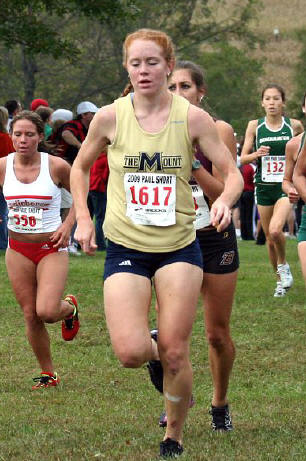 Even though many athletes have already set records in the previous year, one of the more promising athletes has not even participated in one Track and Field event. Freshman Megan Kinsella, an Allentown, PA native, has made great strides this fall during the Cross Country season. At the NCAA Mid-Atlantic meet, Kinsella finished in 38th place and second overall in the NEC Championships. Kinsella was named freshman of the year and also received All-Northeast Conference honors from her second place finish at Conferences. Kinsella is also the first women's runner to earn freshman of the year in more than a decade and the first to earn All-NEC honors in four years.
Like Kinsella, many of the athletes run up and down the East Coast, however one of them is a local from Frederick County, sophomore Dylan Bernard.
While Cross Country's season has just ended, Bernard is currently gearing up for the track season that has just started.
In the most recent Cross Country season this fall, Bernard posted some of the best scores that Mount history has seen.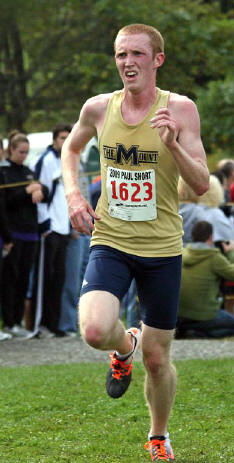 On October 31, Dylan finished ninth overall, making this his second time of earning Northeast All Conference honors, just being apart of the team for the past two years. The previous year he was fifth in the NEC Championships. He also helped the Men's team finish seventh at the meet, which was held in Hamden, Connecticut.
Bernard is from Frederick, attending Urbana High School during his high school years. While being on the track team of his freshman year in high school, he realized his talent emerged. He posted a 4:54 mile and that was when he was not even trying!
"Just a lot of hard work I guess," is what Bernard counts for his achievements thus far. "The spring of my freshman year was when I broke five (minutes for a mile), so after that I really dedicated myself."
Bernard came into the Mount due to a high school athlete he was friends with, Nick Stine, who is currently a Junior now and one of Maryland's best 800 meter runners in high school.
"He came here intending to run until he got hurt, and he brought the majority of my attention to the Mount," stated Bernard. "After checking it out I really liked it and decided I wanted to come here." Bernard initially looked at schools such as Bucknell, Lehigh, and Lafayette, which already had offered him spots on the team, but expenses for those schools were high.
"I had liked the coaches a lot," stated Bernard in reference to the Mount Track Coaches. "I had liked that a lot of high caliber athletes from my area had decided on the Mount. I also liked the idea of smaller classes and the fact that it was not too close or too far from home."
Bernard was also attracted to the "pretty, nice town" feel Emmitsburg had. At first Bernard was hesitant since there was not anything around walking distance of the Mount, but after being there for the year he realized that there are generally some nice places to go to around the area.
Bernard's family has been one of his main supporters and can be accredited to his success. "My family is very proud of me, its impossible to describe how much that helps," stated Bernard. "Knowing my family is there and they are proud of what I've achieved keeps me going when my body is begging me to stop."
Even though Bernard is the only one of his family that has played a sport on a collegiate level, he comes from a line of many athletes. In his immediate family, his father wrestled and he has cousins around the same age that are football players. However, he believes his grandfather is where he got most of his abilities from. "My grandfather on my Dad's side though actually did run marathons, so I get the feeling that's where my running abilities came from."
As for the future, Bernard hopes to keep running as long as he can and hopefully move up to running marathons and being the young age he is, he still has more to contribute on the collegiate level.
"Right now, I want to break 15 minutes in the 5k, and hopefully within the next couple years qualify for the ICAAAA in the 5k and/or 10k,"stated Bernard. "I'd also like to continue on my current streak and make All-NEC for Cross Country for all four years of my college career."