Mount Baseball
Ananda Rockita
(May, 2010) Flowers are blooming in the area, the scent of grilled hamburgers and hot dogs is the norm, and the warm weather can only mean one thing … Baseball season has arrived in Maryland. Now the Baltimore Orioles did have their opening day a few weeks ago in April, but its now time to talk about Mount Baseball. If you haven't heard much about this team, it is my obligation to tell you how much this team shines.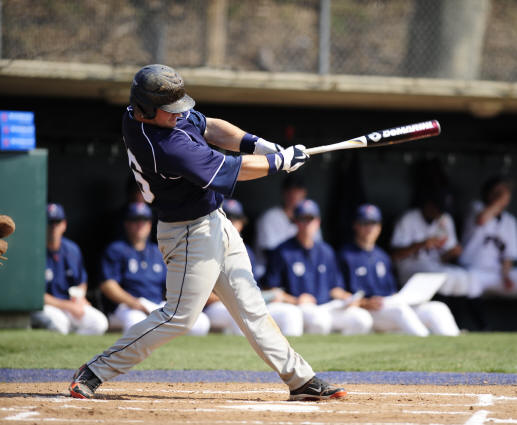 In the summer of 2007 while most students were spending their time on the beaches and hanging out with friends, two former Mount baseball players received the biggest news of their baseball careers, these two former Mount baseball players were drafted by the Kansas City Royals and the Baltimore Orioles. A few years before that, Brian Santo was drafted into the Detroit Tigers in 2003.
With 12 wins so far as of mid April, the team has already made a head start in the Northeast Conference coached by Scott Thomson whose returning for his 13th season coaching the Mount.
One student we should keep an eye out on is Junior Shane Eyler. Eyler has made several career records while on the Mount Baseball team for the past three years alone. Some to name include highest batting average and highest slugging percentage. In high school, he had a career .413 average with 10 home runs and he also received the team underclassmen award and in his junior year he was named All-County and MVAL conference first team. He also led his high school team and conference in all offensive categories.
Last year during his sophomore year, he earned Northeast Conference Player of the Year honors and received First Team All-NEC. His 15 home runs are currently the third best single season mark in Mount St. Mary's history. As a freshman, he started in 42 out of the 47 games and hit a .256 with 29 runs scored. He also held a grand slam to help pace the Mount to the season win against Monmouth. However, Eyler has not always been the infamous baseball player that he is today. While in high school, Eyler was an honorable mention all state wrestler, football player, and of course baseball all star, but he chose to pursue baseball due to the opportunities and a better future that was presented for him at the time.
Eyler reigns from Maryland and is from the Taneytown area. Eyler chose the Mount because of its close proximity to home and the which is a few miles away because they offered him the best opportunities and that he also liked the coaches. Not only does Eyler have natural talent in the sport, but it is also evident that he inherited some of his athletic genes from his parents who both played various sports throughout their lives. His younger brother was just recently recruited by Frostburg to play lacrosse for them next year.
While Eyler has been making career records, there are two players that have known each other even before setting foot on Mount St. Mary's soil. Two brothers on the Mount team have been on the same team since their Tee ball days. Mark and Tony Quaranta have been playing baseball for as long as they could remember. The Quarantas are from New Freedom, Pa. and just recently moved to Virginia Beach, V.A. Both of the brothers played for Loyola Blakefield during their high school campaign.
The Quaranta brothers were also born into a collegiate athletic dynasty. Their father played baseball at Towson University and their mother was a collegiate tennis player for University of Baltimore.
When it was time to choose for college, Tony Quaranta, who is Mark's senior by two years, felt that the Mount was the right fit for him. "I was looking for a small school that I could play baseball at and I also wanted a school with a good learning program. The Mount had that," stated Tony. As for Mark he followed his brother's lead to enter the Mount two years later and is currently a freshman.
While only being a freshman, Mark has already made some memorable experiences with the team. "Our spring trip was fun. We went to Davidson, Florida and Virginia Beach," stated Mark. Mark also recalled a game against Quinnipiac this year when he caught a no-hitter, which was the first one since 1989.
Even though Mark was still leading his team back in high school at Loyola Blakefield, his brother Tony and also Shane Eyler were starting to know what Mount Baseball is all about as a freshman. When Tony Quaranta and Shane Eyler stepped on the field in 2007, they were going to have a memorable year being apart of the NEC Championship winning team.
"I remember beating Monmouth during the championship game and dog piling in the field. It was cool and we beat them 14 to 2," stated Tony. Not only did Tony and Shane experience winning the NEC championship title, they also got to play in the NCAAs against University of North Carolina at the field where Team USA practice and play. "It was great to play there. There were about 3,000 people there and we played against people that got drafted real high the next year," stated Tony.
Like most athletes, these baseball players did not get to where they are alone. Both Tony and Mark thank their father for their successes thus far and for inspiring them their whole lives. Not only do they thank their father but they also turn to each other for support.
"This year, its more evident since we're on the same team and Tony helps me out and gives me tips and advice," stated Mark.
"Since we grew up, our dad has pushed us our whole lives," stated Tony. "Mark and I … we feed off of each other and help each other out since we both have a different understanding from it."
While these two brothers still have some months and also years before they graduate, two Mount baseball players have only a month before their Mount Baseball career ends and they're off to a new journey. Seniors Costa Kapothanasis and Kent Worthington have bright futures after they say farewell to the Mount. Kapothanasis has been invited to play on the Greek National team this summer in Germany and he is also planning to try out for a professional baseball team in Texas. Worthington is also in the works of trying out for a pro contract and he has also applied to be a special agent in the U.S. Secret Service.
It is clear that no matter what happens in the future for all these fine baseball men, we will surely see them making an impact for society, pursuing their dreams, and helping future generations play the beloved game of baseball.
There is still about a month left of the Mount baseball season to catch them in action. From May 1 to 9 they will be playing against Long Island and Central Connecticut State at the ARCC complex in Emmitsburg and if the team advances, they will be playing in the Northeast Championships at the end of May.