Mount Sports
There's no such thing as Soccer here …
Ananda Rochita
(12/09) The men's soccer team may have went to the championships in 2008, but their season was sadly cut short this year against Monmouth in the beginning of November. This season was supposed to be a year where they were to declare victory against nationally ranked Monmouth team but that was not the case this year. The previous 2008 season, the Men's soccer team went to the semi-finals in the Northeast Conference against Fairleigh Dickinson in which they lost, 7 to 2.
The soccer team is coached by Rob Ryerson, who entered his tenth year coaching this year, and earned the Northeast Conference Coach of the Year honors. The team is also coached by Assistant Coaches Andrew Wu and Kevin McMullen.
While many of the Mount St. Mary's athletes come from many parts of the country, many of these athletes also come from different parts of the world. Sophomore Chris Wheeler, junior Chris Davis, and freshman William Jagger of the Mount's soccer team are three of the numerous athletes that traveled overseas to play a game they love.
A sport, which we commonly refer to as soccer here in the states, is called football in their lands.
"Soccer? What's soccer?" stated Wheeler. "Its football."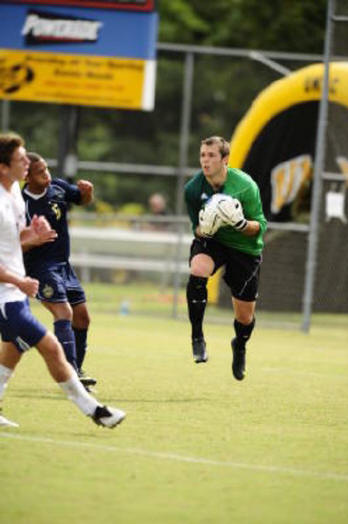 Chris Davis
Davis and Wheeler both come from Australia while Jagger is about a seven hour plane ride to his country, England.
While these handsomely modest men choose not to boast about their accomplishments, they all went up to play for their state in their youth teams.
One of these players is sophomore Chris Wheeler from Newcastle Australia and played forward for the Mount. He started playing the sport at the age of four for a club named the Urunga Terminators and got into the sport due to in part by his older brother. He played all four years for the Saint Francis Xavier College boy's soccer team and helped the team to the state finals in 2006. He also received a prestigious state selection in 2004 and 2005 for his state of New South Wales. However, as a child he remembers being the more heavy set child and not the great soccer built he holds today.
"I was the fat kid until I was 15." Stated Wheeler, "At games I would be that kid that would be eating all the oranges."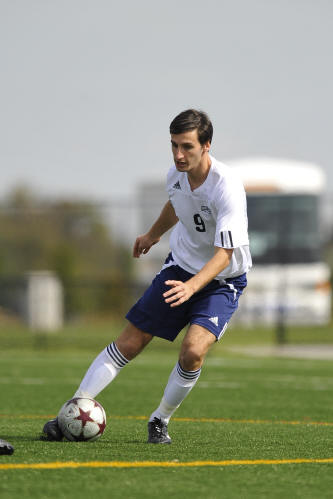 Chris Wheeler
However this orange eating Australian soccer player ironically ended up all the way here in Emmitsburg. During his senior year, Wheeler sent a mass email to all the colleges in America. However, his decision to attend Mount St. Mary's has been a positive experience so far being a great asset to the team. Wheeler started in all 20 games in his freshman campaign and was named the NEC Rookie of the Week three times out of the year.
"Davis basically told me how good the school was and told me to come here so I did. Me coming here is all him," stated Wheeler.
He recently earned All-Northeast Conference honors for All-NEC first team. This is the second time he received something of this stature. He received All-NEC second team in 2008. Wheeler was also 2008 NEC Rookie of the year that led the Mount with eight goals and one assist for 17 points. He was also ranked eighth in the conference, posting the second most goals and points in play. In the two years that he first stepped foot on Emmitsburg ground, Wheeler has scored 20 goals and his goals ranks fifth in the Mount Division 1 history and one of the program's best in the top 10.
Another Australian on the team is Junior Chris Davis. Davis was born in Melbourne and moved up to North Queensland (Townsville). His soccer career started at what most collegiate soccer players would say as late. He started at the age of nine when his mother drove him to participate in afternoon activities. "My mom drove me to the rugby and soccer fields and I was going to do rugby but their sign ups were the next day so I chose to do soccer instead," Davis stated, and the Mount is proud of that decision.
Davis was a four year letter winner on the Kirwan State boy's soccer team and became the first Mount Men's soccer player to be from Australia (Wheeler being the second). He is also the goal keeper for the team.
He represented his state of Queensland as a teenager for five years and helped his team to the National title in 2005. He participated in the Under 17 (U-17) team and went to Florida where he had his taste of American life. He joined an Agency during his last year of high school where he was recruited in late July to the Mount Soccer team. "The Goal keeper pulled out at the Mount and I became goal keeper here," stated Davis. Davis was recruited so late in the year because it was not expected for him to play until the following year. But he chose not to wait a year and come to the Mount instead.
Davis, who did not visit the Mount campus before setting foot in Emmitsburg states that he basically "walked up here from Australia" and started attending classes.
While Davis did not intensely look at the school where he would spend four of his college years at, he has gained many memories being apart of the team.
"Beating Monmouth in the semi-finals last year is one of my best experiences," stated Davis.
Davis started in all 20 games in 2008 with 71 saves. He had four saves, which helped the Mount to its third Northeast Conference Championship Game against Monmouth in November, 2008. In his freshman campaign, he made 15 appearances and also 61 saves.
Davis and Wheeler are both from Australia and continue to quarrel over which state is better. "We are too much alike," stated Wheeler. Davis also still continues to remind Wheeler that Davis's soccer club won the National Championships where Queensland (Davis's state) defeated Wheeler's team of North Southwales. Even though they are both from Australia and played in clubs that competed with one another, they did not previously know each other until both attended the Mount.
Davis and Wheeler both have Australia in their blood, a new foreign addition to the team this year is William Jagger. Jagger started playing at the age of five and credits his father for getting him into the sport.
"Football (soccer) is the first thing I remember that I could do when I was younger," stated Jagger.
Jagger is from Crowborough East Sussex, which is the South East corner of England. At the age of 15 he played freshman clubs in England and the Academies and at the age of 16 was offered a scholarship at a club, but later denied it. He played for the Tunbridge Wells Boys Grammar School and helped his squad to the regional championship his sophomore and junior years. In his senior year he helped his team advance to the championships.
The Mount found Jagger through the University of Baltimore County coach and told Coach Ryerson about him. England has showcases of their better places and Jagger was one of them. He had offers in the states from University of Wisconsin and a few other schools in Florida.
"I thought by coming here I could make a difference," stated Jagger. "People want to win here, which is good."
Jagger currently plays center back for the Mount soccer team and recalls of his best experience at the Mount was playing against University of Virginia, which was second nationally ranked for soccer. Even though he did carefully choose the Mount as one of his top school choices, like many away from home, he is facing some challenges.
"It's hard being away from home and not going there. I get jealous of people that say they miss home and just drive half an hour to get there," stated Jagger.
While this season has been quite tough for the Men's soccer team, they are more determined then ever to go to the championships in the 2010 season.
"We are all wanting to win it next year," stated Davis and surely we believe it.