Simply Maya
Simply Christmas
Maya Hand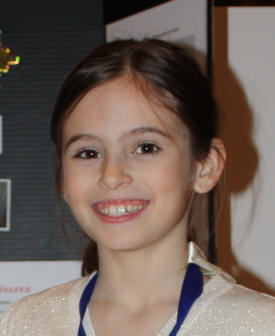 (Dec, 2010) Christmas reminds us of family and friends gathering in love, but it's also about giving to and thinking of others… whether it's drawing them a card, taking them out somewhere, making a homemade gift, donating food, money or clothes to the poor or giving someone a big hug. "When you get, give" and do so with a joyful heart. When we get, we feel cared for and loved. It makes us feel good. When we give, others receive the same feeling. Whenever we give, it makes us feel good too, and every time we give, we become better people. At Christmas we give to each other, just like Jesus gave of himself to the world.
During Christmas I can feel the warm flaming fire, family and love surrounding us all, and the excitement as my brother, sister and I fly down the stairs. I smell the pine needles that are scattered all over the branches of our tree, and the homemade Russian nut balls that my Mom is baking. I can hear Christmas music playing and the gasps of my siblings and myself as we walk into what doesn't even seem like our living room anymore… now a glowing room full of Christmas spirit with a glittering tree and magical presents at the foot of the evergreen.
Of course, like Jesus' gifts, gifts aren't always objects or things. The most important gift is love, and in sharing love, sometimes a gift can mean sharing an experience. Like the gift my parents gave me for my 10th birthday – a chance to see Maya Angelou speak, in person!!! Maya Angelou could teach us a few things about the Christmas spirit… she is so inspirational. The feeling I had when I was listening to her cannot be described in words. The words I would use would be much greater than amazing, joyful, wonderful, inspirational or moving. It was an indescribable experience that I will never forget. Everyone there had faces full of laughter and joy and all seemed so nice. I sat down in the huge historic theater in Washington DC and looked around. There was a dome shaped ceiling with a crystal chandelier. There were designs and details thrown all over the walls. I was full of anticipation as I looked around the room, listening to the Gospel music that was playing. "How many more minutes?" I kept asking mommy. "How many more minutes?" Then someone walked onto the stage. It was LaShonda Reese, Sarabi from the Lion King on Broadway. She was wearing a long black dress. She sang her first song, "Give Us This Day." Her voice was strong and beautiful. Then she sang "Summertime" from Porgy and Bess (in honor of Maya Angelou since she was in that play). Then they opened the curtains, and there sat Maya Angelou, 84 years wise.
One of the things that Maya Angelou said was, "When you get, give. When you learn, teach." How important it is to remember this at Christmas and at all times. Maya Angelou talked about her life. She had been abused when she was seven and later found out that the person who abused her had been killed. She thought that her voice had killed him (Let me remind you, she was seven). Maya Angelou said, "I knew something that they didn't, my voice could kill people. So I stopped speaking, for six years.'' Her grandmother would have young Maya sit between her legs while she braided Maya's hair. One of those times Maya's grandmother said, "I don't care about what people say about you. They say you're an idiot because you don't speak, but I know that when you and the Good Lord are ready, you'll speak. And someday you're going to be a teacher, and you're going to teach all around this world!" Maya Angelou told us that she was sitting there thinking, "I don't know what she's talking about. She knows I am never going to speak!" But with the support of people like her grandmother, Maya ended up traveling the world, teaching others and touching millions.
Maya Angelou told us another story about her grandmother and her. Her grandmother and uncle owned the only black-owned shop in the county. Every once in a while, her grandmother would call Maya to the front of the store. Maya would know exactly what was going to happen. They would watch someone walking down the hill toward the store (one her grandmother knew was a "complainer.") The customer would walk into the store. Maya's grandmother would ask them something like, "How are you doing today Mrs. Jones?" The customer would say something like, "Not well at all! This weather's too hot! I'm so hot and sweaty, and my skin's so dry, and…" While Maya's grandmother was listening, she would say, "Mmhm… Mmhhm… Mhm… I see… Mhm." Then she would look at Maya real fast with an expression of, "Don't you ever do that!" After the person left, she would explain to Maya, "Some people went to bed last night and never woke up, and they would give anything to have just five minutes of that person's misery.'' People sometimes get so stuck on complaining that they forget to appreciate life. Maya Angelou learned to appreciate life.
Christmas is about celebrating Jesus' birth. Jesus, the greatest teacher ever, who taught us about appreciating life. Jesus, the Son of God, was born this day!!! It's very important to celebrate his birth and his life that he gave for us!!! And, of course, Jesus is the best example of how we should live our lives on Christmas day and every day. Jesus never complained. He only gave of himself to others. That's what we should all try to do. And this season and always, I will keep in mind the words that God inspired in Maya Angelou (and in me too). "When you get, give" and do so with a joyful heart… Merry Christmas!!
Read other articles by Maya Hand