The Zoo Keeper
"Christmas Is Not Just For Kids"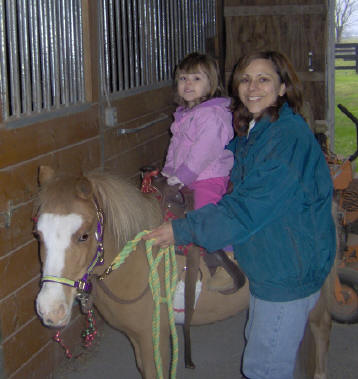 (12/09) In my single and childless twenties, I firmly believed that Christmas was for kids. It's not that I didn't like Christmas, but for me, the magic had disappeared. Instead of magic, I had stress. Christmas had become a time of spending money I didn't have, sending cards to people I barely knew anymore, wondering just how many decorations I had to put up to avoid being a labeled a Scrooge, and agonizing over the fact that those same decorations would have to be cleaned up and put away in a matter of weeks. But still, year after year, I took part in the obligatory Christmas traditions with a half-hearted "Ho-Ho-Ho" and side order of "Humbug."
It wasn't until my daughter Kara's first Christmas that I realized the beliefs of my twenties were only partially right. Christmas is for kids, but it's also for their parents.
The Past Meets the Present
For Kara's first Christmas, we picked arguably the coldest, windiest, nastiest day of the season to go the Christmas tree farm and pick out a tree. There she was, all bundled up, completely oblivious to the excitement that Wayne and I felt over picking out a tree with our daughter for the first time. We took pictures of her with the tree, posed her "holding" the saw, and even took some of her having her first taste of hot chocolate. As we drove home with our perfectly balanced Frasier Fir, I couldn't help but reminisce about some not-so-perfect trees.
One year, I think I was about five or six years old, we did not have enough money to buy a Christmas tree. We had hung lights in the shape of a tree, but it wasn't the same. On Christmas Eve, my mom decided that maybe we could get a good deal on one that was still left on a lot somewhere, so off we went in search of a "clearance tree." We went to a few lots without success and were on our way home tree-less when we decided to try one last lot. As luck would have it, the lot attendant explained that although he couldn't sell us a regular tree at a discount until after Christmas, we could have all the "damaged" trees we wanted for free.
To this day, I don't know if that was really their policy or if he just felt sorry for us and was being kind (I'm inclined to believe the latter), but either way, we left the lot with a truckload full of the scraggliest, "Charlie Brown" trees you've ever seen. That year, we went from having no Christmas tree to having a tree in almost every room of the house.
Another year, I had worked really hard to get me and my pony, "Bobby," ready for a special New Year's Day horse show. I didn't have proper show attire, but had always made due with a white turtleneck and rust colored pants tucked into rubber muck boots. What I couldn't make due with, though, was a saddle - I didn't have one. I had been borrowing one from the woman who owned the barn where we kept the horses but two weeks before the show, she told me she was sorry, but she'd had to sell it. I was devastated - until, that is, the saddle showed up under the Christmas tree. My, then 79-year-old, great-grandmother, "Ba" had driven over 200 miles each way to get me that saddle. I can still see her beaming from ear to ear as she watched me open my special present.
I think her smile was much like mine a few years ago when Santa Claus called our house Christmas morning. He called to explain that he'd had some trouble getting one of the kids' presents down the chimney, so he'd left it in the barn. We put on our coats and made our way outside. When what to our wondering eyes did appear, but a palomino pony with mistletoe in her hair. And she came with a saddle.
Joy to the World
Since having kids, I've found that the magic of Christmas is back. I still groan about putting up and putting away decorations, but it's a small price to pay for the smile that a simple dancing Santa brings to my kids' faces.
For a long time, I really didn't have very many memories of my childhood Christmases. But each year, as I experience the excitement of Christmas through my kids' eyes, I am reminded of a special moment from my own past. Every parent wants to make things better for their kids than they had it themselves so in some ways, maybe I'm trying to create a "new and improved" version for them. But mostly, I just want them to feel the happiness and excitement that Christmas can and should bring.
Just as Ba could feel my joy over that saddle, I can I feel my kids' joy. That, in and of itself, makes me joyous and that is what Christmas is all about - spreading the joy, "Joy to the World!" And have a very Merry Christmas…