Pondering the Puzzlement
Heirloom Growers Garden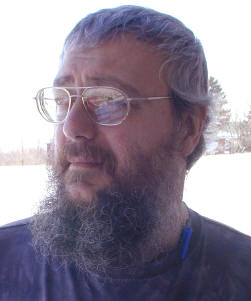 (5/1) I'm a member of several Yahoo Internet groups- mostly oriented toward gardening, though from perspectives probably not too common here in Emmitsburg. One group is a collection of Lilium fanatics. Many of their number require microscopes, surgical instruments and petri dishes to tease lily embryos into active growth. Their "Photo" section is a wonder. Another group is a collection of pagan homesteaders attempting to live as independent of modern life as is possible for each individual. Some of them have gone to great efforts to settle themselves into situations where human contact is their choice, not a necessity. Probably the most useful Yahoo group I belong to is "Heirloom Growers Garden" (HGG).
HGG has membership reaching from Canada to Florida to Kentucky to Maryland to Oregon and most places between. There is at least one member in Australia who grew up in Europe and has forgotten more about gardening and food than most of us are likely to ever bother to learn. The members range from farmers with market gardens measured in acres to people who have simple window boxes. Some members are very well educated in botany, horticulture and agriculture, and others (such as myself) barely know enough to grow a bush bean. Some are fanatical seed savers while others just grow healthy food for their families. Some grow seeds for retail sales while others delight in gifting seeds to new gardeners.
What drew me to this group was a common urge- to plant a seed, tend it to maturity and harvest. Ethnicity, politics, religion, race or education are nearly irrelevant to this particular group. A need to garden and a willingness to share are probably the only requirements to be a member. Would that the rest of life were so simple.
With the economy tanking in so much of the country and around the rest of this rock, the HGG moderators asked that each member spread the word about our group. HGG has extensive files ranging from recipes to seed saving and gardening techniques. The group has also accumulated links to various information sources making it much easier to find what a gardener might need without long Internet or library searches. As part of HGG's purpose is to spread gardening information as well as heirloom varieties, I figured the Emmitsburg Chronicle is the best place to get the word out. Anyone can access HGG using an Internet connected computer- http://groups.yahoo.com/group/HeirloomGrowersGarden/
Over the years I've been a member of HGG I've sent pounds of seeds to Haiti, Florida, North and South Carolina, Tennessee, Kentucky, New Jersey, New York and Texas. Sharing them locally would be just as fulfilling! I've gotten seeds from Kansas, Kentucky, Florida, Texas, Minnesota and Bulgaria! But I haven't found anyone locally who has seeds they've been growing out for generations. Having local heirlooms would be so cool!
Most of the seed saving is of vegetables though there are members who maintain flower collections and a few members have "saved" fruiting tree varieties. At least one member collects orchids, going so far as to travel to tropical places to study them in their native habitats! Some of the farmer members also maintain animals considered "heirloom," breeds that have stopped being of commercial value and are nearing extinction. Various turkeys, hogs and chickens come to mind.
The HGG message board has slowed over the years. People come, ask questions, swap seeds, study what appeals to them and move on. The dedicated members are sometimes slow to respond to a question (everyone is busy especially during the planting and harvest times of their regions), but answers do turn up. I've read questions and answers ranging from how to stop an armadillo from digging in a garlic bed to how to avoid nicotine poisoning when harvesting tobacco. Quite a knowledgeable group!
One woman in Florida paints pictures for "the Heirloom Gardener" magazine put out by Baker Creek Heirloom Seeds, a major source for old varieties still available commercially. I occasionally send the Floridian homemade egg noodles and she sends me seeds, drawings and paintings, or books she thinks I might benefit from. Another friend in Minnesota has sent me seeds, homemade soaps and much advice over the years. I've sent her leather and plants she can't find locally. Others have gifted me seeds with no expectations other than I share with any who might make use of my surplus. I believe this group could benefit "would be" Emmitsburg gardeners and "old hands" alike.
Read other articles by Jack Deatherage, Jr.