In The Country
Strawberry Hill - where the love of nature begins
Kay Deardorff
Strawberry Hill Nature Preserve
(11/2012) How many of you like those great crab cakes from the Chesapeake Bay? How about fresh seafood from the Atlantic Ocean? Maybe you enjoy swimming in the clean waters on a beach at the Ocean. Well none of us would want to eat from or swim in waters that have been dirtied with litter or other types of pollution. Would you fishermen mind wading through streams and rivers that are questionable as far as their cleanliness is concerned? Iím sure that is not the case. This article will speak to you, in part, about pure, unpolluted water in our area and how it affects the waters CLEAN down to the Chesapeake Bay and into the Atlantic Ocean. OK, pun intended!
More and more people are becoming conscious of their health and the health of their environment. This includes our waterways that provide us with food and nutrients needed to maintain life. At Strawberry Hill Nature Preserve there are two streams, Swamp Creek and Middle Creek. 85% of Swamp Creek originates on the Preserve and runs into Middle Creek which flows through Fairfield to become part of Tomís Creek in Emmitsburg. That, in turn, meets the Monacacy River in Frederick which leads to the Potomac River in Washington, D.C. Continuing from there it connects with the Chesapeake Bay and finally empties into the Atlantic Ocean. Therefore it is easy to understand the importance of keeping the headwaters in Adams County clean and pure.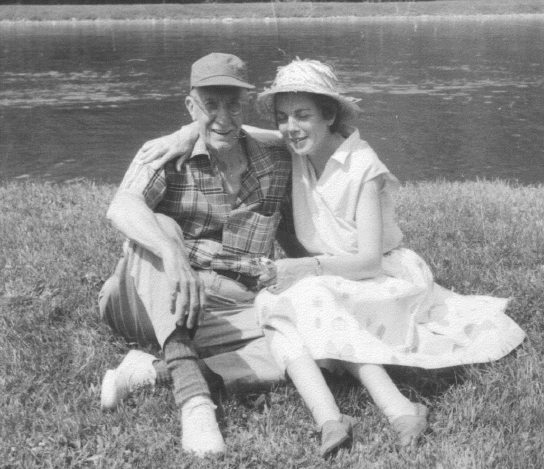 Drs. Hans and Frances Froelicher, founders of Strawberry Hill Nature Preserve, were concerned about that very fact. The couple came to the area shortly after they married in 1962. Hans was a retired headmaster of Roland Park Country School in the Baltimore area where Frances was also employed as a teacher. Searching for a place where Hans could fish and where Frances could swim, they discovered and purchased a rundown farm near Swamp Creek. Renovating the house and building a one-acre pond to be gravity-fed by the creek allowed them to enjoy the raw beauty offered to them as a retreat from their busy lives in Baltimore.
The Froelichers learned that the creek was being polluted with various types of litter and rubbish from neighboring homeowners. In order to eliminate this problem, they began purchasing surrounding properties to protect the water source and they named their estate Strawberry Hill. Wild strawberries grew behind the historic, pink, log and stone cabin built in 1798 which became their home-away-from-home giving them the perfect view of their fishing/swimming pond from the large window in the cabin. Their vision for the new get-away home was clear as Frances later described it as a place "set in the Blue Ridge Mountains and one of the most scenic spots in the world." The vision was contagious as neighbors and community members began to also see the importance of protecting the fragile nature preserve on this northern portion of the Blue Ridge Mountains.
Frances was founder and executive director of Baltimore Citizens Planning and Housing Association (CPHA) with her husband, Hans, as the organizationís president. Together they worked hard to tackle the cityís housing problems. With their background labors, the Froelichers were no strangers to struggles facing them as they fought for what they firmly believed was worth securing. Viewing their precious land as a wetland that was a fragile ecosystem, Hans and Frances were up to the challenge.
Pure, clean water wasnít the only thing the Froelichers found that needed to be preserved at Strawberry Hill. A botanist from the Maryland Natural Heritage program, D. Daniel Boone, visited Hans and Frances in search of the rare and uncommon flora and fauna making the Preserve their habitat. Once found were large purple-fringed orchids, marsh marigolds, and starflowers to name just a few of the plants that are indicators of a high quality natural area. Among the life found by the experts were 37 different kinds of birds and 23 different varieties of ferns. All of these species discovered in the area convinced the Froelichers that they had found a treasure in their precious Mount Hope respite home. However, Frances was adamant that the fragile environment needed to be protected and not turned into a public park.
Francesí 30-year experience as a "citizen city-planner and watchdog" in Baltimore prepared her as she and Hans promoted the vision they held for their home in Fairfield. Their goal was to preserve their beloved Strawberry Hill as a nature center where others could be educated about the love of nature and the necessity of a clean watershed. This mission gave them a new focus on life. However, Frances knew the importance of passing on the passion to others and drawing from their support. Having secured up to 519 acres from the original 26 acres they purchased, she expressed her concern when she said, "I want local people to love it and maintain it." Her desire was "to get businesses and civic groups interested in environmental education." She wanted to prepare for the inevitable future when she would no longer be around to protect the preserve. She upheld a requirement that there "be a group here to maintain the land and educate the people. You have to have a presence on the site to be effective."
Intending to give operations of the Preserve to the Strawberry Hill Foundation, Mrs. Froelicher urged local people on the foundationís board of directors. She sought for leadership from the business community. Strongly moved with a sense of devotion to the preserve as well as a yearning to educate others and share her love of nature, she said, "I believe in public agencies and working with them. I know some people may not like what I have tried to do Ė how Iíve fought to preserve this land Ė but once land like this is gone or developed, itís gone forever. And then weíve all lost something very precious."
Due to Francesí diligent work concerning the preserve, she was nominated for and won a state Take Pride in Pennsylvania award. Her first place honor was for the "best use of private land" category in 1989. Again in 1991 the foundation won the "Take Pride in America" contest. Upon her death in 1995, it was reported that Frances was nationally known for her vision of a better world. Locally the community recognized her "as the women behind the only environmental center in Adams County".
Pride has not stopped with passing of Hans and Frances Froelicher. Not only do the descendants of the Strawberry Hill founders hold an inherent delight in the progress of the Preserve; over 5,000 school children participate in educational programs annually; and the local community continues to visit, support, and promote Strawberry Hill Nature Preserve as the place where "The Love of Nature Begins". Be sure to visit Strawberry Hill on 1537 Mount Hope Road, Fairfield, PA and check out our website at www.StrawberryHill.org.