Getting comfortable with Winter White
Valerie McPhail
MSMU Class of 2015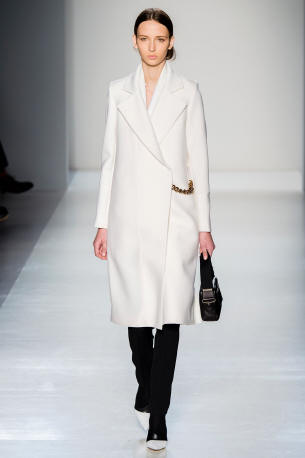 (12/2017) As simple as winter white may seem there is a lot more involved than meets the eye. This special holiday outfit requires more intention, more coordination, and more planning – as if we need more to consume our thoughts in the festive season. An old-fashioned societal rule governs the color white unacceptable past Labor Day. However, in today's world of style, the more fashionable, and most time outlandish outfits trump any question that would challenge previous arguments. If it is controversial, intriguing or the slightest of strange it is now acceptable in fashion, despite the rigid calendar.
This poses a challenge for the perspective of practical fashion. For, winter white is statement: monochromatic floppy hats, crPme coats and the options such as cashmere turtleneck sweaters, chunky oversized knits and flowy blouses creates a standard look that communicates sophistication. Extravagant for both men and woman the affect is congruent: glamorous. For men the look presents an athletic winter look – ready for the ski slops and comfortable as cabin fever, type of lifestyle. For woman, the style presents an elegant, high society persona.
Winter white is an aged rule, a classic fashion statement. It is a rare look, (making) it a special one. For such reasons it is mostly uncomfortable and of question. But not current in debate, rather a conversation carried in the same demeanor of friendly jargon. Although monochromatic outfits are eye catching, trending and stunning for special occasion, the idea of wearing winter white poses more of a risk above anything else. I have never been one to wear all white, but rather choose its opposing color black for my work uniform.
Black is a low maintenance, unassuming and yet just as striking. To the contrary, the shade of white in fashion evokes stressful upkeep to sustain and pristine, and a chore to stay far from any trace of dirt or blemish. Amidst the grime and pollution custom to New York City — traveling underground subway stations, walking alongside muddied sidewalks, winter white becomes a ludicrous idea. Although, the site of full-length winter coats and white suits are enchanting, especially when paired with accents of black — loafers or tights— its unaccompanied fashion statement elicits pretension, ostentation and difficult to relate with in everyday fashion.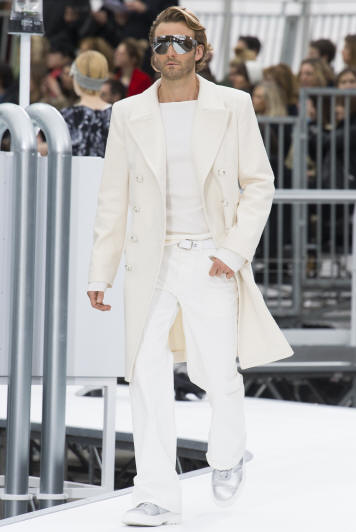 The Golden Rule
Reaching for the embrace of personal style and unique statements the rule of wearing white instituted among high society customs of the late-to-early 1900s, a time when the color in fashion represented affluence in the United State's fashion capital. Similarly, the color proved appropriate in the warmer weather seasons as the temperatures rose; for those reasons alone white became a fashion of the summer months, Memorial Day to Labor Day.
The question around accepting this during winter is hardly formally addressed; but behaves more of an unspoken exception, as there is to every rule. Winter white is appropriate – how so, for how long and under what circumstances, are all great questions under such exceptions, and expectations. The answers may be stricter in the men's industry of fashion, which more or less operates like a gentlemen's club —where rules creates standards of dressing. And in women's fashion the more creative and unique combinations are admired.
Any influence on the "new" or refreshed forward-thinking fashion industry would appear in the form of abandoning the rule. Fashion rules and society expectations have been pushed out the door, and replaced with interest in the next, new and interesting - even if it appears wayward and different from any expectations previously made. The industry supports the public underdog, the risqué and daring. Despite the fact, the industry is stiff towards particular ways of dressing, allowing some designs to never go out of style.
Skinny pants are a casual way to incorporate winter white into an outfit. The style of pants are most welcome in warmer weather counterparts – tanks, silky blouses and sandals. However, the white skinny jean is a style chosen among younger fashionistas, paired with a chunky sweater. Likewise popular among men's fashion. Even though these classic style reveal influence from an "old" mindset towards fashion, they are style that have nonetheless provoke new thoughts on fashion.
Skeptics question what does winter white actually entail. Does all white translate into the same shade, without color blocking or hues to break the singular color scheme. Or, could the rule include black accents – tights, oxfords or a long driving coat? CrPme tones surface, deeming acceptable to the rule. Such options expand the possible definitions of winter white, while at the same time also enabling such complications.
From the runway to everyday
Winter white has become a classic way of dressing in the way its pieces have dictated its style. Cozy knits, in recent designs from Sonia Rykeil, Michael kors collection and Joseph offer chunky and oversized styles, as full length coats from Fall/Winter shows such as Victoria Beckham and Tory Burch and Jill Sanders fufill a winter look. The later of designs provide food for thought over concepts of minimalist fashion coexisting with extravagant style. Tory Burch's Fall 2017 runway coat was oversized with a cursive ornament letter "B" at the left pocket while Jil Sanders and Victoria Beckham's design showed astonishing monochromatic looks, an old-fashion way of dressing in a modern perspective.
Winter white is for the risky, daring and adventurous. It is also a custom for the comfortable, those who cozy up in chunky sweaters and oversized knits, items that could care less about breaking or building fashion empires, but feel comfort in white for the winter season.
In such a perspective, descriptions of chic harmonize with Park Avenue and celebrity fashion. In this world, fashion has zero limits, excited by new applications towards classic style of dressing. The world of winter white can be lavish and decadent, even as it derives from simple forms of design, such as the skinny jean and cable knit. Such complexities keep it in question among the fashion world. An industry that operates with unspoken rules, believed to be broken, and where standards are respected and yet always in question.