For the love of Fashion in NYC
Valerie McPhail
(2/2017) New York is a winter wonderland, after the seasonal blizzard that shines a new beauty on Central Park: frost-tipped pine trees that comfort barren trees and the watery puddles found in the crevasses of the side walks are all classic images of the city dressed throughout the wintertime. The month of February is a landmark in the winter of the United Statesí fashion capital. By this time, fall/winter collections are in full swing, and Fashion week embraces New York at the beginning of the month. The hype from the runway hits the streets with water resistant down jackets and military boots. Come February, there is a lot of fashion to love and admire. New York admires all that appears dazzling and bright, and yet will not keep its attention too long away for its hustle and bustle.
Winter Fashion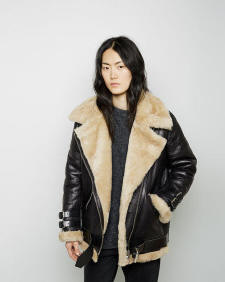 Could it be that almost every woman is wearing a shearling motorcycle coat, jeans and black boots as every man wears an anorak, and with his everlasting L. L. Bean Duck Boots circa 2014? This style, that is as classic as a Hollywood version of a New York City winter wonderland, could not possibly ring truer.
As frost hits the sidewalks and slippery slush accumulates on the curbsides, New Yorkers break out their Sorrels and full length parkas to face winterís powder-filled gusts. And so they bundle up in pom-pommed beanies, wrap in blanket scarves and layer with down jackets. As much as the city cultivates an interest in style, it simultaneously sustains a dependency on brand names: Canada Goose, Moncler and Mackage have created comebacks since last season, thus making a transition into timeless treasures.
How to layer without looking like a marshmallow:
Layering sweaters over cotton Brooks Brotherís button-downs, like a young professional-meets J. Crew model look that is boyish, with a hint of androgyny is a look all that New York loses sleep over with adoration. The menswear interest in sporty-styled tracksuit zips is a way to add a layer of warmth in a subtle way. This sweat style continues strong with interest in menís athleisure wear ó track suits storm strong with ecstatic pops of color. Easily add an extra layer to the light and hardly-insulated down jacket, or the "fashion coat" with colorful peacoats, dapper suit coats, or the bomber jacket with a zip-up. High fashion references from Christopher Shannon and Gucci offer examples of how luxurious practical fashion can become.
The motorcycle shearling coat, now trending in popular colors of midnight black and dark denim shades of blue, have become another method of bundling up. The leather fabric with accents of shearling on the collars and the lapels create a look that is insulated in a fearless statement of fashion.
A new style of scarf has brought new attention to menís fashion. It is unlike a bow tie, or a handkerchief, as this accent romances the snow blankets of winter. The neckerchiefs that replicate the bandana-look no longer have to stay at the warm summer camp style ó so try and keep cozy in a new scarf-style in the winterís wind. These pieces are also light enough to excite the bland, boring winter looks.
Weatherproof Ready
Waterproof pieces are a definite. Full length, down jackets appear as a functional piece for the weather, but assumptions for how weather-proof they are, are a risk when the storms rage. From personal experience, you find your work outfit unsaved from the protection of your winter jacket, now soaked. Water resistant is an easy find these days, and the true treasure is a water proof jacket. These finds are combative of any winter storm created by Mother Nature, and fashion itself. Doc Martins and Timberlands exude the punk rock fashions of the regenerated 70s style fashion, and are revisited this winter. Kanye West has spiced up the trend by integrating the 90s style to his sneaker brand Yeezus Ė offering the sneaker culture a large edge to the athleisure wear. Brave the winter with waterproof gear, with accents of street style fashion for a fashionable winter.
NYFW: New York Fashion Week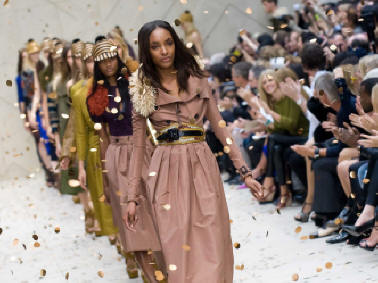 This one week, launching this year on Wednesday, February 7th through Thursday, February 15th in New York is both exciting and, overwhelmingly stressful. It is the moment where the international industry gathers to preview the latest fashion. In this world, February marks the season for spring/summer styles. For the aspiring influencers and enthusiastic spectators, this is an opportunity to go out, dress up ó vibrantly and outrageously with mixed prints, contrasting tops and bottoms, and provocative silhouettes of cut outs and short crops, and of course, statement shoes: heels, wedged boots and Stewart Wiezman thigh-high suede lace ups. Not only does it seem stressful to try and find that "breakout" outfit, but the competition to stand apart is active and real. But, optimism for the future of fashion displays itself on the runway. What New York loves most about Fashion Week is the crowd it brings. The subways become a chattier spot where the business of fashion happens at the peak of market season, after the shows. Trends are exposed, as beautiful clothing is released at the shows. In this short time, the elegance pulsating from the housing studio spaces reaches the beat of the fashion industry enough to affect the atmosphere.
The edge, a brutish and unapologetic character of New York, makes New York Fashion Week unique, and sets it apart from the rest. Sporty statements via DKNY and Calvin Klein are suggestive of youth culture, rebellion and revolution. The crisp cuts of winter breezes and the icy accents complement the fashion New York has no choice but to embrace.
The love of fashion comes with a romance in the weather. Hollywood film has capture the city winters in the light of its beauty, and weathering these winter storms help fashion. How to love New York in the wintertime according to fashion: to play the part you must dress the part. Investing in fashion seems to always be the best option ó trends fade, and the winter wears and tears low cost fashion. Waterproof, insulated pieces will create looks that remain. Runway shows and brand name labels add a sense of vitality to the cold-weathered atmosphere. February is a month to look forward to the fashion calendar because it offers excitement to the air, fashion collections bring beauty and share creativity. That is something to warm the hearts of New Yorkers, which the purchase of a fluffy down jacket can never offer.