Fall Fashion Favorites
Valerie McPhail
(9/2016) The commencement of leaves falling into a collage of mix media of mud, twigs and the last hairs of grass, inspire cups of hot chocolate and apple cider from Starbucks — a New York City favorite. These are the moments that prepare our hearts for fall. There is a never-failing spirit in the air at this time of year. People are back from vacation, school is in session and new job opportunities start to open their doors as well. Everyone is ready for a new season.
Back to school shopping always supported this excitement and urged its anticipation. Besides the annual trips to Target for the packs of pens, spiral notebooks, color-coded and set-aside for every class I was scheduled for the fall, my mother would journey with my sisters and I on a mission to the mall. Here we were allowed a few new pieces for our wardrobe. These memories hold a soft spot in my heart. When we shopped together as a family, the advice she and my dad would then suggest, especially for me, a troubled and contemplative shopper, easily overwhelmed by the selections offered at Forever 21 and H&M, now seems unbeatable. They would soften my guard by having me consider my needs for the season ahead. Season after season, time again, these items repeated themselves.
Here are the five classic pieces that define the season. Not only are these items I grew up with, they are also styles I still love and continue to shop as others are currently cultural fads sold at Urban Outfitters regularly. Regardless of their current standings, they will remain secured in a special place in my heart and rightfully rouse the trend reports.
1. Turtleneck Sweater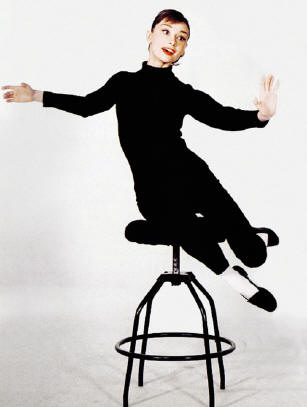 This is the coziest piece in your closet. Defined by the extra fabric that covers and emphasizes the shape of the neck, the turtleneck sweater is a strange beauty. It is a fall statement and its style hit the runways in the form of sweater dresses on numerous occasions: Akris, BCBG Maxazaria and Elie Saab's Fall/Winter Collections included; For men, Gypsy Sport, Billy Reid and the Michael Kors Collection Fall 2016 Men's shows.
This sweater style is a fall staple for its functional capabilities as well. It can be worn on its own, paired with slacks and loafers, as Audrey Hepburn classically fashioned in Funny Girl, as a layer underneath cardigans, blazers or tweed jackets, and further more, as a statement in the form of an oversized sweater, and dress. The possibilities are endless. Turtleneck sweaters are synonymous with colder weather attire for they can mix and match throughout. The turtleneck sweater is both naturally dramatic and undeniably a basic. Both qualities make this piece of fashion irresistible.
2. Jean Jackets
Easily deemed the most iconic jacket for the season, the denim jacket is more of a beloved street style trend than a runway statement. The love and support its fans provide to its style has stabilized its relevance, as well as kept it stocked in Zara and Topshop, the stores where fashion forward youth shop today.
The security of its posture comes from a history of style. The denim jacket is a passed down item: one acid washed pair that was worn by a mother or aunt with her high waisted Mom jeans and floral printed bodice top in her high school years, or an oversized fit discovered in a vintage store after a life of high school football games. The denim jacket reeks of teen spirit. For fall, the seasonal start of a new school year, one piece wins over the hearts, as does the jean jacket. The romance tied to this piece of fashion surpasses its function. There is a particular comfort to denim for fall that returns each year, a natural progression that transitions denim shorts into full-length skirts and jeans. The denim jacket is the added bonus onto these styles.
3. Black low-heel boots
The black ankle boot is a standard. Its design is undoubtedly simple: ankle length, small heel boot in black leather. Details of the shoe design proceed in an abundance of stylistic options including gold buckles, tassel zippers and treatment of the leather such as quilted patterns, a patent shine or exposed patina grain. These characteristics are abundant, as is its function. For this reason, the black ankle boot is a must have for fall season.
Dress this shoe up for an evening out at a dinner party, or style it on the weekends with your favorite oversized sweatshirt, the buzz around this boot circulates back each season because of its resourcefulness. It can be worn on many occasions. Within the last year, one particular style named the Chelsea boot, a mid-ankle leather boot has reinstated popular demand for the ankle boot.
Duplicating its appeal by offering styles for both men and women, the Chelsea boot is not only stylistically agreeable with denim, sweaters or leather, its design has durable functional qualities. This is a boot that can be used for when the weather takes a whirlwind turn. It makes a niche for functional and stylish fashion, thus its particular design has brought the ankle boot back on the radar.
4. Leather jacket
This one and only piece defines New York fashion. As the fashion modernizes its current interest, the obsession over a leather jacket has shifted focus onto the varsity, "bomber jacket," however, nothing more, nor less could sum up the city's sense of style than a motorcycle jacket. It is a force to be reckoned with, ideal in the fall time, as we bid a farewell to humidity and the unfortunately stuffy subway trains that are not air-conditioned.
Nicknamed for "Moto jacket," the leather jacket is an image of the city's downtown, cool, slick and grungy sensibility. Still today, this is where all fashion is collected, commonly observed and changed. Here, in New York's downtown Manhattan neighborhoods of the Lower East side, Soho and the West Village, fashion has been lived through the people who have repeatedly chosen the moto jacket. Its form is a statement: a bulky, cropped leather jacket with tuxedo cut zip and a belt trimmed around the waist and decorated with excessive hardwire. But when it is fashioned on the streets, the motorcycle jacket could not be any more classic. The weight of the jacket is light enough to layer over a knit sweater, and also warm enough to substitute as a coat over a thin turtleneck. The sight of its silhouette points to these roots.
5. Flannels
If there is one button-down to wear for excursions out apple picking or pumpkin carving, it is the flannel shirt. Just as the chambray shirt speaks for beach days and boardwalk excursions of summer, the flannel shirt equates with the cabin fever of fall. Its functional purposed due to its heavier weight cotton, or wool twill, generates warmth when the weather gets chilly in November.
A flannel's plaid pattern is equally a primary characteristic to its defining place as staple to a fall wardrobe. The simplicity of this pattern — a checkered relationship between at least two colors, speaks to its definitive look. Patterns of red and black, or green and black are exemplify the meaning of the season. The fall season inspires a comfort in classic apparel, a responsibility a flannel shirt can dress up with style without too much excitement.
Prepare for a new season where fall fashion classifies the most comfortable pieces in a wardrobe. Take these staples: jean jackets, flannels, turtleneck sweaters, leather motorcycle jackets and black ankle boots together and discover all the different ways these pieces pair together. Fall fashion is about returning to the beloved pieces that radiate the comfort that excites this season by their legacy of style and fashion design.