Back-to-school cool
Valerie McPhail
(10/2015) Time is flying and school is officially in session. I was only reminded of this season when my youngest sister went back to college at Michigan State around the same time all the New York University students started to pop around Union Square. It is a strange thought, considering the impact school had on my lifestyle only four months ago. Back then, I was writing reflections on Vatican II and reading Kate Chopin while dreaming of life in New York City.
Things have since changed. I am finding myself deeply devoted in the creative industry and tossed around by the events surrounding New York Fashion Week. Nonetheless, I am enjoying myself and invested in my work, just as I was while I was when studying at the Mount.
I think my soul craves the "back to school" feeling. Moving into the city felt like going back to school and at times, living in a tiny apartment feels like sleeping in a dorm room. Perhaps my keen interests in sweaters, tennis shoes and my backpacks channel the excitement I have always had for back-to-school shopping, an event that prepares one for a new year of academics.
Knitted sweaters that layer over Brooks Brother's best non-iron button downs, blazers, and skirts paired with boots are styles that I feel most comfortable in at the moment. Fall shopping is synonymous with back-to-school shopping. In the midst of this shopping season, here is a list of the five fashion trends for academic life. These are a few of my favorite things; these are five pieces that will complement a mission to find style in the midst of scholastics.
Graphic tee shirts
Graphic tees are a nice addition to a wardrobe because they start a conversation. Throughout my elementary school days, my closet was filled with tees of my favorite Disney princesses, cartoons and colorful floral prints. In the last fashion seasons, these tees have made a comeback from the childhood years.
My favorite graphic t-shirt is my Comme Des Garcon shirt. I treated myself to this gift for my 21st birthday while celebrating in Paris for a weekend. This piece is my number one pick because it was an investment in a brand that I admire. When I wear this top around town, I am sharing my favorite fashion.
Alexander Wang's latest collection of t-shirts and sweatshirts also comes close to capturing my heart. With his collaboration with DoSomething.org, it would be crazy to not want to support his brand. The material is a soft cotton and the graphics, "Do Something," make for a clear call to action. Additionally, 50 percent of the proceeds of each sale are donated to an organization that gives back, and what is more stylish than that?
Fjallraven backpack
This accessory is my ultimate favorite! My black and brown backpack was given to me as a gift from my twin sister. I love traveling around the city with it by my side. As a Swedish brand that found a niche for travelers and adventurers in the countryside and the mountains of Northern Sweden, Fjallraven has quickly reached the city life in New York.
Backpacks are an essential item for school, however, this accessory may be a top competitor to the trendiest tote bag and handbag for the same matter. Fjallraven brand is style savvy in their color varieties and attractive due to their duel purposes of backpack and reversible tote. This is a ticket item fit for universal interest. From the journeyman, student, to the fashion aficionado, this look is a good fit for everyone.
Superga tennis shoes
Otherwise known as people who collect sneakers, sneakerheads are keeping the love for sporty shoes strong. Among the Nikes, Converses and Adidas Stan Smith styles is an Italian brand called Superga.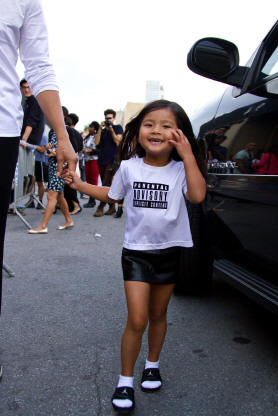 Known for its simplicity and cool collaborations, Superga is a favorite footwear brand of mine. I find that the brand's classic styles are not only easy to pair throughout day – to — day life, but their items are extremely affordable as well. It is a fashionita's dream come true! Affordable fashion is never going out of season, and Superga is a brand that delivers this wish.
The brand also has a history of interesting collaborations. With partnerships between Mary Kate and Ashley's luxury brand, The Row, with blogger, Man Repeller and now this season's collaboration with California brand, Rodarte, it is difficult to step away from this brand.
Sneakers are a shoe that allows for comfort without compromising style. They are the shoes to use when transitioning between flip-flops to boots. Pair them in the event to take on any task.
Lunch bag
This item is a necessity. It is the bag which will not allow last night's Chinese take-out to spill all over your brand new dress. It carries all your granola bars, and fits right in your tote bag and your backpack. This is your new lunch bag, and it is becoming a fashionable item to have. The Boden lunch bag is a good example of a fashionable alternative to the brown paper bag. Offered in a variety of colors and fun prints, Boden is an ideal lifestyle item. It is water-resistant with removable straps so that you have the luxury to carry the box bag by its top handle or by its cross body strap. In either case, the prints make for an exciting experience, like a child in a candy store, or maybe it's just the fact that they bring back childhood memories of Lion King and Barbie lunch boxes.
The Letterman's Varsity jacket
This classic piece is never going out of style. Perhaps it is because this jacket is an emblem of American sportswear, the fashion of the United States. Parisian Brand, Kitsune has made this item schoolgirl-cool once again. With classic colors like deep navy and red with white, this jacket models a football player's prized possession.
What I like most about this trend is that the youthful spirit of this coat has become a prize in the fashion industry. As it was in high school, the letterman's varsity jacket represents an accessory that shows confidence. For the rebels, rock stars and athletes there remains a fresh look when these coats hit the block. Rock one of these coats and look suave like Danny Zuko or posh as a musician.
Kids are fashionable in New York. They stroll around Soho in suspenders and accessorize their outfits with bucket hats and canvas tote bags. Children's fashion has a culture in the city. It was celebrated by fashion shows such as the Haddad Brand's Kids Rock and the Paul Frank Circus Jumbo.
Fashion designers bring their children to fashion shows and Alexander Wang's niece, Alai Wang, has quickly become the youngest fashion icon. The fashion industry is being taken over by interest in street style and youthful looks found on the internet, which are then obsessively re-posted about on Tumblr, a blogging website. New York has fully embraced this craze in a new way; the city and its people teach us that fashion and style may be communicated by every walk of life. Infants and the elderly can enjoy fashion — it is simply embracing a form of communication. Therefore, from East to West Coast, the nation's solution to shopping is dressing in smart style. I am hoping that my back-to-school shopping list adds to this excitement!